Day 8, Leaving Cappadocia for Ankara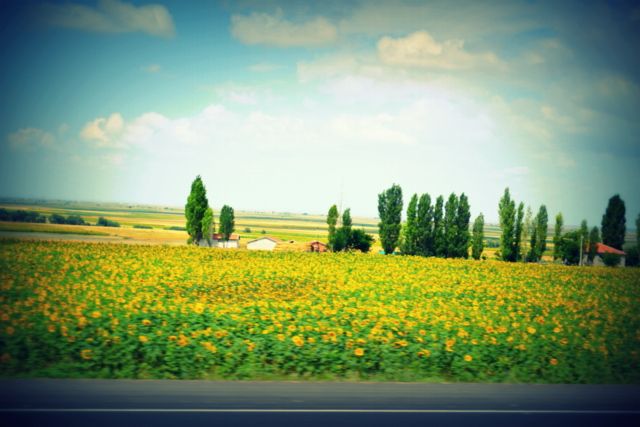 4hrs long bus ride to reach Ankara!
But first, a picture stop!
Eighteenth Destination, Lake Tuz.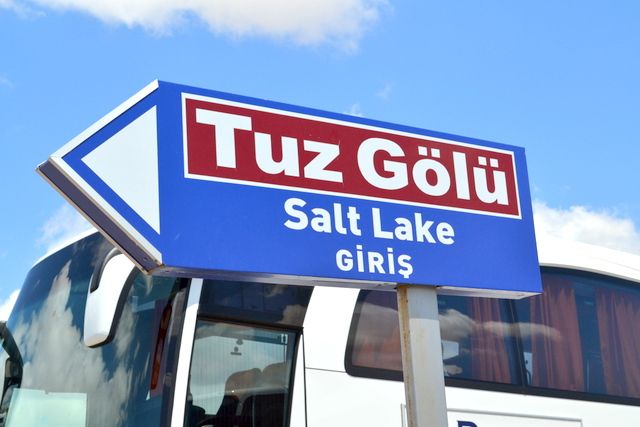 Also known as 'Salt Lake'. It is the second largest lake in Turkey.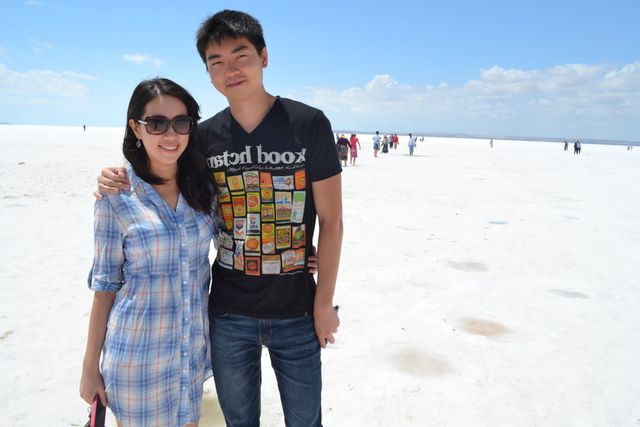 A suggestion for you guys would be to bring along your sunglasses. Because of the pure white salt, they tend to reflect sunlight and hence, you might have difficulty opening your eyes.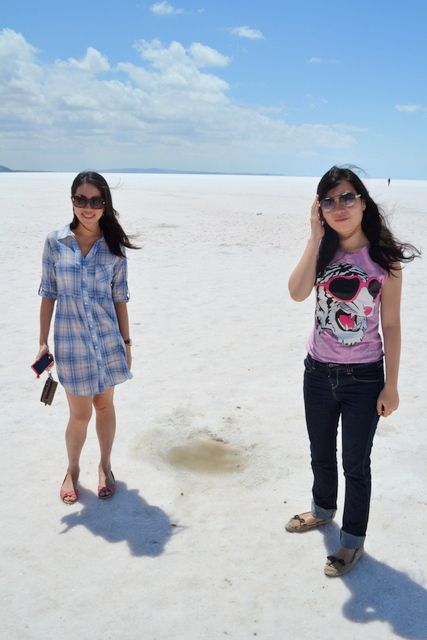 Even the tiger on my singlet finds it glaring if you know what I mean...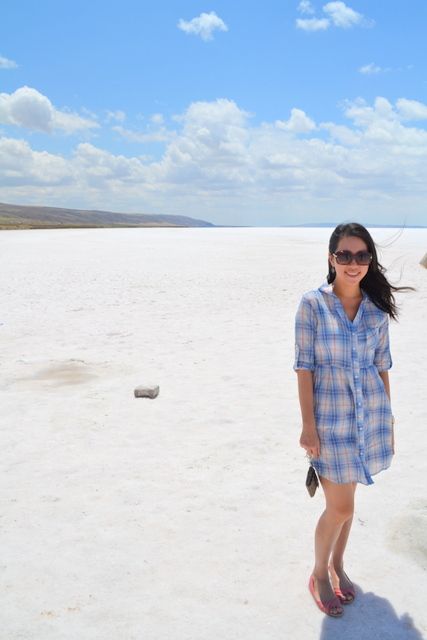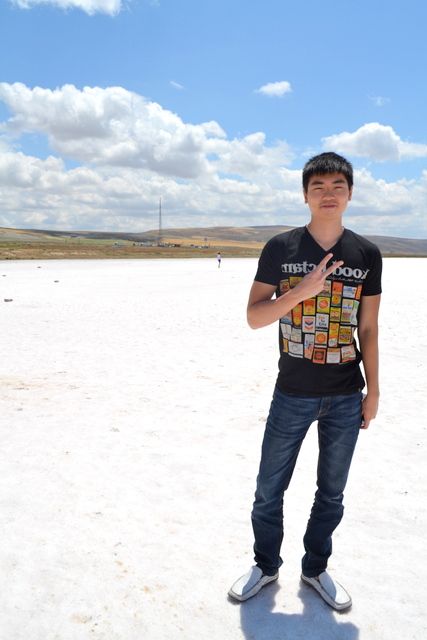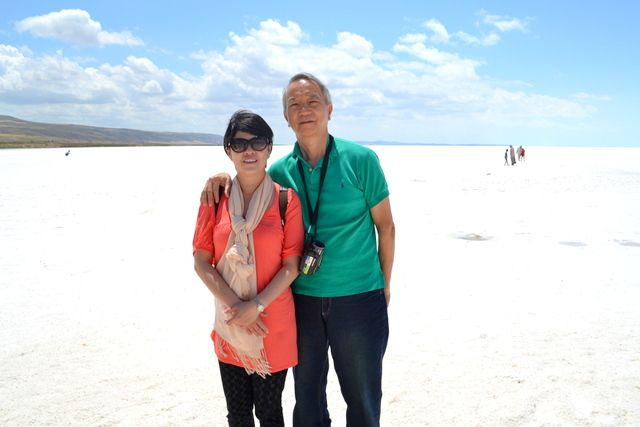 There's nothing but SALT.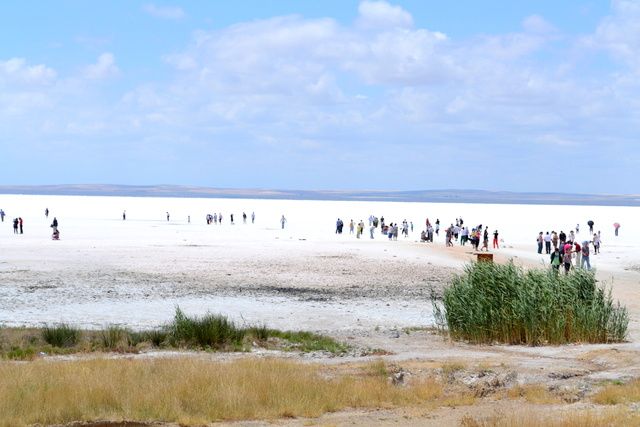 Nothing much here except locals promoting their products like salt bath to tourists.
Lunchtime at Ankara's local restaurant.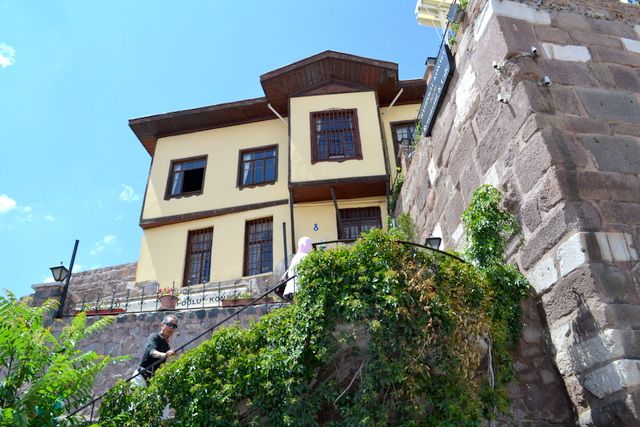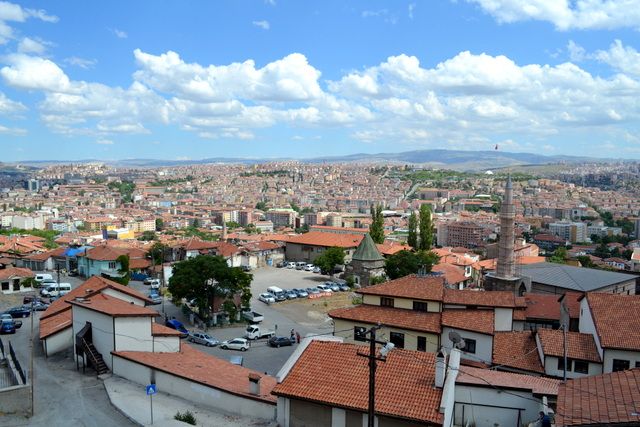 Short Information about Ankara: It is actually the Capital of Turkey and the country's second largest city after Istanbul.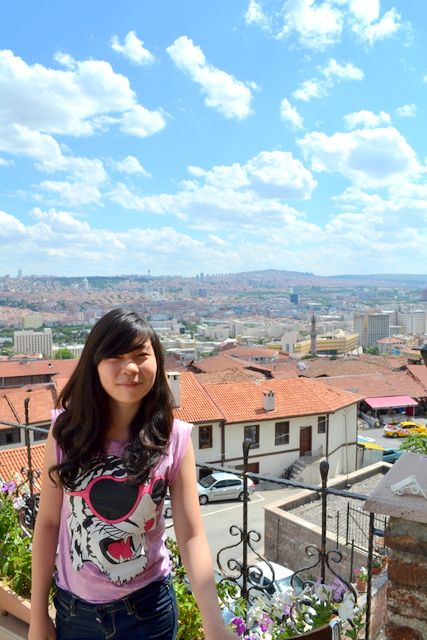 Benefits when eating in a restaurant that is located on a hill, the amazing city view.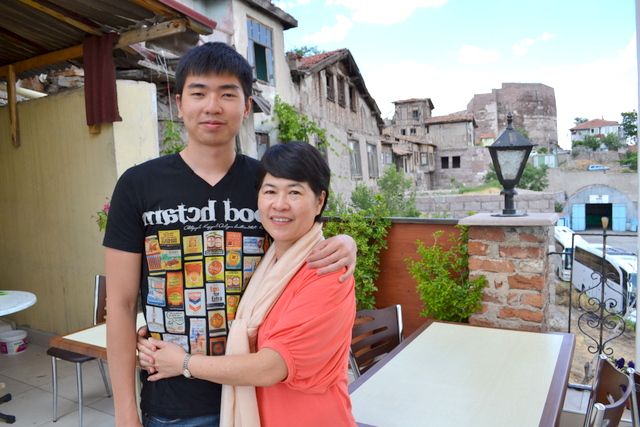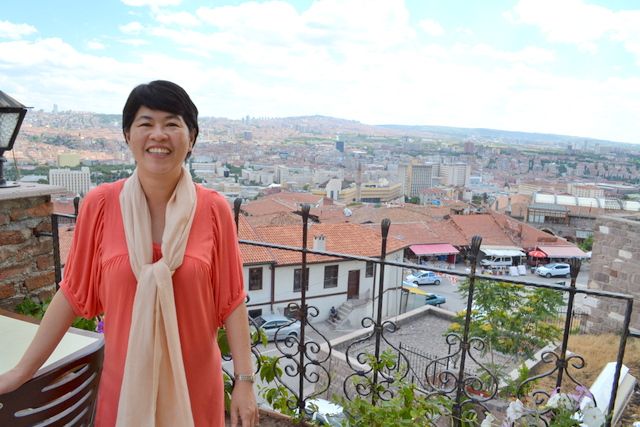 Cheerful mum after filling her tummy.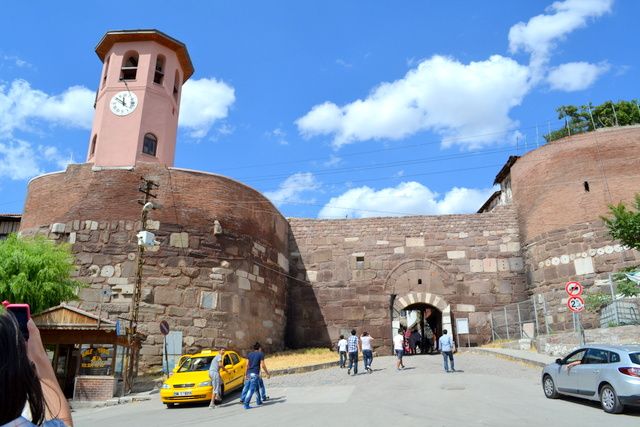 Nineteenth Destination, Atatürk Mausoleum.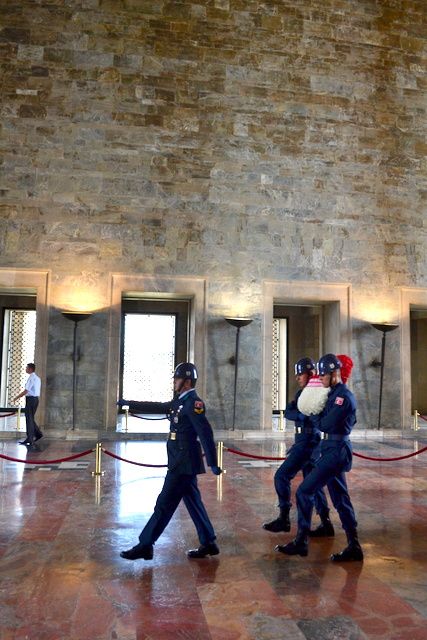 Came to the "Hall Of Honor" first because we were just in time for a ceremony whereby they would pay respect to Ataturk by laying a wreath to the sarcophagus of he's tomb.
For those who doesn't know who is Ataturk, he is the leader of the Turkish War of Independence and the founder and first President of the Republic of Turkey.
Anyway, Hall Of Honor is an iconic symbol of this Mausoleum.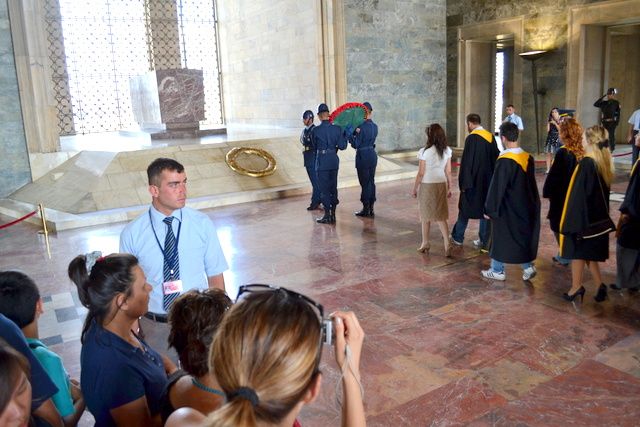 Gold Mosaics found on the ceiling above the tomb.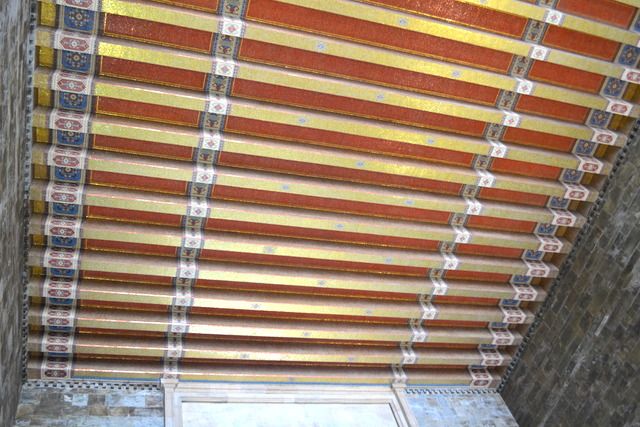 Gold mosaics are really very common in Turkey's museums.
Guards in front of the Hall Of Honor.
There were many guards from different branches (Air force, Navy...) present at the museum.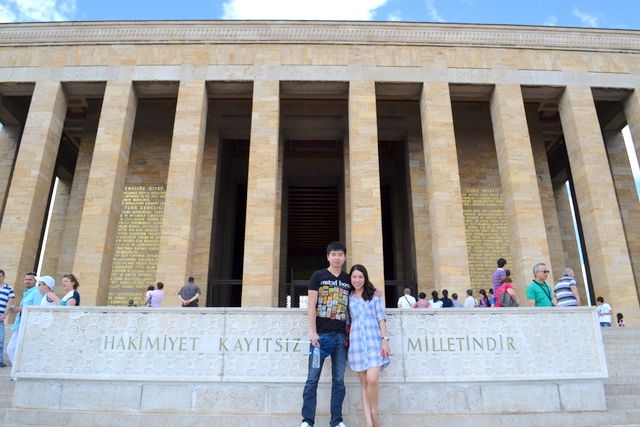 The front view of the Anıtkabir (memorial tomb).
Too bad we were not allowed to take any photos when we walked from room to room in the museum. They were filled with a large amount of paintings, artifacts, historic information and also Ataturk's uniforms, weapons, personal items and many many more.
Overall, if you are really very interested in historical stuff, then you got to visit this place. It was indeed very informative.
The Ceremonial Courtyard/Plaza. I heard that the changing of guards were pretty impressive and yes, we didn't get the chance to witness it!
Just look at the clear sky! #nofilter~
Road of Lions. Twelve pairs of lions were lined on both sides of the passageway towards the monument. The lions represent Anatolia and are shown seated simultaneously represent both power and peace.
One serious shot for each of us.
And of course a candid shot!
Sculptures symbolizing Turkish Women. One of the woman is like "I See No Evil"~
Sculptures symbolizing Turkish Men.
The outside view of the mausoleum! Exclusive: Only found on my blog. :p
Playful bro disturbing my mum~
Travelled to Bolu, Kobu Hotel.
Love the weather at Bolu! The rooms doesn't need any air conditioner, just natural air.
Heading out to the nearby market to buy turkey's pistachio chocolates that our tour guide recommended to us.
By the way, just to let you guys know that Bolu is a forested countryside town. And that will be all for Day 8!
Day 9, Leaving Bolu for Istanbul.
Temperature at Bolu in the morning, 15-20 degrees! In love with this kinda weather.
This dog is definitely more sociable than my dog at home.
Manage to take a group picture with our amazing bus driver who really does look like George Clooney in real life and our brilliant tour guide who doesn't fail to explain every single detail to us about Turkey! Our trip wouldn't be the same without them!
P.S Please ignore our tour bus.
Twentieth Destination, Topkapi Palace.
Topkapi Palace, located at Istanbul and it is home of the Ottoman Sultans for nearly 400 years. It contains important holy relics of the Muslim world.
A major tourist attraction and a UNESCO World Heritage Site.
Closeup details on the Fountain of Ahmed III.
The Imperial Gate, the main entrance into the First Courtyard.
Gate of Salutation, the entrance to the Second courtyard of Topkapi Palace.
Security check before entering the Palace.
Enderûn Library (Library of Ahmed III). The library collection consisted of more than 3,500 manuscripts.
The Conqueror's Pavillon, one of the oldest buildings inside the palace that was used to store works of art and treasure.
View of the Marmara Sea from the palace! Wonderful location to build a palace! Pretty yeah?
Entrance of the Audience Chamber and inside is the main throne room.
Told you, they love the color GOLD~
Back to the Gate of Salutation for photo-taking session since we still had time before leaving for lunch!
Destination Twenty One, Grand Bazaar (Kapali Carsisi).
Here we are! The well known Grand Bazaar in Istanbul!
500 years old Grand Bazaar. This is one of the largest and oldest covered markets in the world, with 61 covered streets and over 3,000 shops. So, it's pretty easy to get lost in this huge maze!
Word of Caution: Do take care of your belongings!
Found most of the souvenirs here for my beloved friends. Well, I feel that the real purpose of going to the Grand Bazaar is just to soak in the atmosphere.
Colorful Mosaic Lamps which are very popular in turkey. Perfect souvenirs for yourself!
Destination Twenty Two, Bosphorus River Cruise.
This cruise has almost the same concept as the one we sat in Paris. You will get the chance to sail in between the two continents, Asia and Europe, and enjoy them at the same time.
What's Bosphorus River? (Not sure if I mentioned it in my previous entry) It is a strait that separates the continents, Europe and Asia and connects between the Black Sea with the sea of Marmara and the Aegean Sea and the Mediterranean Sea.
Freshly squeeze orange juice for sale! Nope. It's not free...
We were lucky enough to have the entire cruise to ourselves!
Mini mart on board.
The most expensive hotel in Istanbul, Ciragan Palace Kempinski.
"The Sultan's Suite, billed at US$15,332 per night, is listed at number 14 on World's 15 most expensive hotel suites compiled by CNN Go in 2012" from Wikipedia. SAY WHAT?! Anyway, by the looks of it, I think there was some event going on that day.
The Bosphorus Bridge connecting Europe and Asia.
Spot the seagull~
Enjoying the breeze and scenery.
Rumelihisarı (Rumelian Castle) is a fortress located at the Eastern side.
Had to eliminate lots of photos that I took. Didn't want you guys to fall asleep from looking at the pictures of different shapes and sizes of buildings.
Alright! Back on feet and time for more shopping!
Destination Twenty Three, Egyptian Spice Bazaar.
The second largest covered shopping complex after the Grand Bazaar.
Bought these different flavored turkish delight which has nuts in them! Unlike those sold in wholesale factory, they are less sweet and I guess, healthier choice? Haha!
You can also buy CHEAP AND FRESH fruits here!
Came across this famous brand for turkish coffee called, Kurukahveci Mehmet Efendi. There is always a never-ending queue right in front of their store.
We queued and decided to buy them as souvenir. No worries! They were really fast in serving their customers so within minutes, you will get your turkish coffee beans!
Our last meal in Turkey... Chinese food. Hahaha!
Day 10, Atatürk International Airport.
Ready for a 12 hours plane ride back to Singapore. But before leaving, a photo with our cooperative tour group and both local and our own tour guide! They took extremely good care of us and we sincerely appreciated that.
I'm just going to wrap up my entire Turkey trip by saying that it is a beautiful country to visit and people should consider visiting it at least once! Friendly people and interesting history. Food wise, still not very used to Turkish food except for their Pita breads. Haha! Overall, I've enjoyed this trip very, very much. (Especially Cappadocia)
Thank you guys for reading my Turkey trip entries. Hope you guys have enjoyed it as much as I did and also, I will be going to Bangkok again next week and don't worry, we do have a new itinerary! YES. New attractions and foodies to post!! I just Can't wait! :)
[[SIGNING OFF]]