Continuing from last post. Day 7, Cappadocia.
Thirteenth Destination, Avanos Ceramic & Pottery Showroom.
This guy was our guide for the day and he was explaining to us the art of making and designing ceramics and pottery.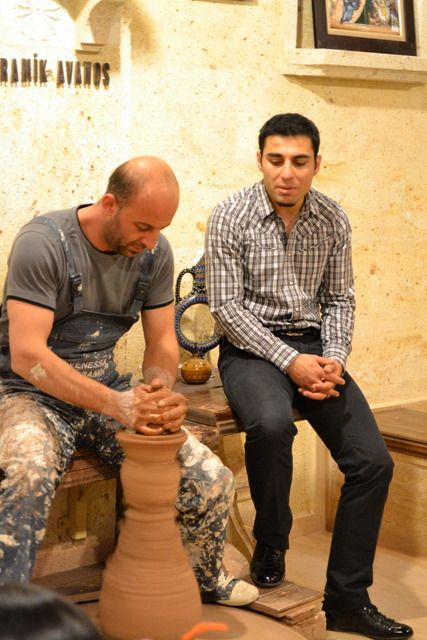 Then came another guy to do a 'live' demonstration for us to see and he just effortlessly shapes out the pottery in a few minutes.
While in the process of sculpting, they asked us to guess what sort/kind of pottery they were making. And if anyone guessed correctly, they will give the item away for FREE! Well... guess what? My brother actually got the plain and simple pottery~ Answer: Sugar Bowl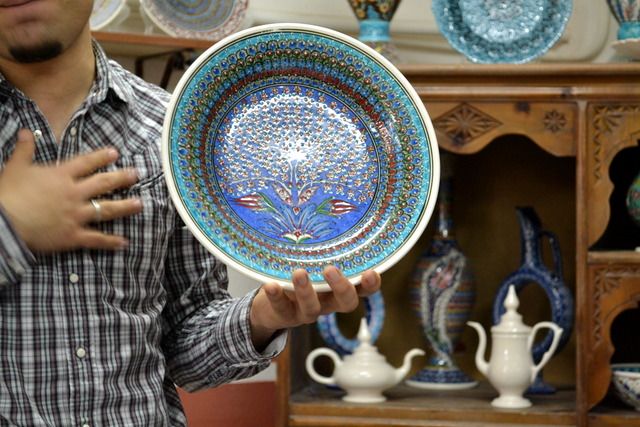 I actually like their designs because of the colors they used.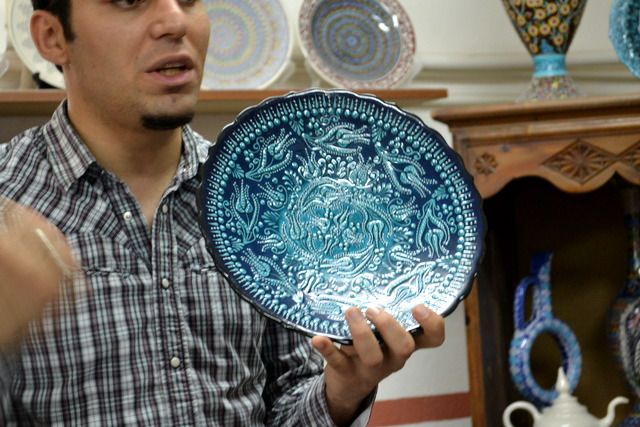 This color is called "Turkish Blue".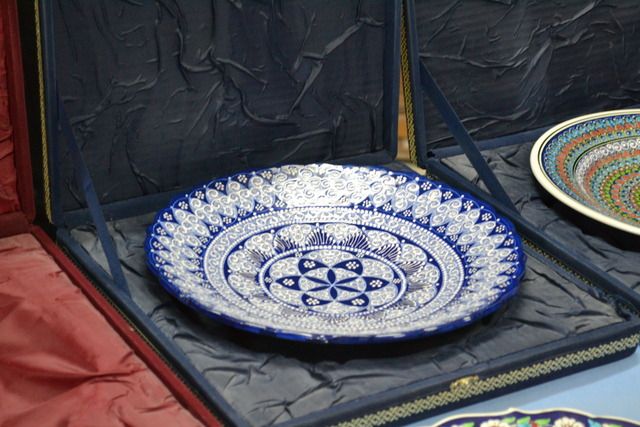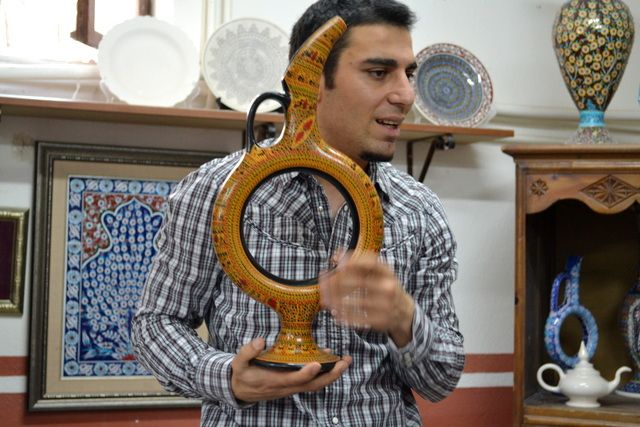 This is a wine jug that the Hittites (ancient Anatolian people) used. Put your arm through the hole and slide it up onto your shoulder. And then you're ready to serve your visitors with wine. How cool is that!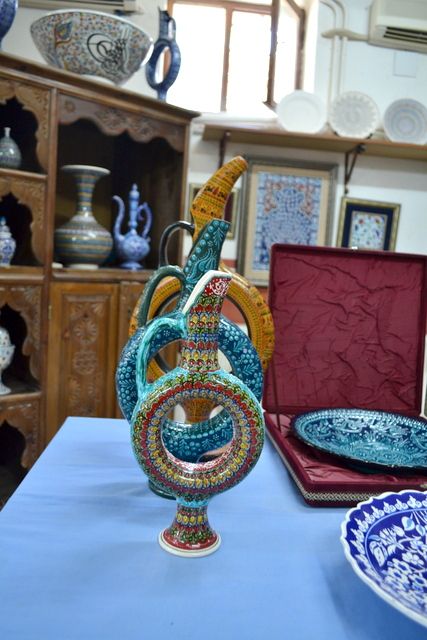 They come in different sizes too. Small, Medium and Large.
Every pieces of pottery and ceramics are uniquely designed by students.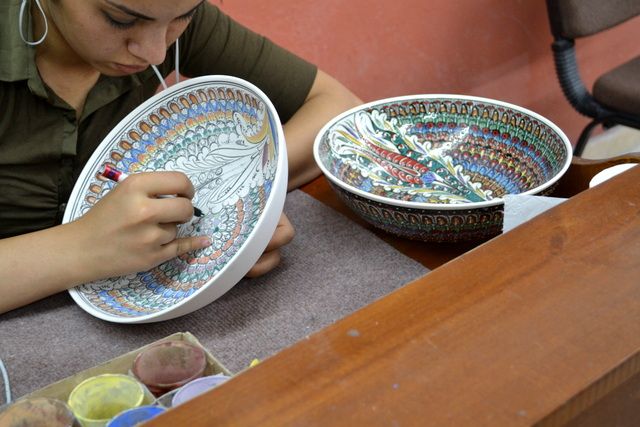 Bonus Destination. Devrent Valley (also spelled as Dervent Valley).
This valley is also known as Imaginary Valley and also as Pink Valley. It reveals many different kind of rock formations and this was one of the most obvious and famous sculpture. So... what does it remind you of? :)
And if you let your imagination run free you will find many other sculptures.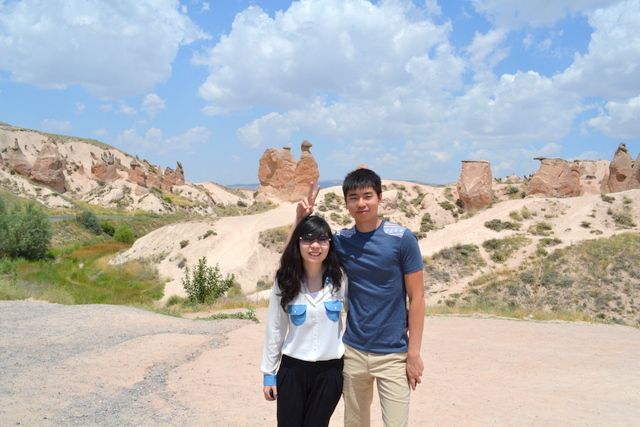 Fourteenth Destination, Uçhisar Restaurant.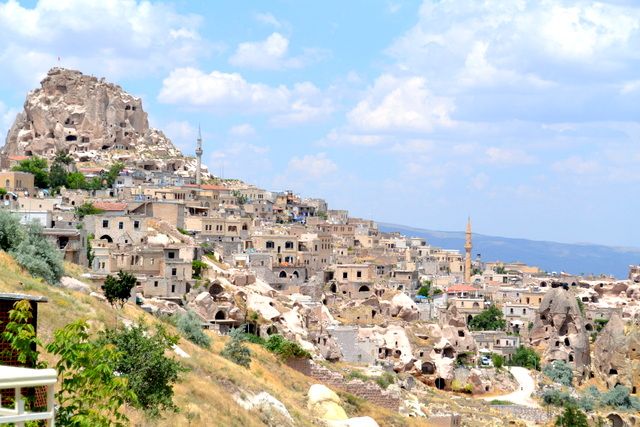 Our lunch place had this amazing scenery of Uçhisar Village that consist of small dwellings that are carved into huge rocks.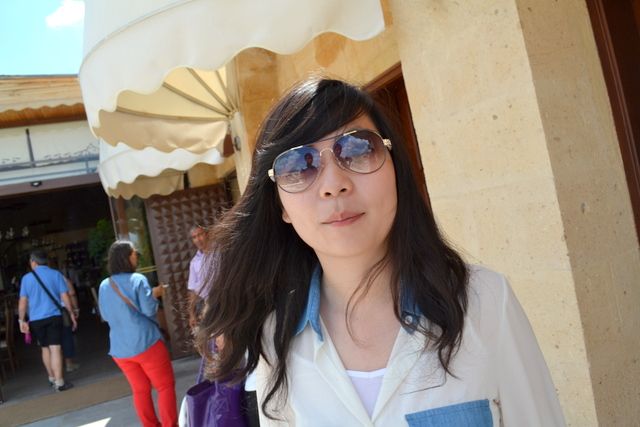 Monkey face.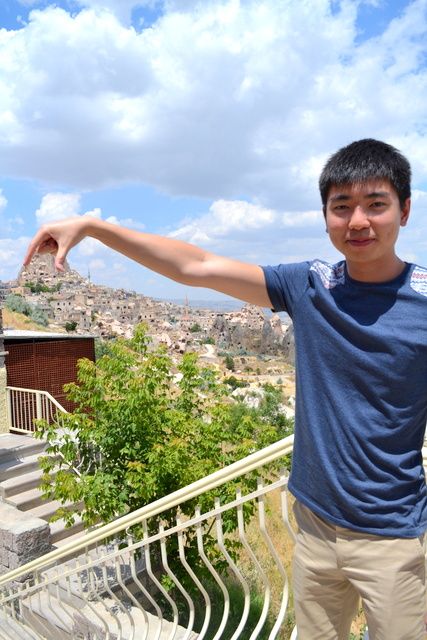 Trying to pick up the natural rock citadel which is the tallest point of Uçhisar.
I had a go on it too.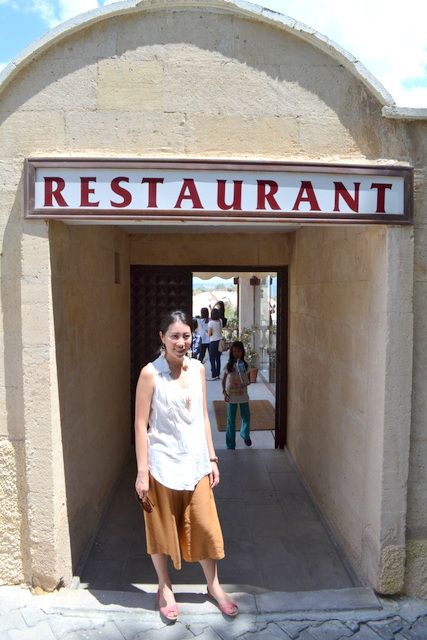 This should to go onto 'Vogue' magazine! HEEHEE~!
Finished our lunch and our guide brought us down to visit an area of Uçhisar.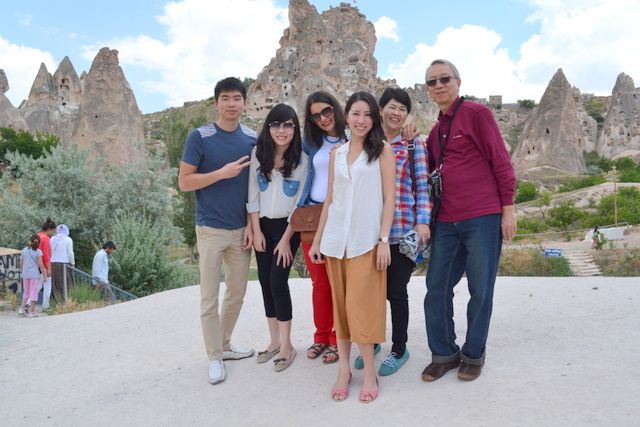 Photo with our awesome tour guide!
She doesn't like to take a picture alone.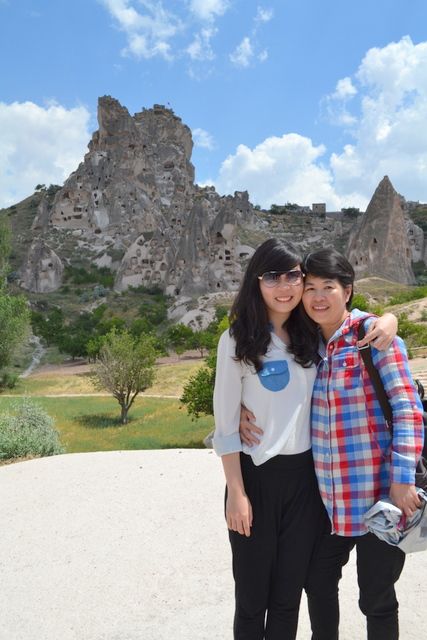 She likes to have a photo with me!! :)
He's a monster who likes to eat sharp rocky mountains as snack. [shivers] So lame~
Camel spotted. Secretly took a photo of it.
Fifteenth Destination, Turkish Carpet Showroom.
Managed to witness how turkish use Turkish rug weaver to make their famous handmade carpets.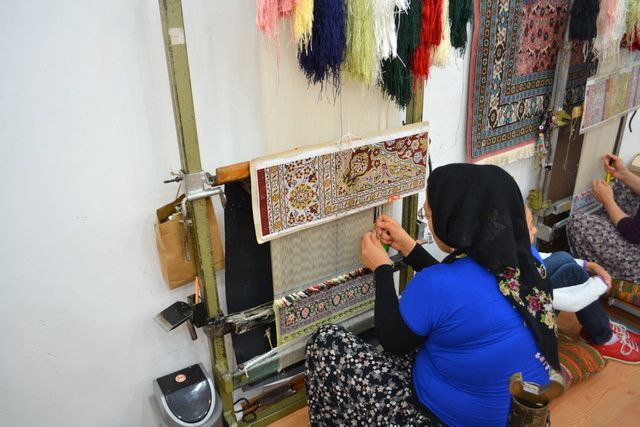 Patiently knitting it thread by thread. There are two methods of knitting a carpet. It can be either 'Turkish knot' or 'Persian knot'. Most carpets were made with Turkish Knot/Double Knot.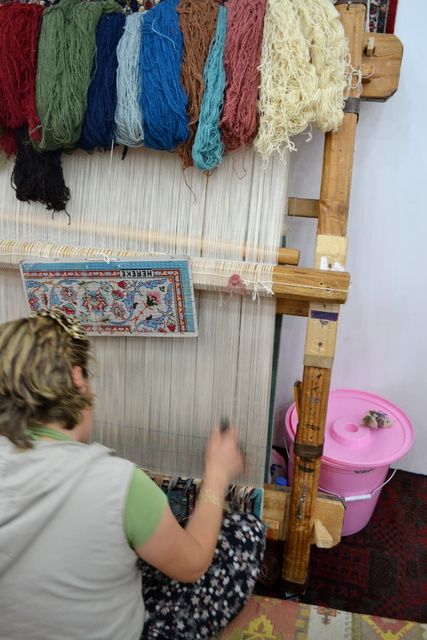 Natural Fibers are used in these rugs. It could be Wool on wool, Wool on Cotton or Silk on silk.
They even explained how they get the silk threads and dye them into different colors.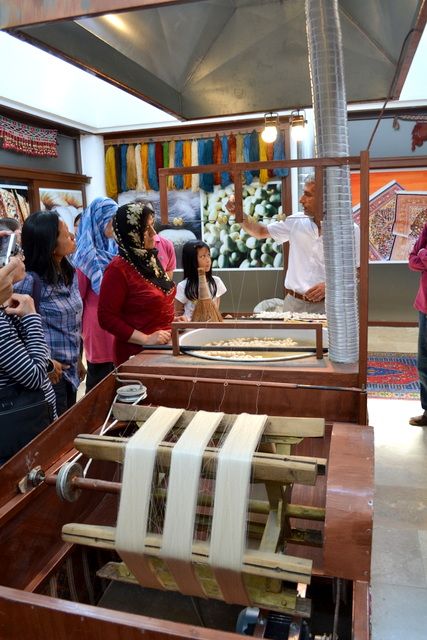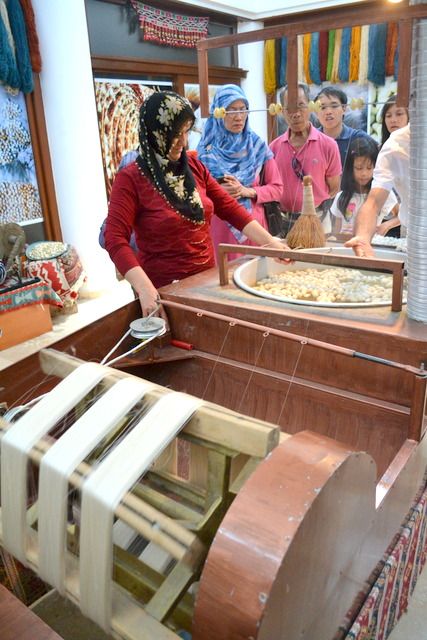 However, after learning about carpet making, they brought us into this showroom and started pulling out all kinds of carpets, hoping that eventually, a few of us would buy. Although there was this really unique "magical" carpet that amaze all of us! It doesn't fly but colors on the carpet would change when you view it from different angles! Yes. It was kinda cool but nah, we don't need any carpets at home. We got "Baobao" (Our dog) as our carpet already.
Sixteenth Destination, Derinkuyu Underground City.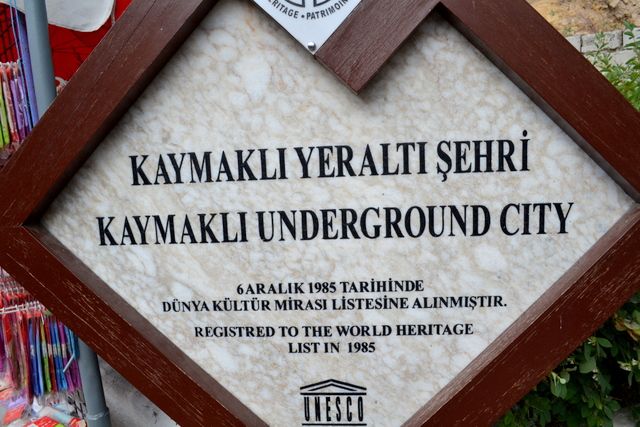 An ancient multi-level underground city in Derinkuyu district in Nevşehir Province, Turkey.
Depth of Underground City, approximately 60 m and it was large enough to shelter approximately 20,000 people together with their livestock and food stores. This is the largest excavated underground city in Turkey and is one of several underground complexes found across Cappadocia. (Source: Wikipedia)
Pardon my bad photography skills in the dark.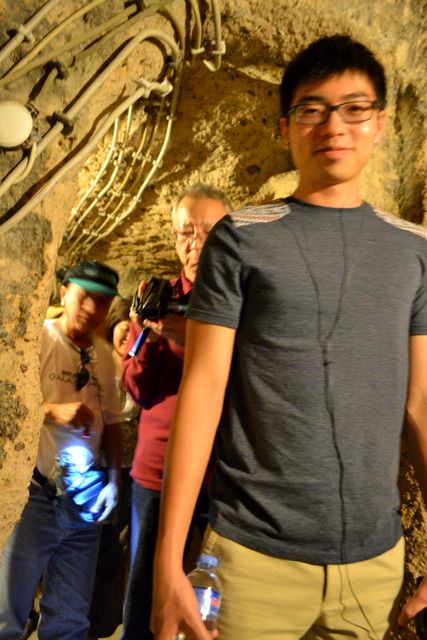 Very cooling inside. Sadly, it was even more cooling that Singapore's weather although it's indoor.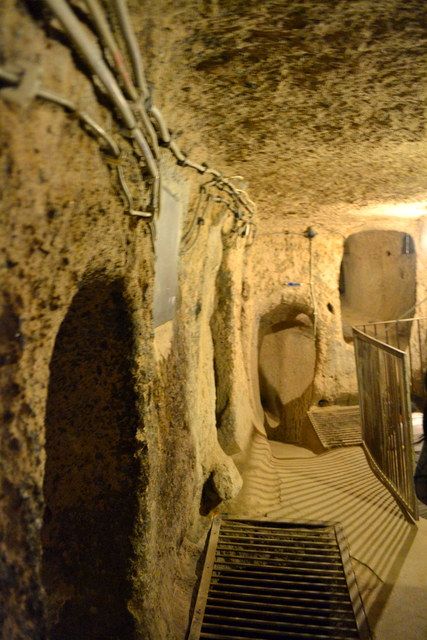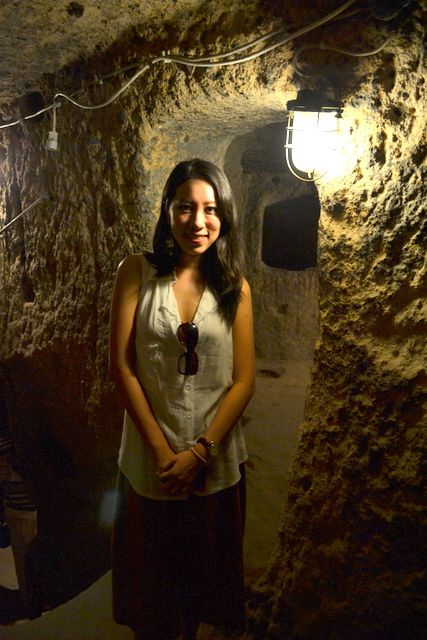 One of the main highlight of Cappadocia. Look at the amount of visitors.
One of the many heavy Large stone doors.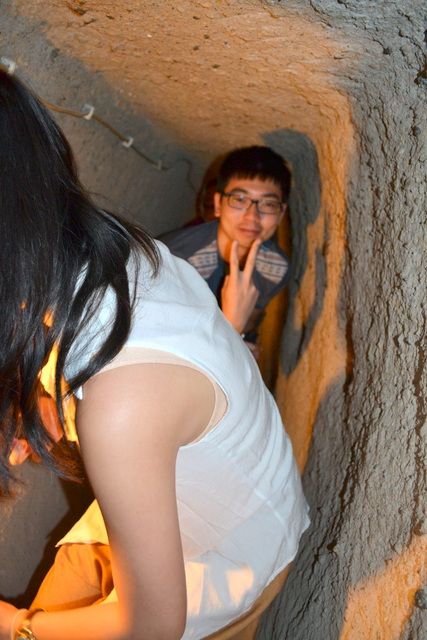 The tiring part of this tour was that we had to squat and walk or waddle across a number of small, dark and tight tunnels. Alright... It was actually pretty fun! Our laughter was echoing in the tunnels while trying to keep up with the front person and my sis was being naughty cause for no reason, she would just beat my butt! -.-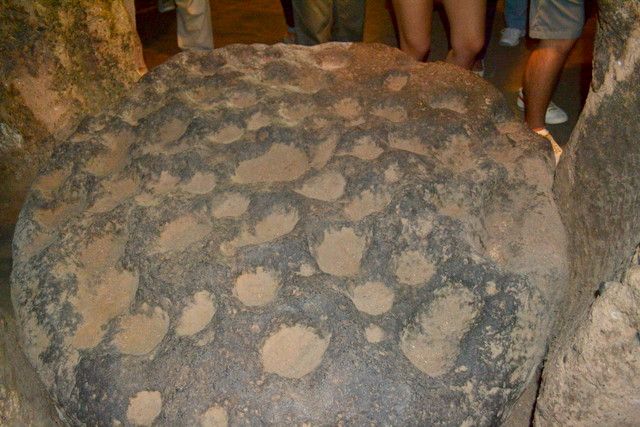 This platform was built to place Dinosaur eggs into those holes like how we put chicken eggs now. I'm JUST JOKING. Forgot what was it for. Maybe a stove to cook food?
It was definitely an underground maze that you might get lost easily so stay real close to your guide.
Additional tour for us, The "Early Birds". Let's do some Safari Jeep Ride!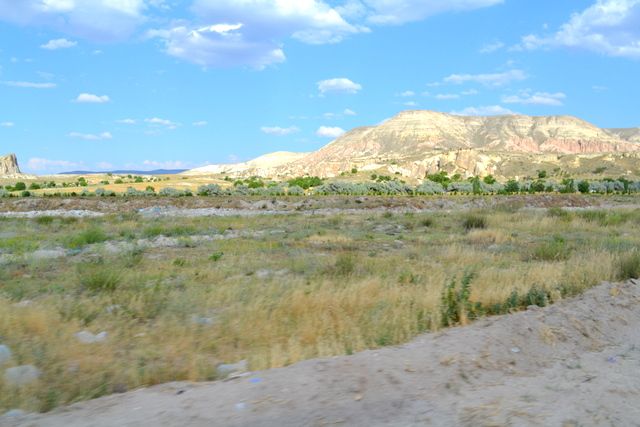 Gonna explore more of Cappadocia by going to hard-to-find places and we get the opportunity to enjoy spectacular views of the unique landscapes.
Benefit of Safari Jeep Ride. Having unobstructed views of the valleys, churches and other cultural highlights and most importantly, the excitement of traveling off-road!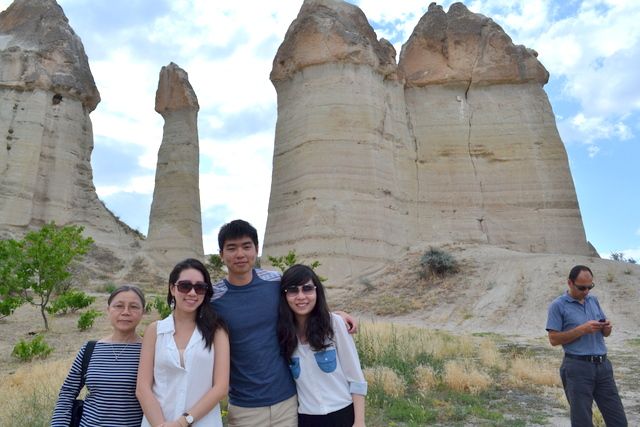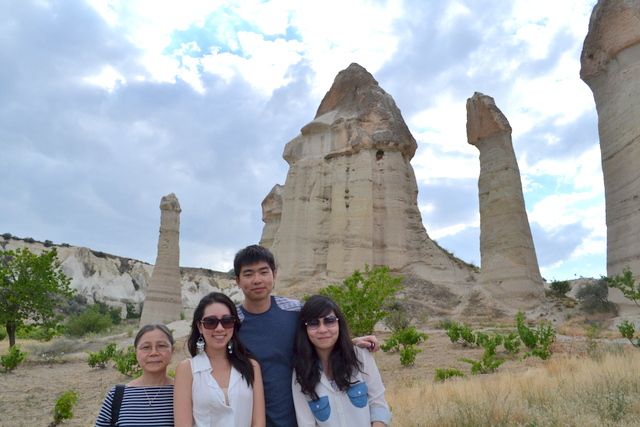 Well-known "Fairy Chimneys".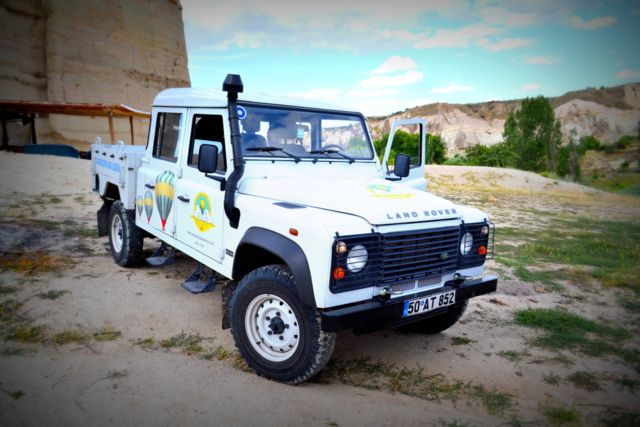 The Safari Jeep that we sat. We could never forget our driver catch phrase, "SAFARI, SAFARI~!"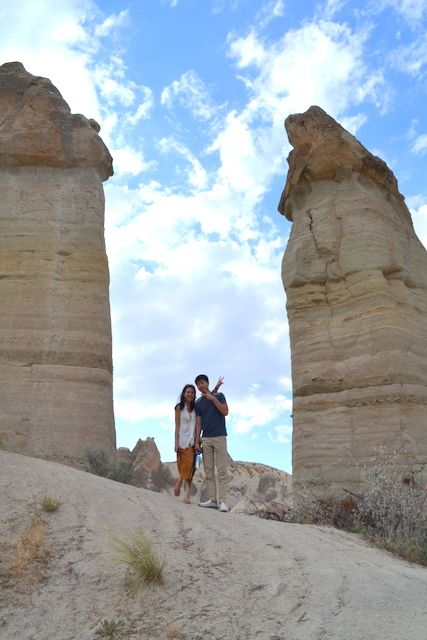 To take a clear photo while on the jeep, HA, is much more difficult than I expected. The Jeep was way to bumpy like we were sitting on a roller coaster!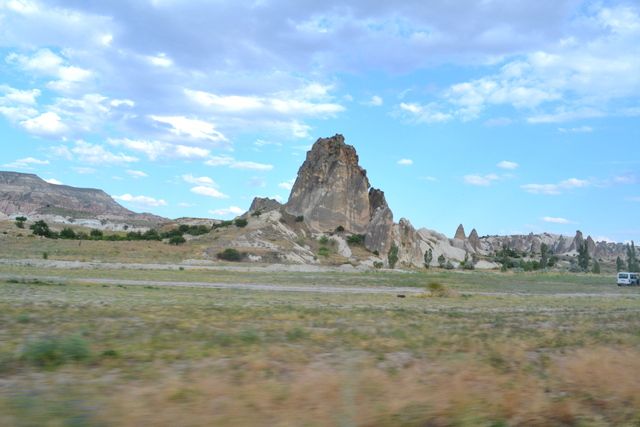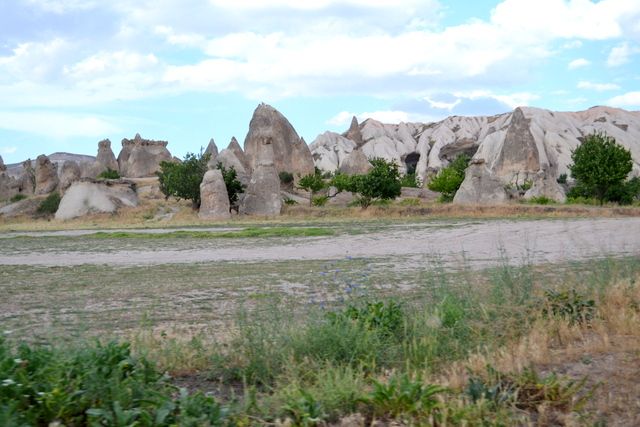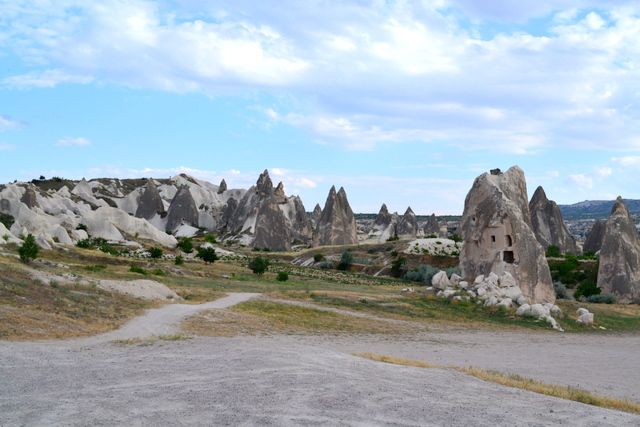 Amazing background scenery.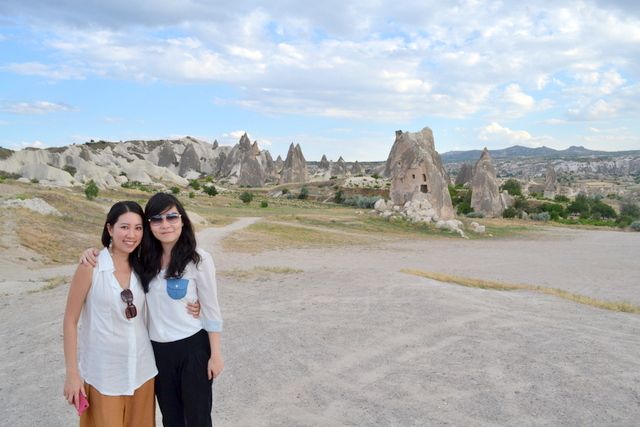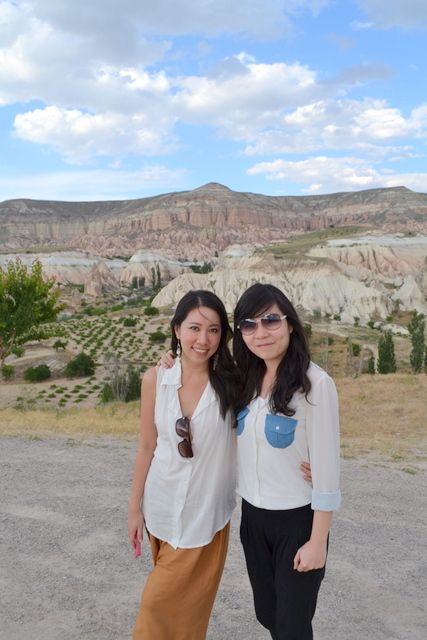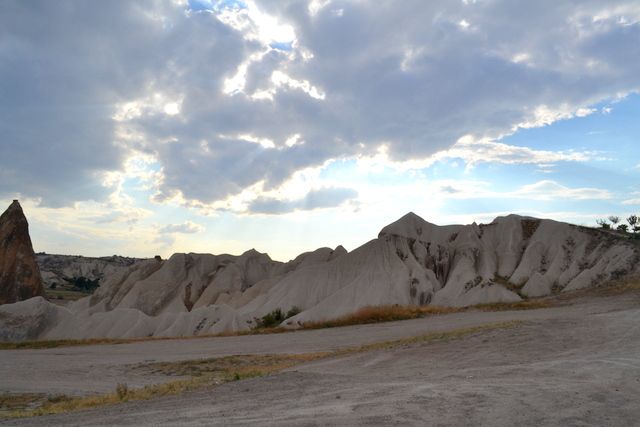 That's the end of the exciting Safari Jeep Ride! Erm... I mean the last picture of the jeep tour. The fact was that my camera died. OOPS. So this was the last picture I could take. Anyway, we even had a complimentary Turkish Ice-cream before returning back to our hotel.
Seventeenth Destination, Evanos Restaurant.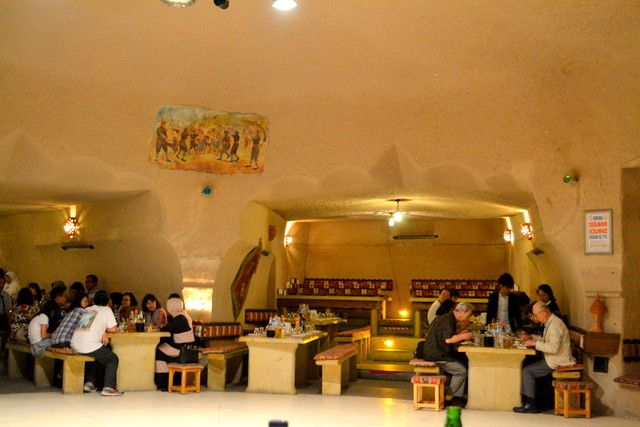 Came to this particular cave restaurant just so that we can attend their special "Turkish Night Show" with unlimited free drinks including alcoholic drink.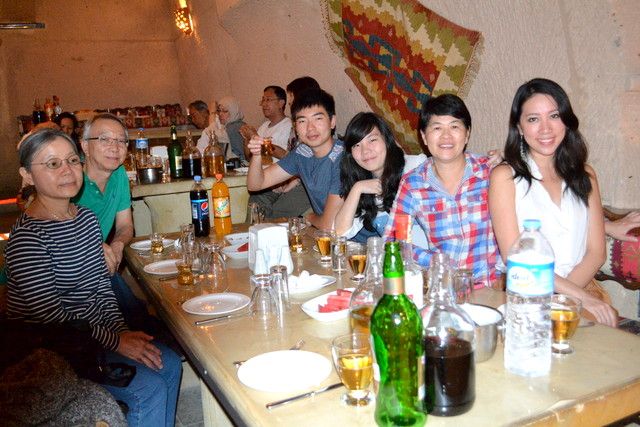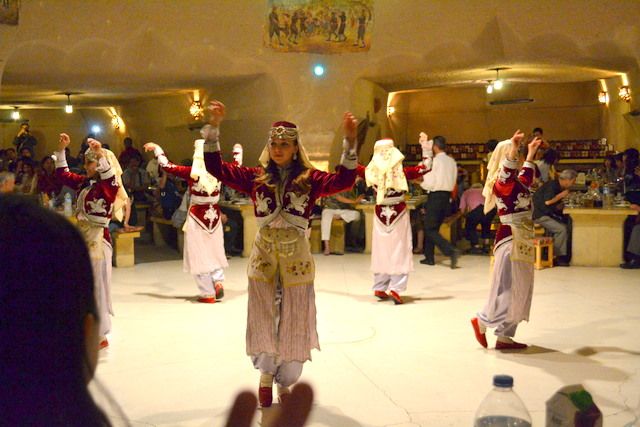 First up were performed by Turkish folk dancers.
They had colorful costumes on and they tend to shout a lot. Yeah, they were very energetic dancers.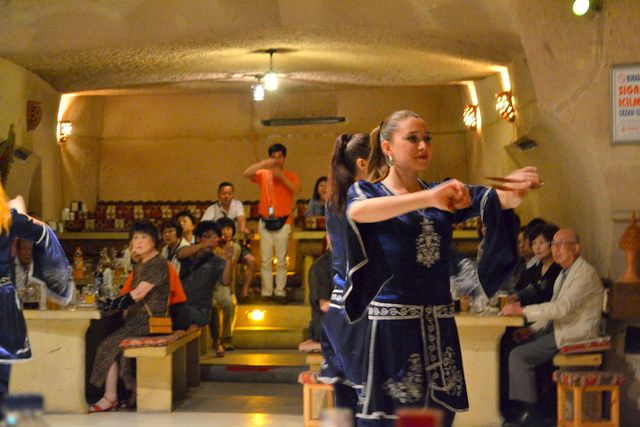 Restaurant was pretty packed that night.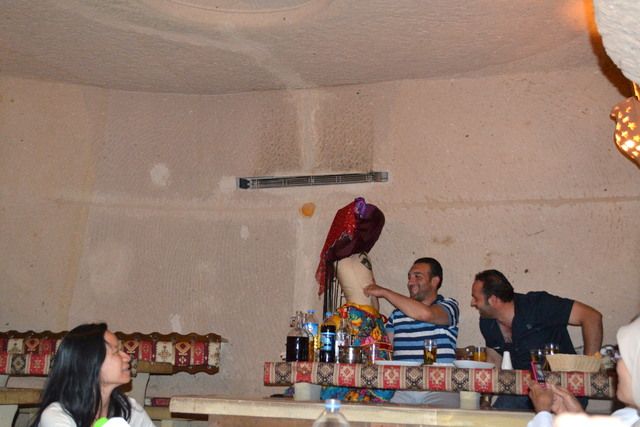 You guys better not think dirty~ I think you guys should know this 'comedy' version of belly dancing? A face was drawn on their belly and they will go around teasing 'lucky' audience.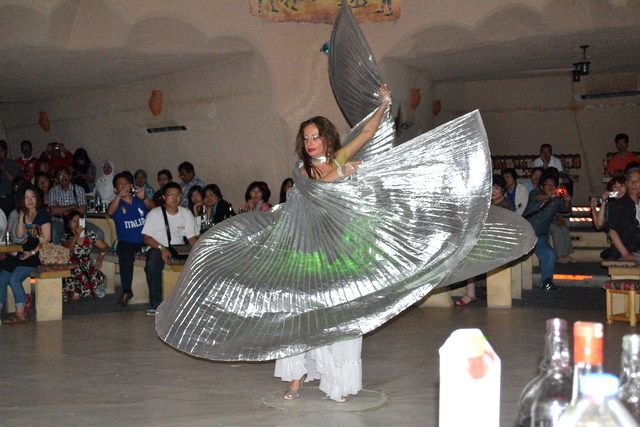 Main Highlight of the show was this lady's killer belly dancing.
Oooh~ This hand movement... One word: Crazyyy! I can't even clasp my hand together behind my back like how she did here. Let alone slowly moving upwards! Inflexible me.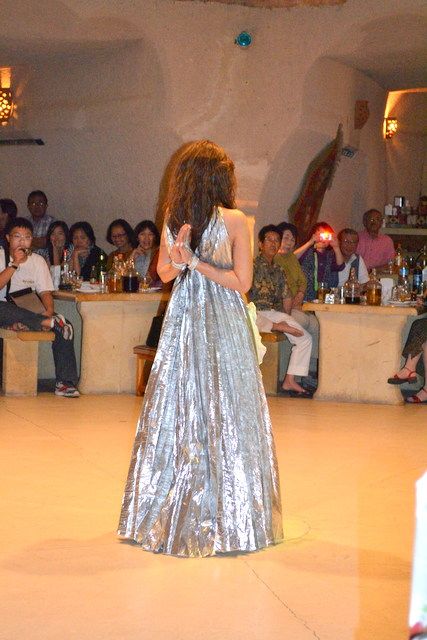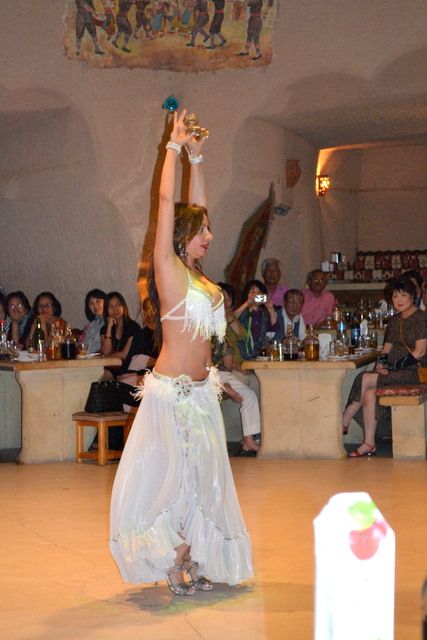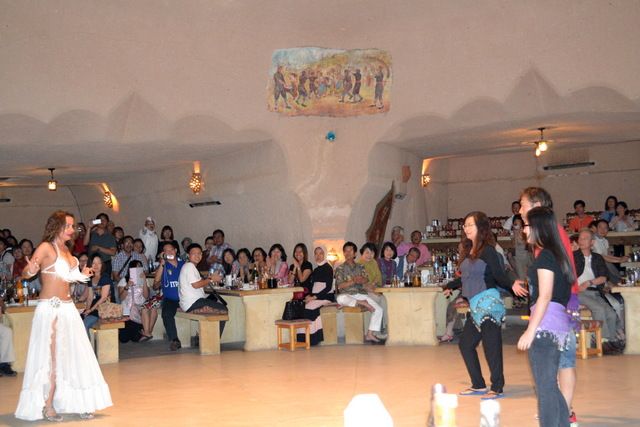 Interaction with audience! Three people was chosen to have a short belly dancing lesson from her! It was funny and entertaining!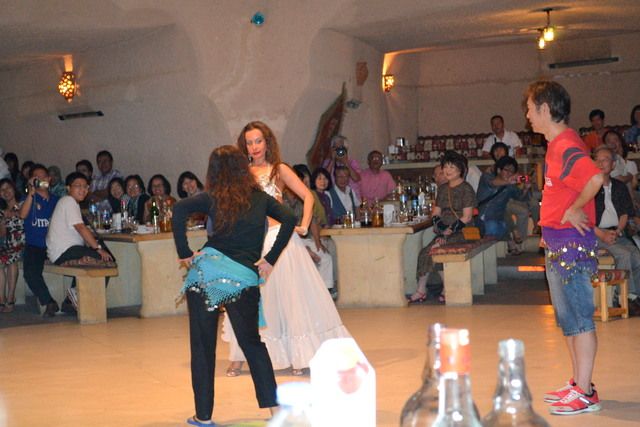 This guy who could not even shake his hips at all was picked out to perform belly dancing in front of so many people! HAHA! Unlucky~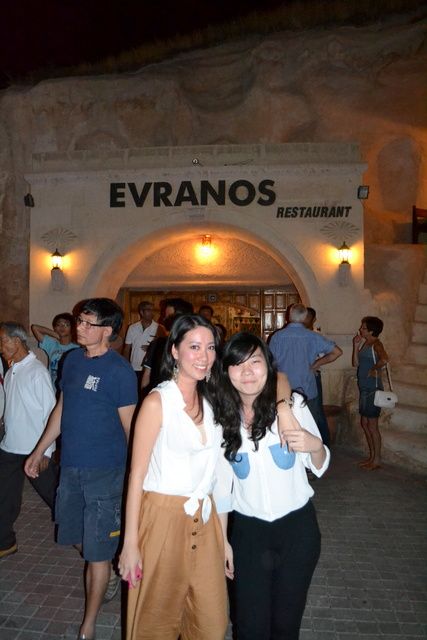 Time to head back to the hotel for a good rest. This was the longest and most tiring day among the entire trip. However, it was worth it because Cappadocia was indeed very beautiful with good cooling weather and it's definitely the best place to visit in Turkey. (In my opinion) Next post, back to modern Istanbul!
[[SIGNING OFF]]