Day 7, Cappadocia.
Woke up early in the morning to have breakfast which was included in our hot air balloon package. There were, I think, 4 time slots for us to choose from. And our tour group agreed on the earliest time slot which was around 5-5.30am so that we could see the sun rise and well, it was super worth it.
Was already freaking excited when we first saw all the half inflated hot air balloons!
Had a mini bus to drive us to our allocated hot air balloon.
Time to climb into the basket which could hold up to 20 people! :)
Our group's hot air balloon conductor starting up the fire~
Just look at the fire blast!
Super friendly and fun guys helping us set up the hot air balloons.
WHOOHOO! Up up and away!!!
A Breathe-taking sight that I will never forget...
Because of the limited space in the basket, taking pictures together was quite a challenge for us.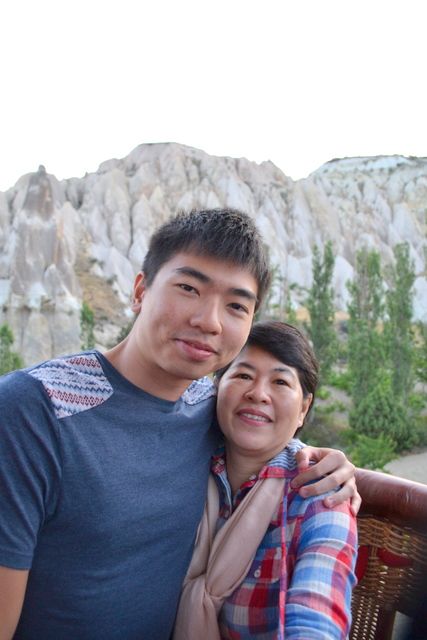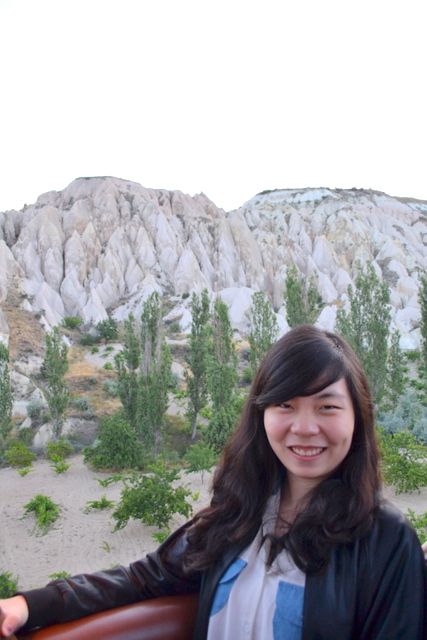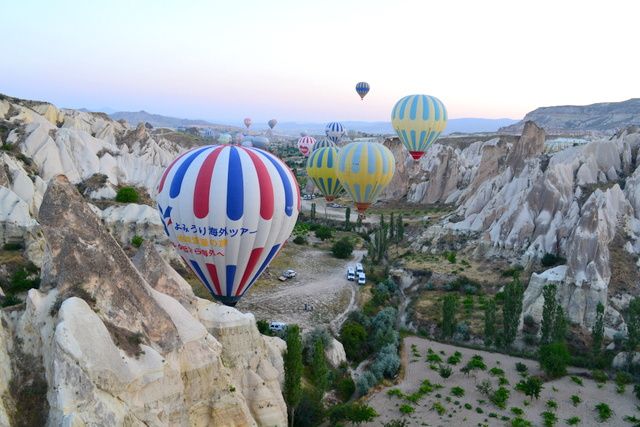 Descending back down. It isn't easy to fly a hot air balloon. You got to know how to deal with the wind.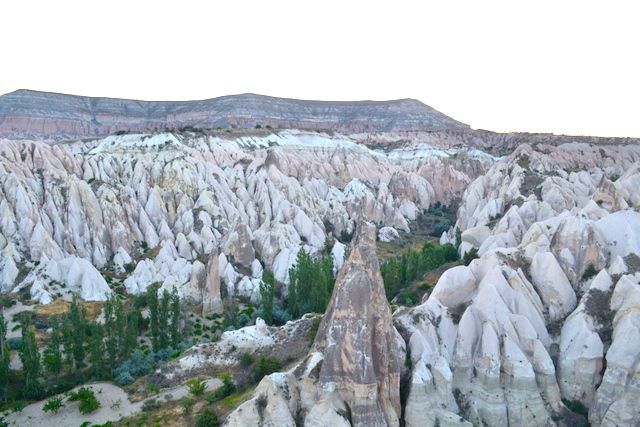 Unique rock formation in Cappadocia.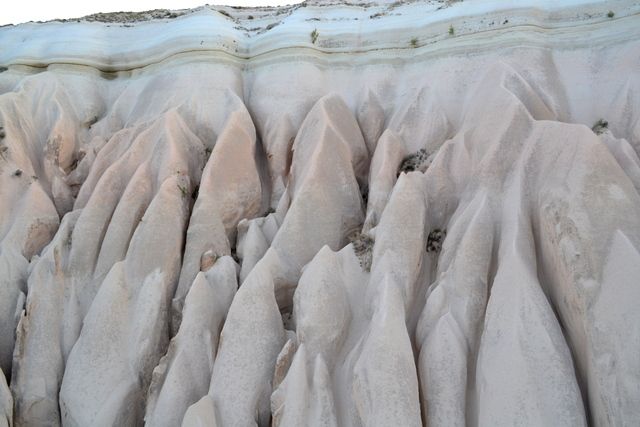 An up-close view of those rocks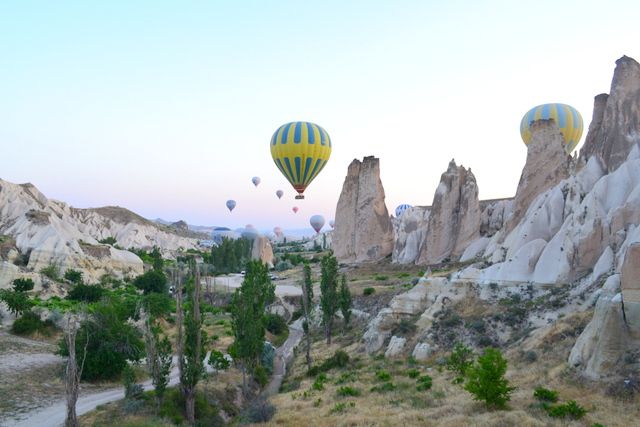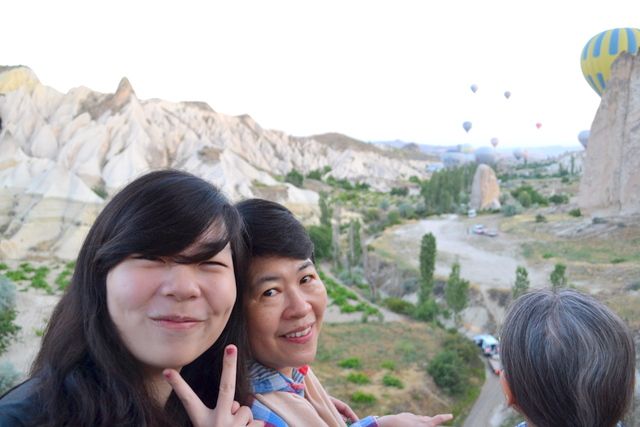 Where's my eyes!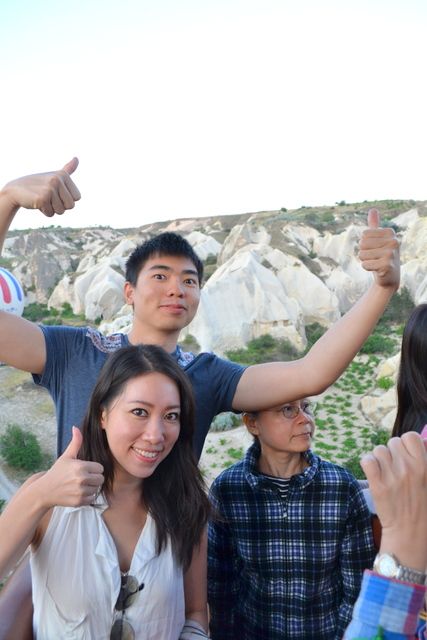 And here he goes again! The crazy posing~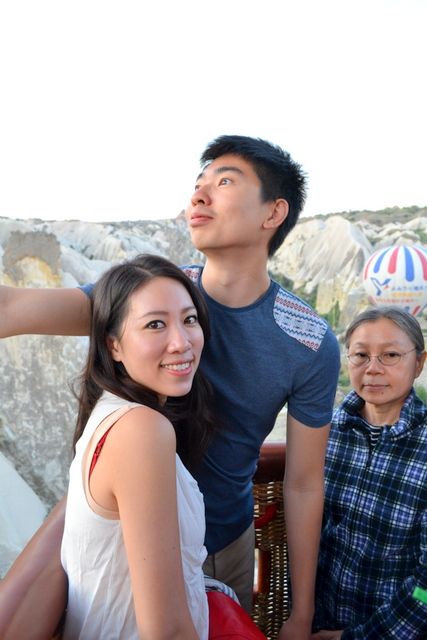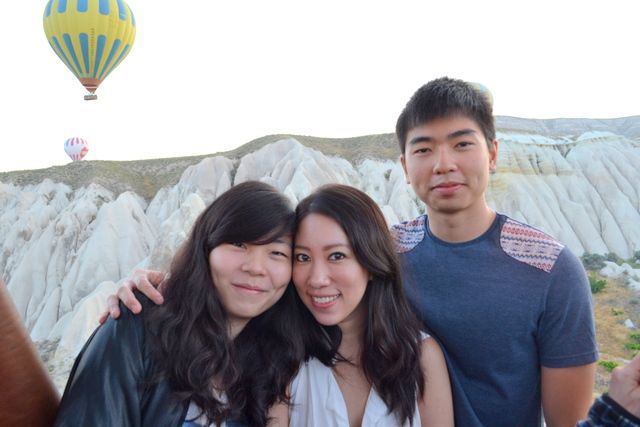 Beautiful sky filled with Hot air balloons.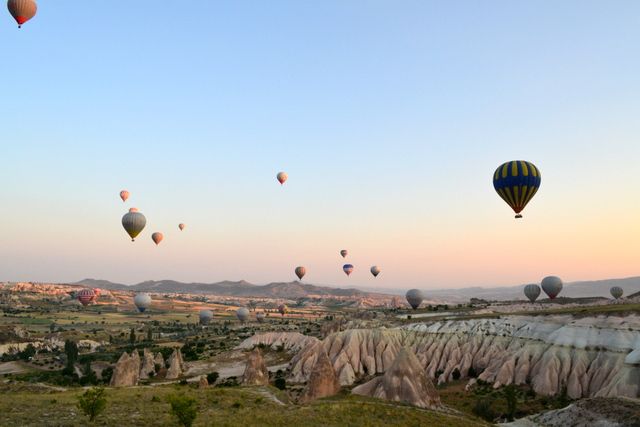 Didn't mean to photobomb my parent's picture...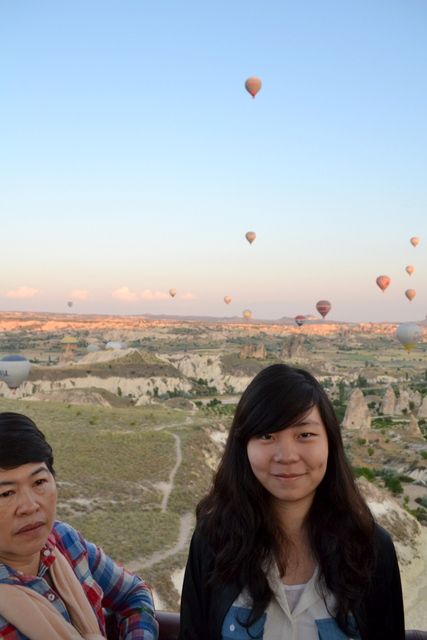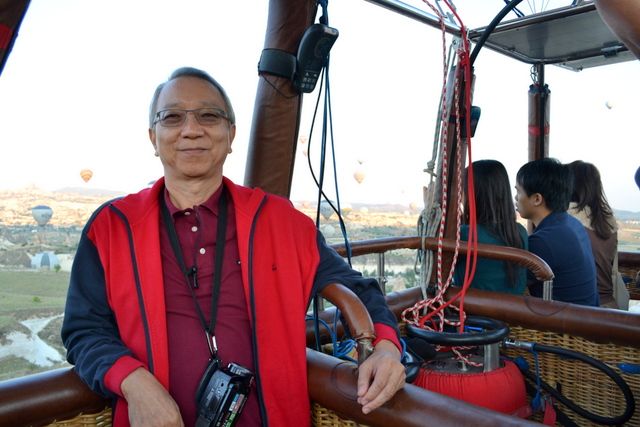 Dad happily enjoying the amazing view.
Controlling the Hot air ballon's burner.
A glimpse of the rising sun.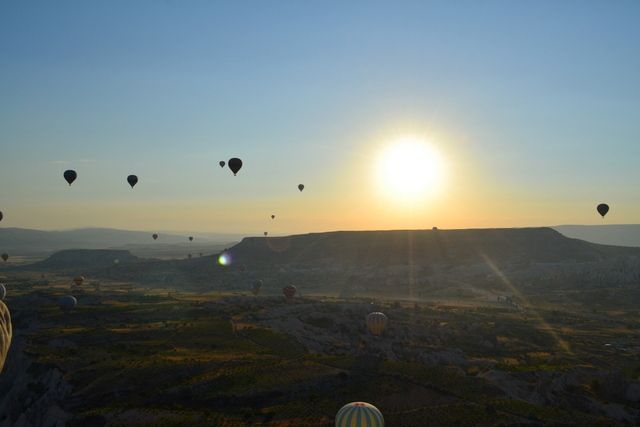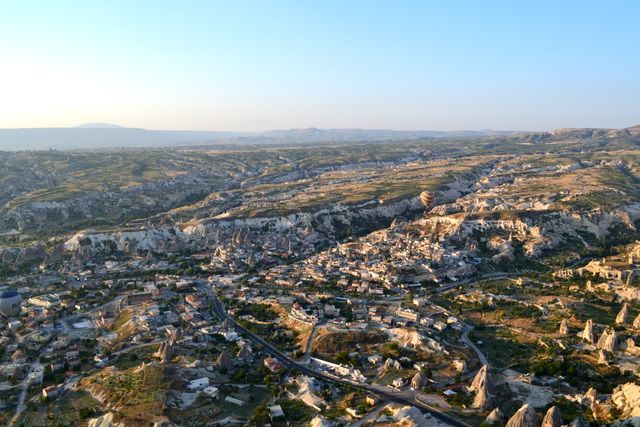 Land of Cappadocia.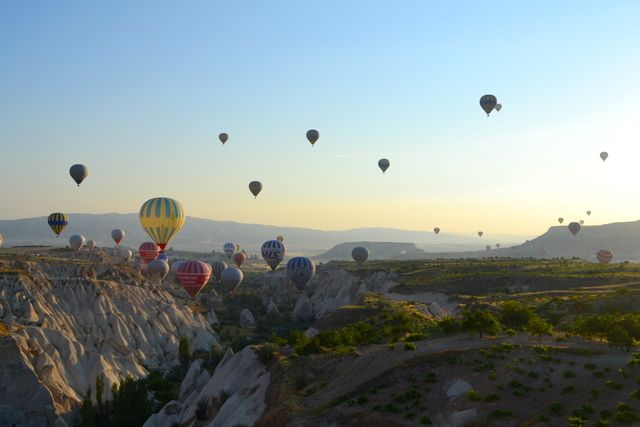 Couldn't stop spamming photos when the view of scattered hot air balloons were just right in front of me.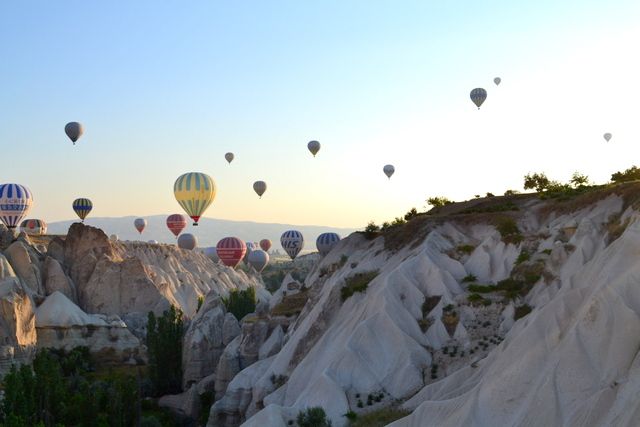 It's incredible.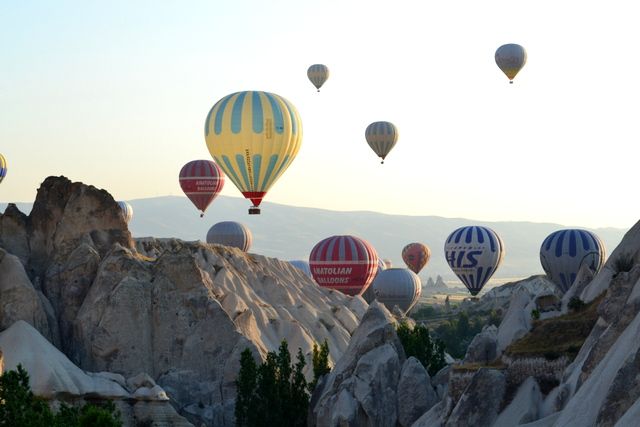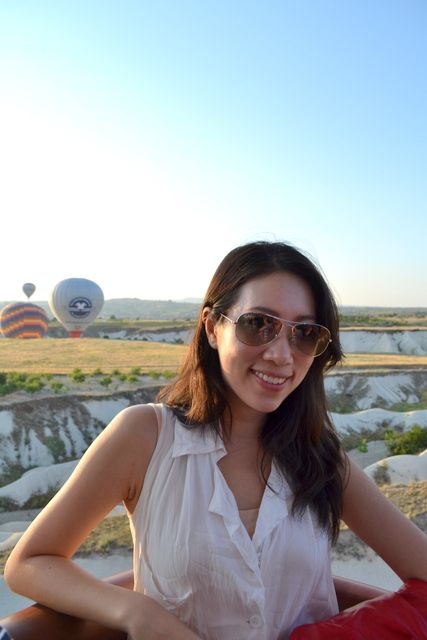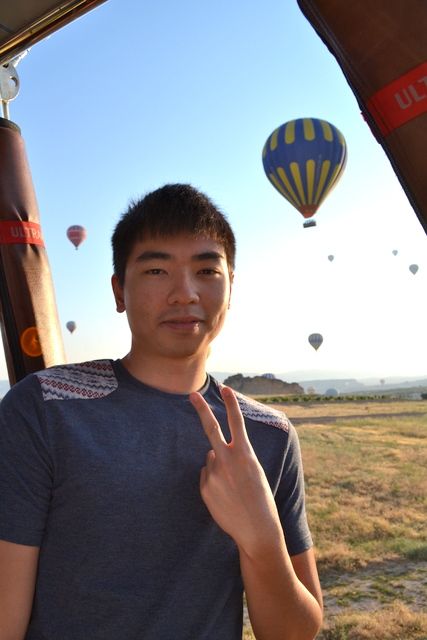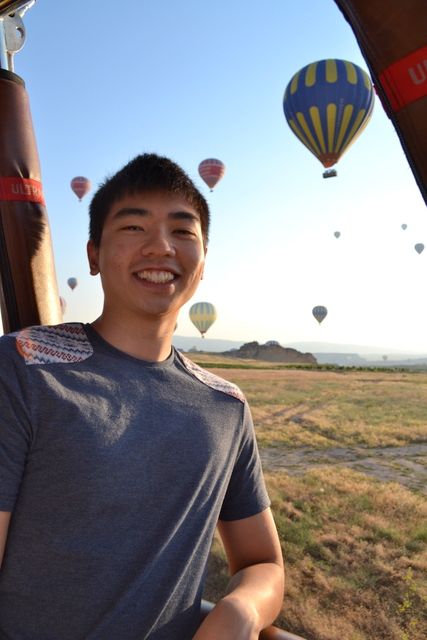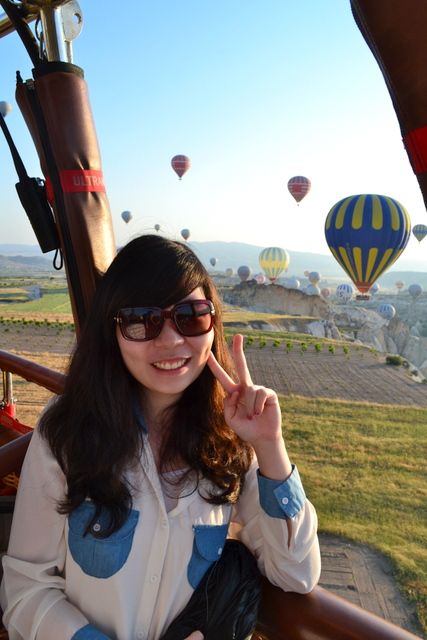 Back on land. Had to land onto a platform behind this lorry. Anyway, landing of a Hot air balloon? HA! No joke difficult! Need five men to hold the basket down and it's freaking bumpy and kinda scary!!! That's the reason why they would emphasize on the landing position before taking off. Sorry! But I couldn't take any photos on how we landed cause everybody were too busy grabbing tightly onto the handles of the basket. Woo~ A once in a lifetime experience!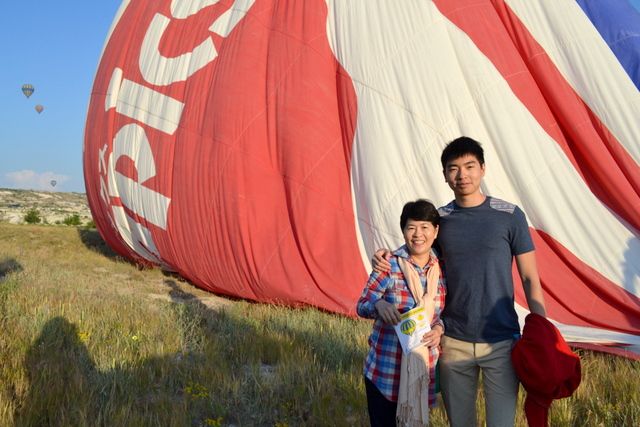 Behind us, a slowly deflating balloon...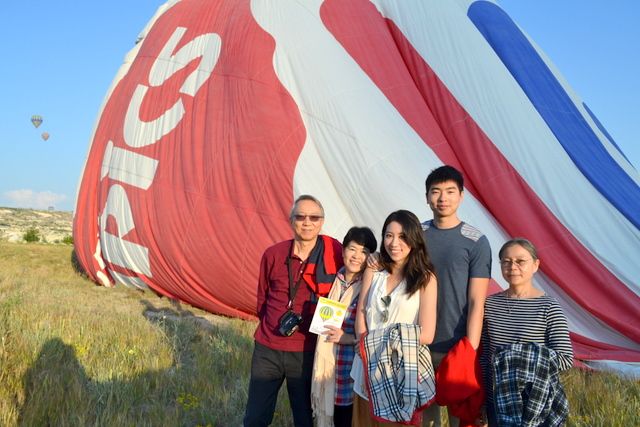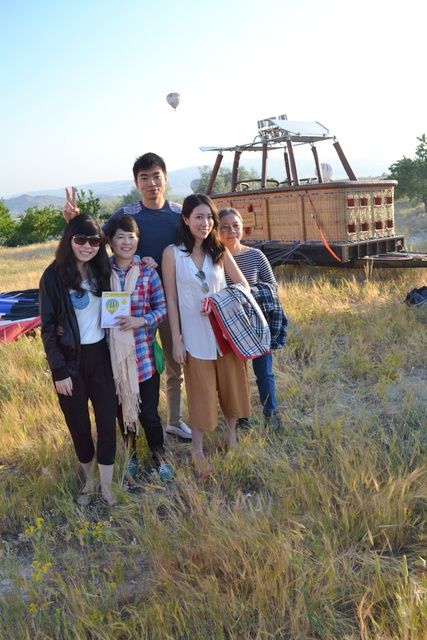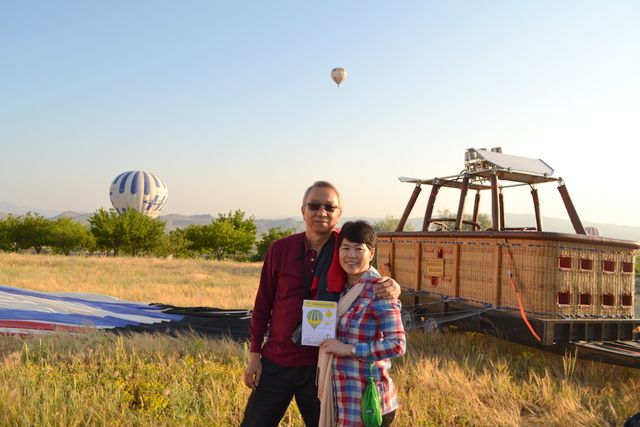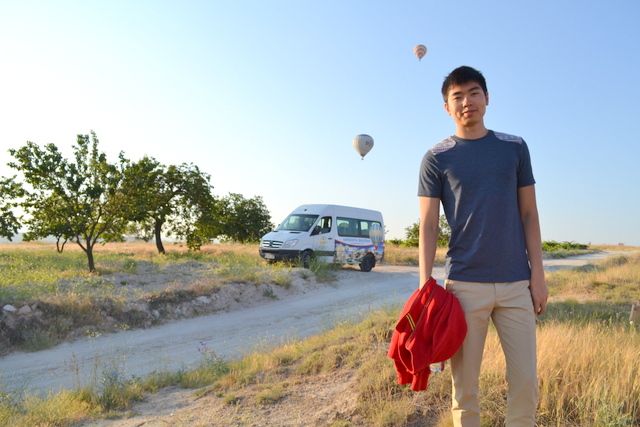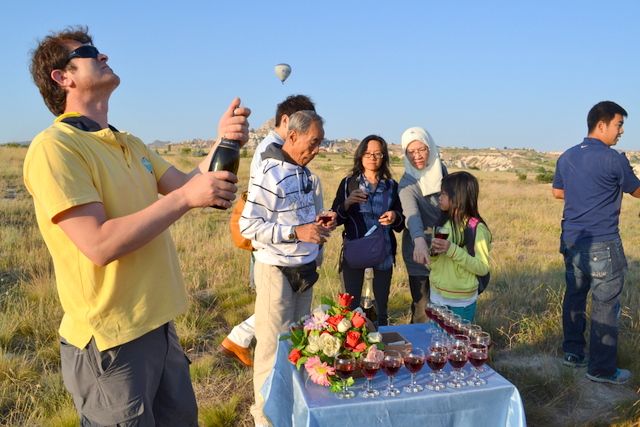 Alright! Popping of champagne! Yes... We're having a drink session in the middle of nowhere.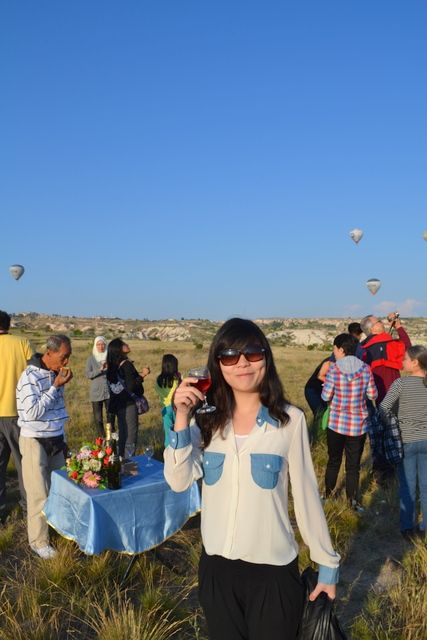 A cup of champagne mixed with some other drink for each of us. Cheers! :)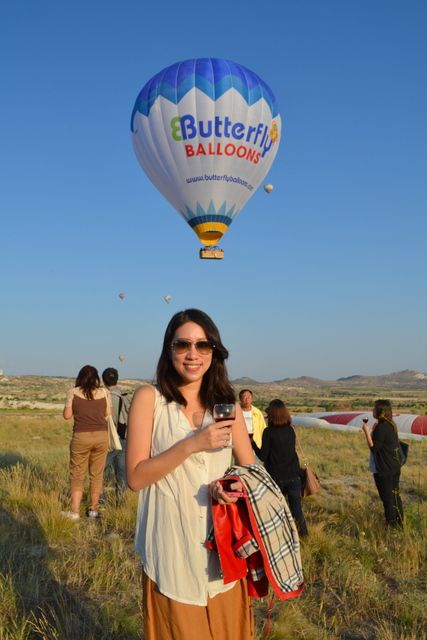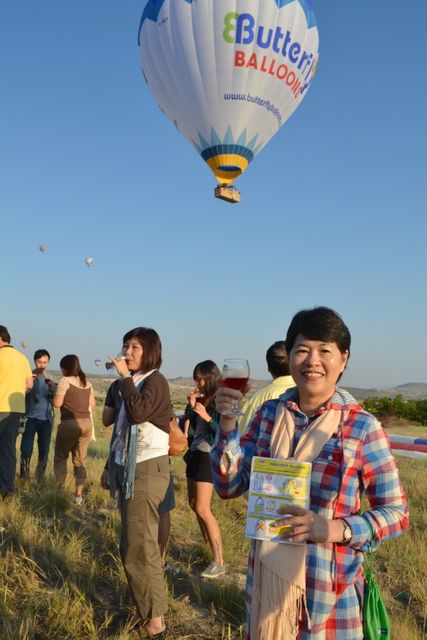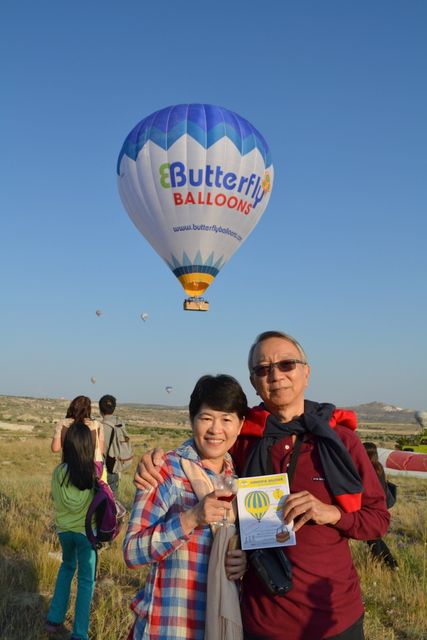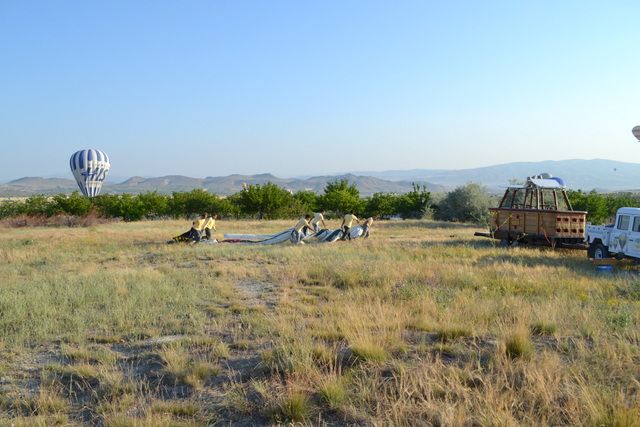 While we were busy relaxing, they were busy packing up the huge balloon.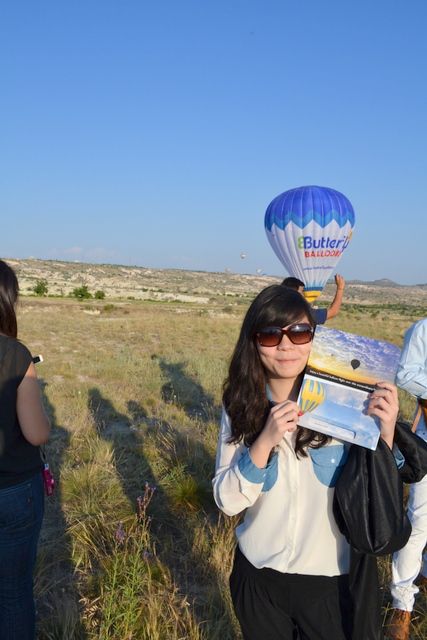 You guys are gonna laugh at this but... I've just graduated from 'Hot Air Balloon Institution'! All of us had a certificate for boarding a Hot Air Balloon at Cappadocia! By the way, our names were printed on it! Yippee!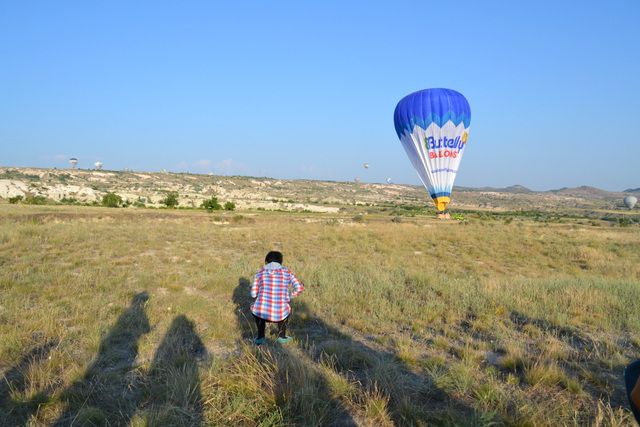 HAHAHA! Found my mother emo-ing alone~ I'm just joking~ The fact: She was trying to take a picture of a small cute flower that she found. Yes... She's like a little small kid!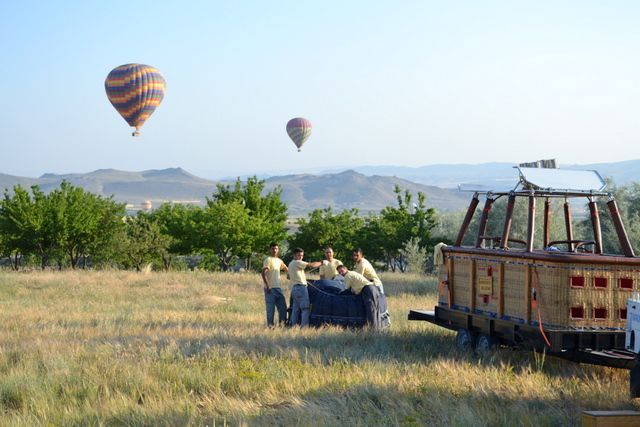 Sadly, that's the end of our fantastic Hot air balloon trip. It was a cannot-miss-it optional tour! Okay! Time for some 'land' tour.
Twentieth Destination, Goreme Open Air Museum.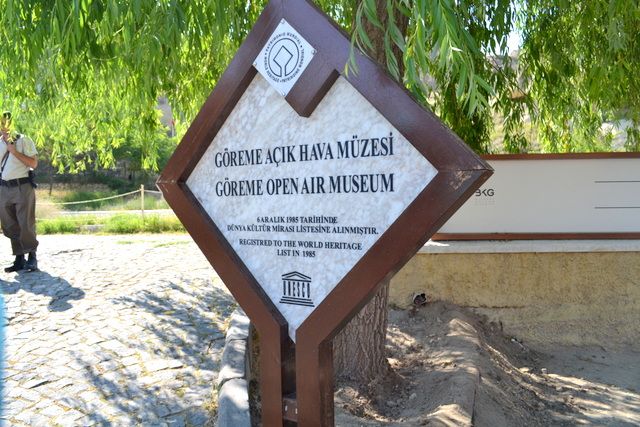 Göreme is a district of the Nevşehir Province in Turkey. This open air museum is also a member of the UNESCO World Heritage List.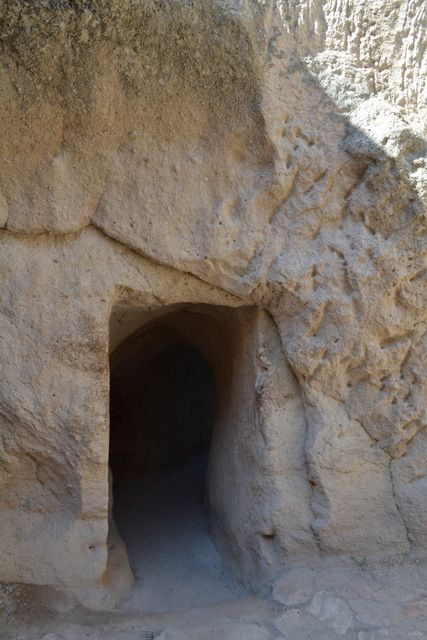 Trust me, this isn't the only hole we had to squat and walk through... there's more to come.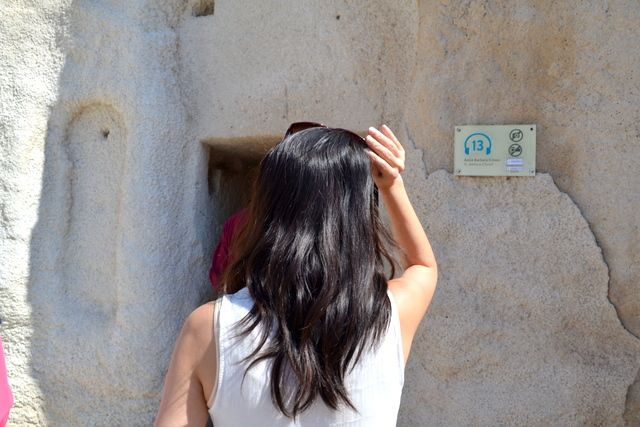 Went into different caves to view the church's different frescoes (a technique of mural painting executed upon freshly laid lime plaster) which date to the 11th century.
To avoid overcrowding in these caves, they were guarded by a person (which in this case was the blue shirt guy), carrying a stopwatch, timing the amount of time you take. Our professional guide managed to explain the interesting history behind each of them within the time limit.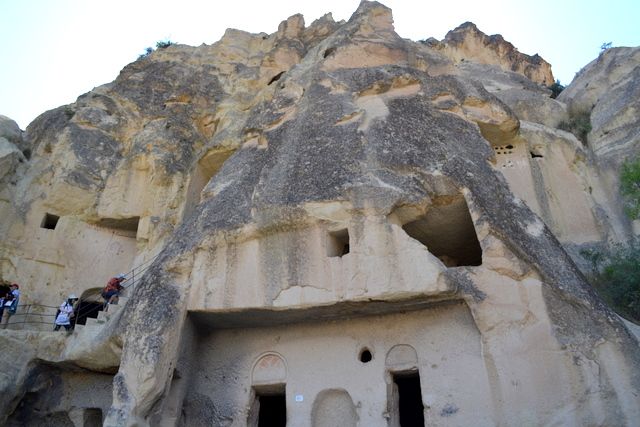 Çarıklı Kilise also known as the Church with Sandals.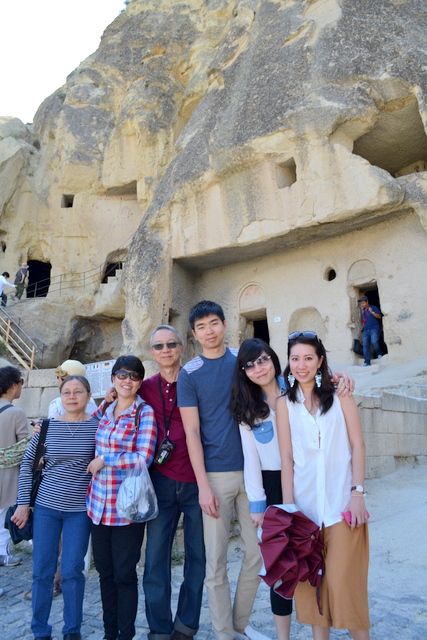 This church is carved into a cross floor plan with intersecting vaults.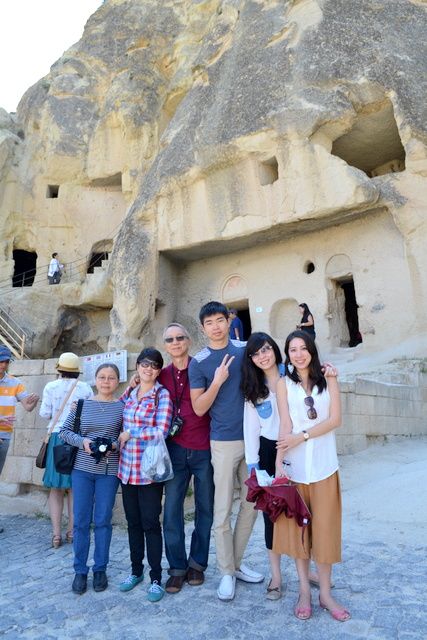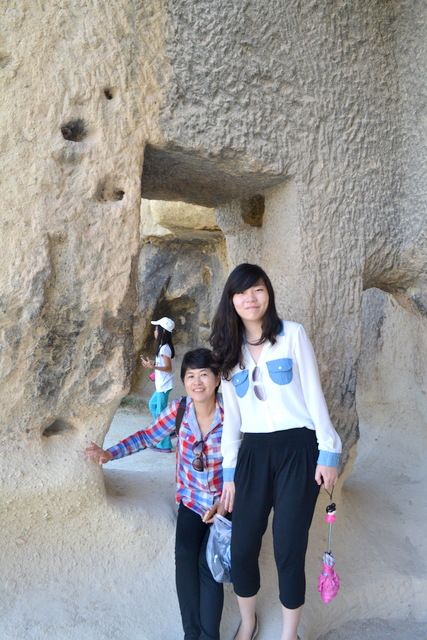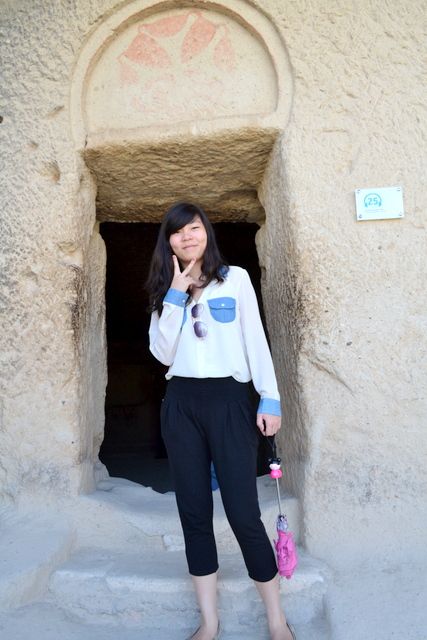 Went into the castle and... It's just like a house. But instead of empty rooms, replace them with empty caves. Nothing special.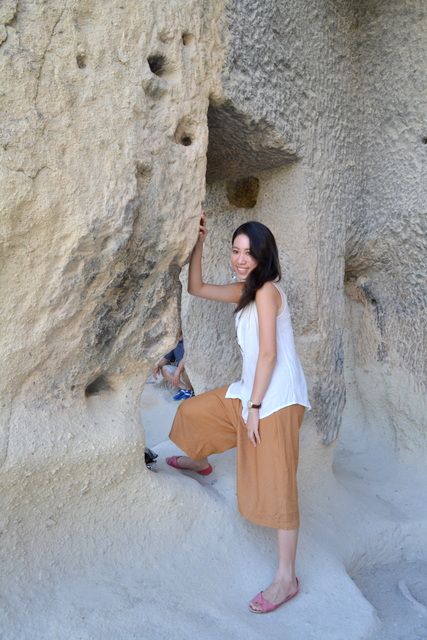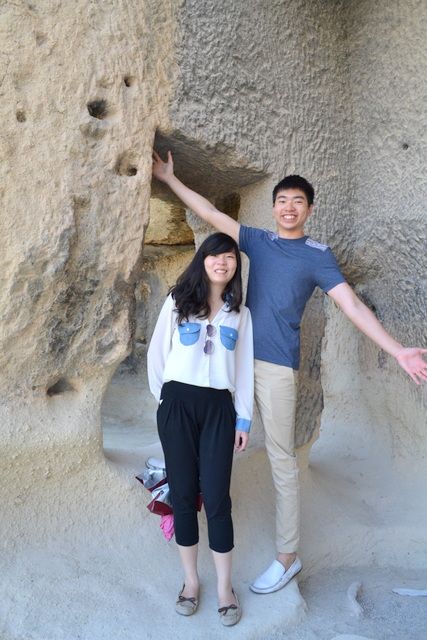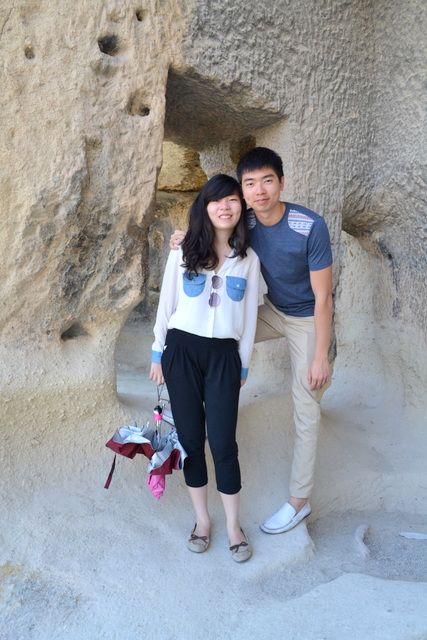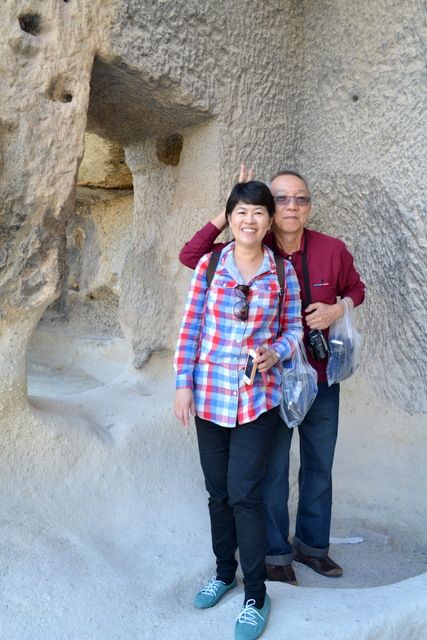 Cuties~ <3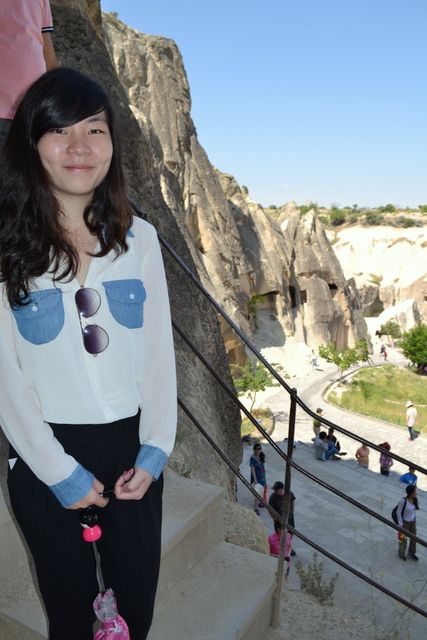 Decided to climb up this flight of stairs just to take a nice top-down view picture.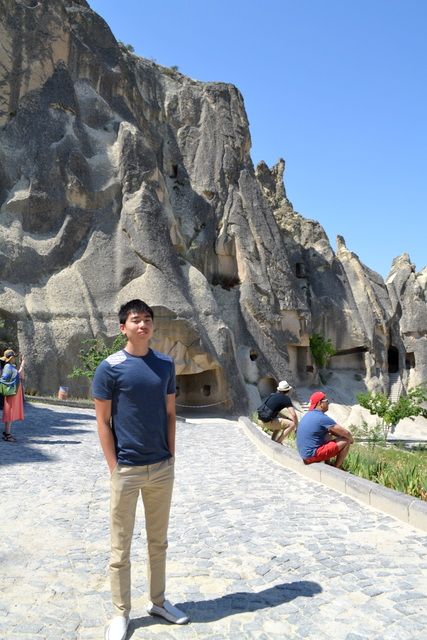 Gangsta bro.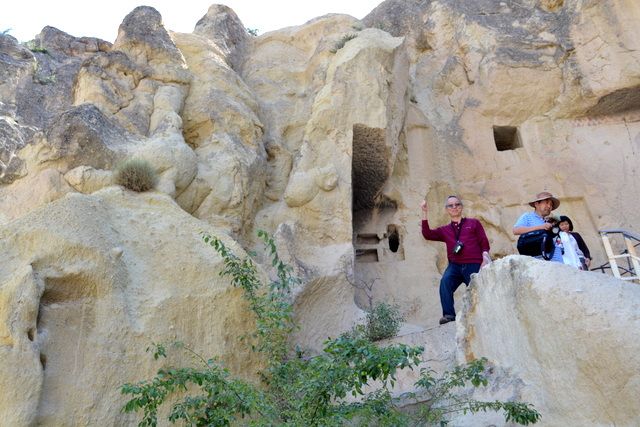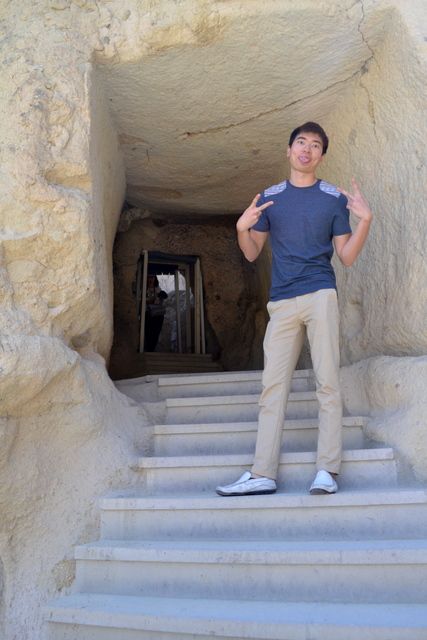 Randomly found a spot to camwhore.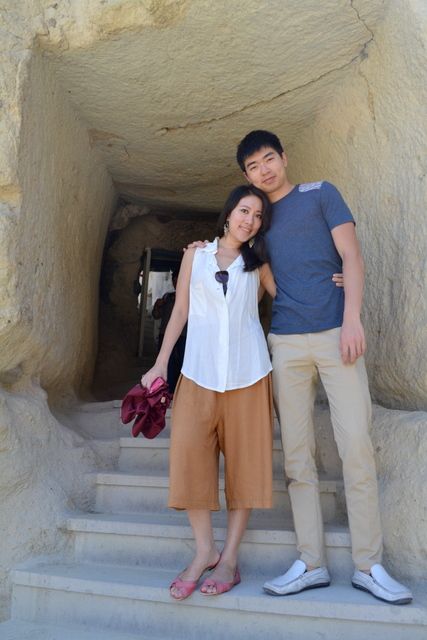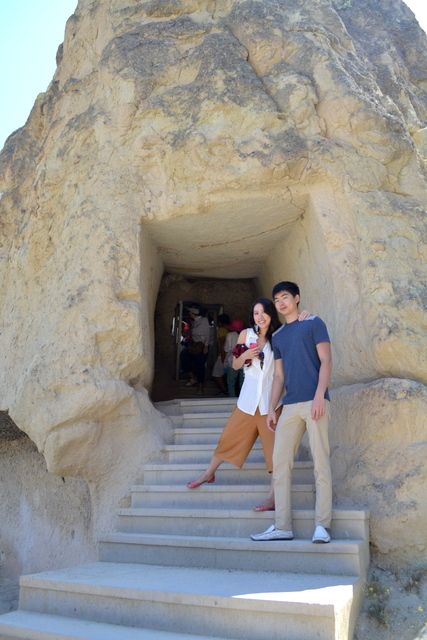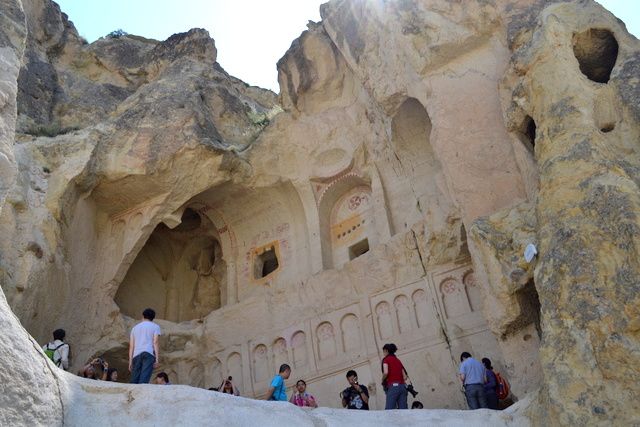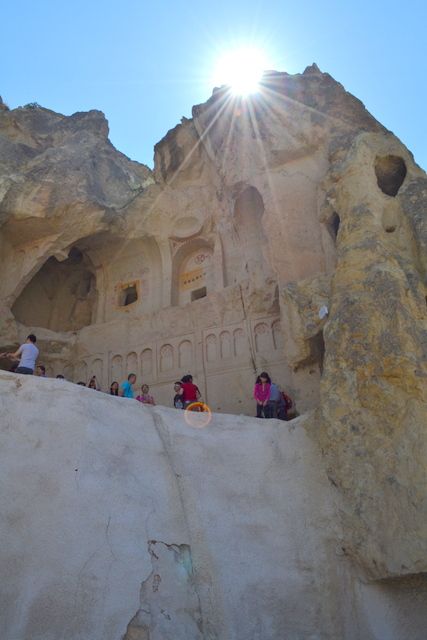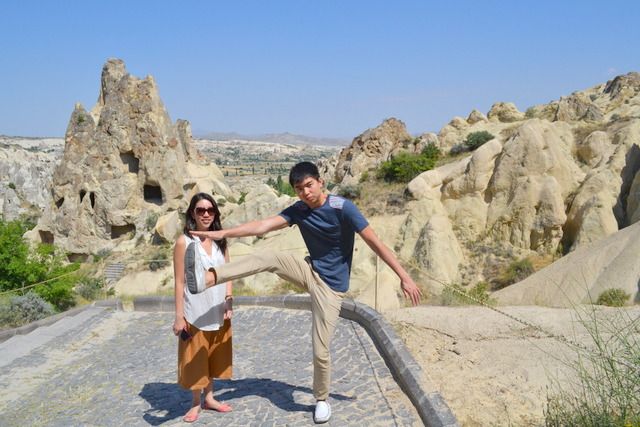 Bro and his 'unusual' pose and my poor awkward sister... Hahaha!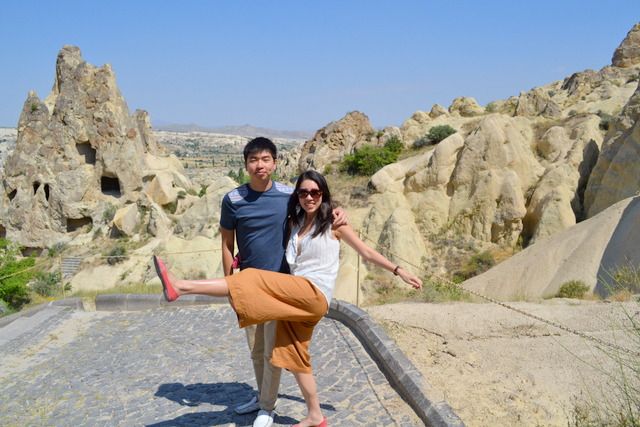 In the end, my sis tried to copy his pose~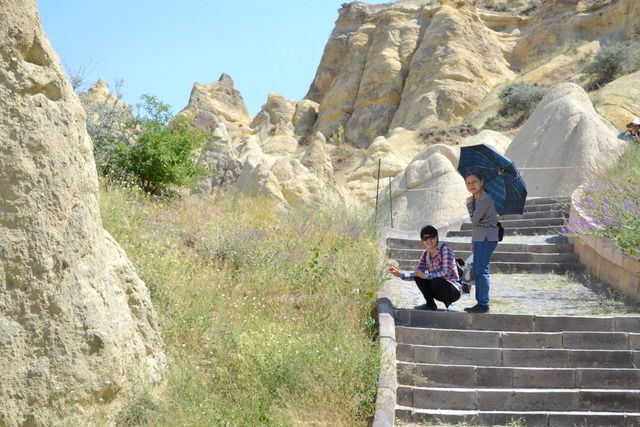 Once again, these two ladies were hunting for pretty flowers at one corner when we were busy taking photos.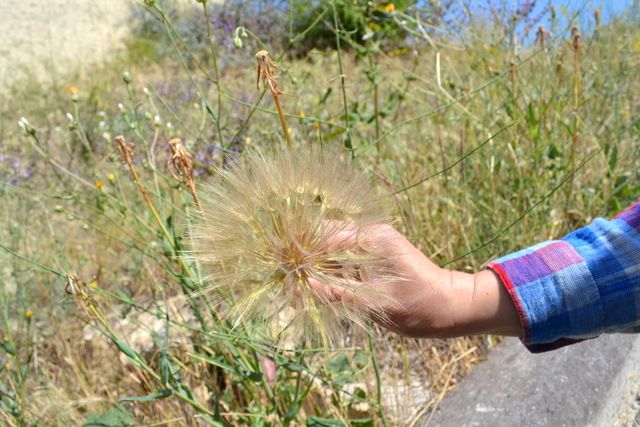 And my mum proudly showed off this flower that she found.
Sorry guys but I'm going to split this particular day into two parts. This is the outcome for taking too many photos of Hot air balloons... Alright. All I can say is, 'Crazy ride' up ahead! Hence, bear with me and look out for next post! :)
[[SINGING OFF]]