Day 3, Selchuk
Seventh Destination, Kircilar Leather Factory.
Alright! First up, Leather Jackets Fashion Show! Sipping away the hot apple tea (Turkish common tea) they gave us while watching the fashion show. Like a boss.
And they pulled out two people from the audience and my brother was one of the lucky star! *Hwee-Weep~*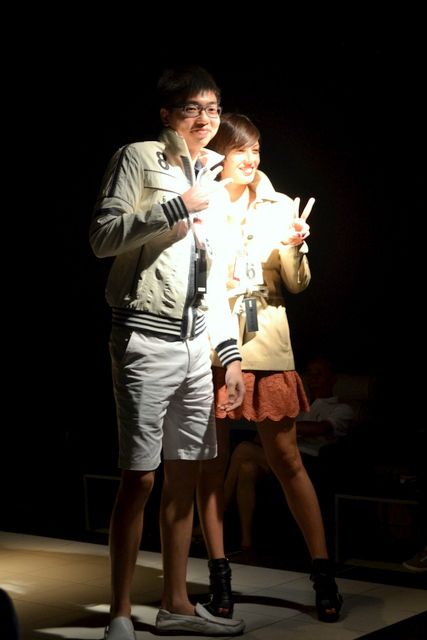 He gets to walk with a female model on the runway, wearing their really expensive leather jacket. Not bad what!
My brother's last runaway walk with one of our tour group girl! Hahaha! It's a little awkward I guess? If I'm the one up there, I will totally blush like hell.
After watching the fashion show, please kindly proceed to the next room to purchase more than 900 US dollars lamb skin leather jackets. Thank you~
Eighth Destination, House of Virgin Mary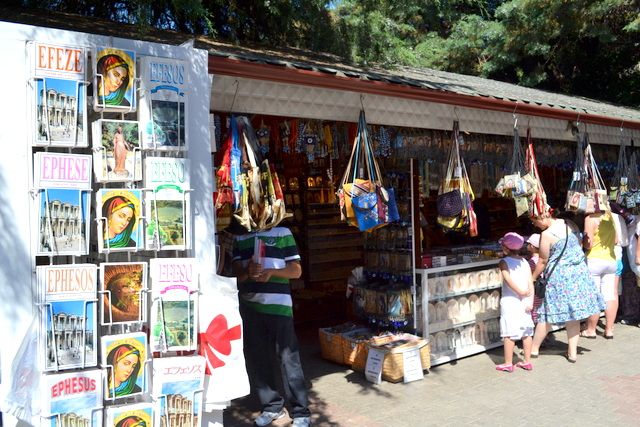 Souvenir shop at the side.
Queuing up to go into the house of Virgin Mary. Unfortunately, no photography is allowed inside. Too bad! Actually, there's nothing to take inside too...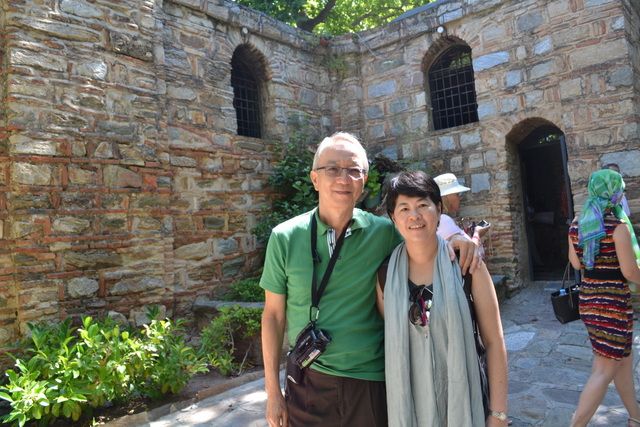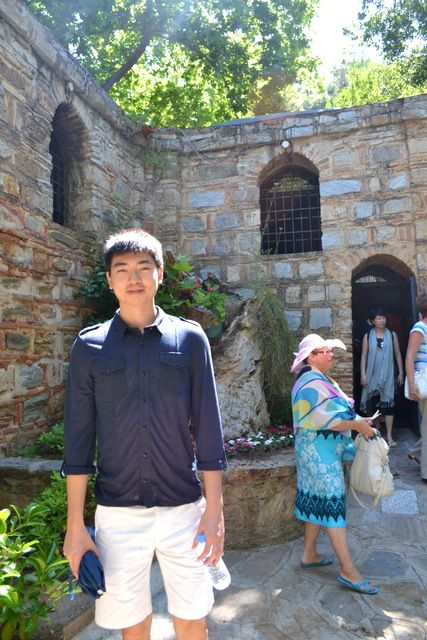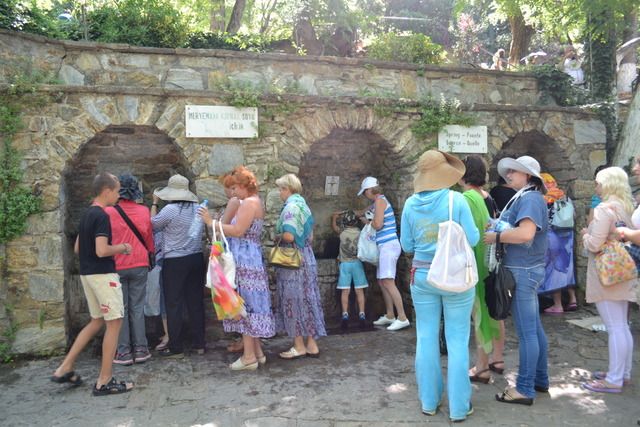 The Holy Spring. Everybody's taking the Holy Water. Why? They believed that after you drink the water, your wish will come true. But you got to know which holy water to take. There's holy water for Money, Health and Love if I'm not mistaken.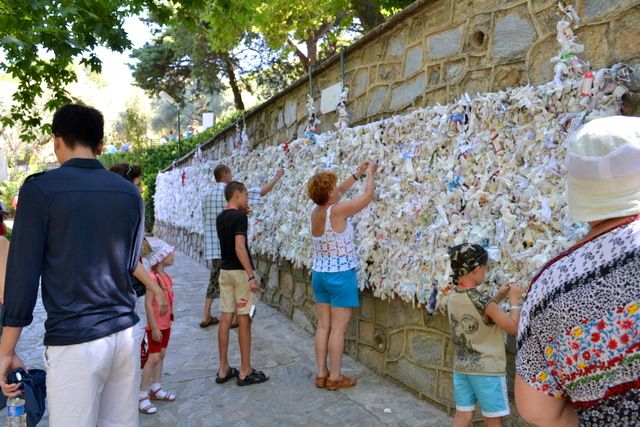 Next would be the Wishing Wall. Just tie your wish on the wall and... "There can be miracle, when you believe~"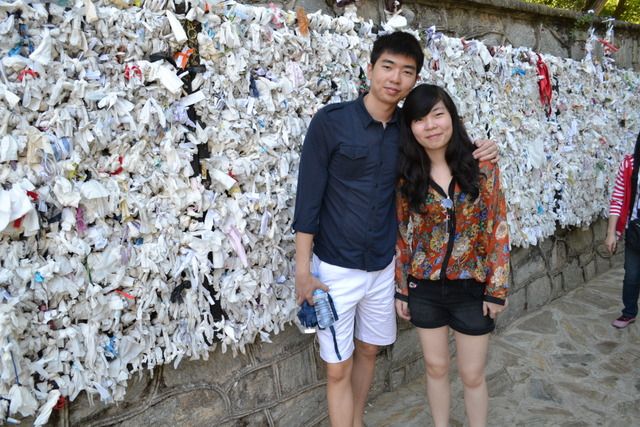 Bro bought some postcards to send to his friends and of course, for ourselves too. And the funniest thing was that he asked me to write to my own family when everyone's staring at Virgin Mary's House.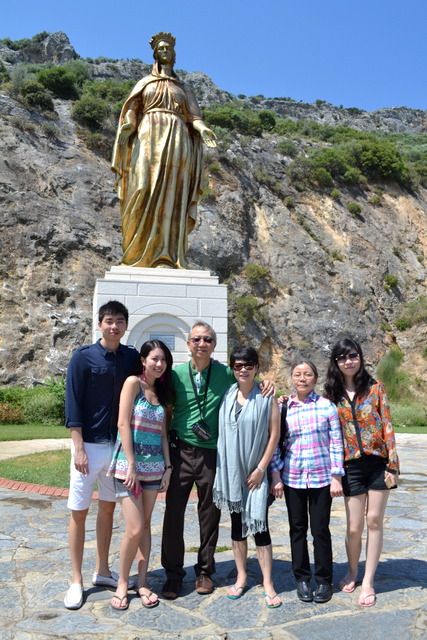 Our great bus driver stopped in the middle of nowhere so that we could take a picture with the Virgin Mary Gold statue.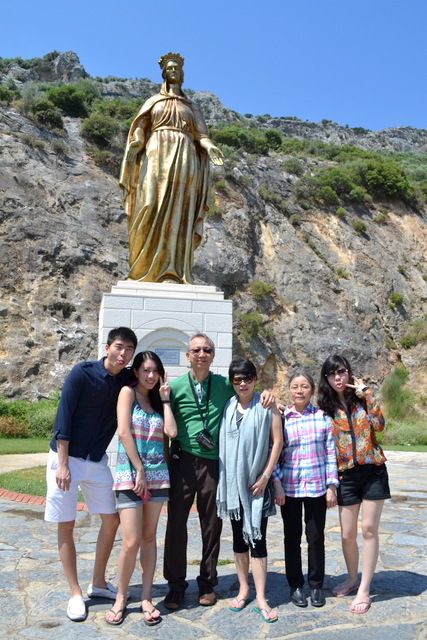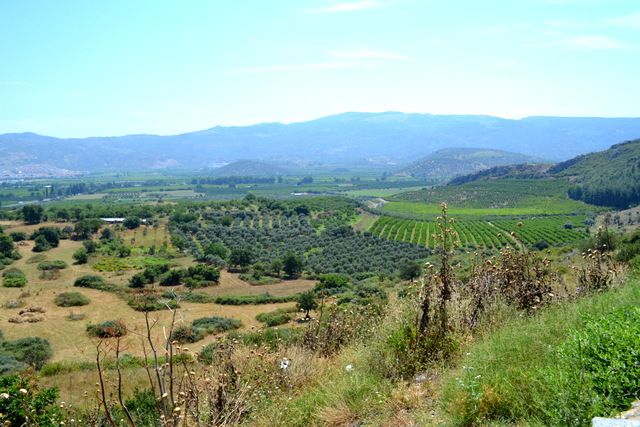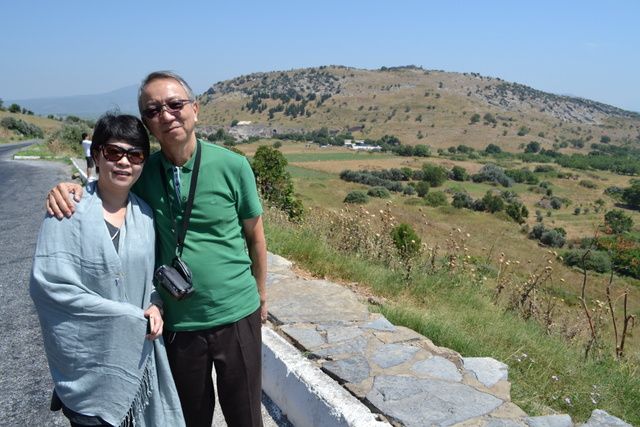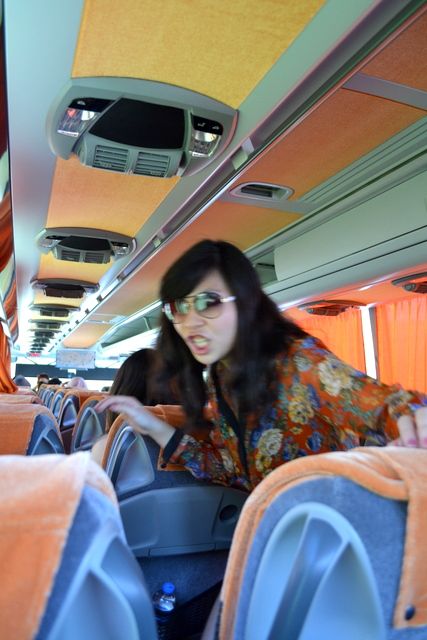 Those who wanna take an unglam shot of me, here you go lah. I personally post it up here!
Ninth Destination, souvenir shop recommended by our tour guide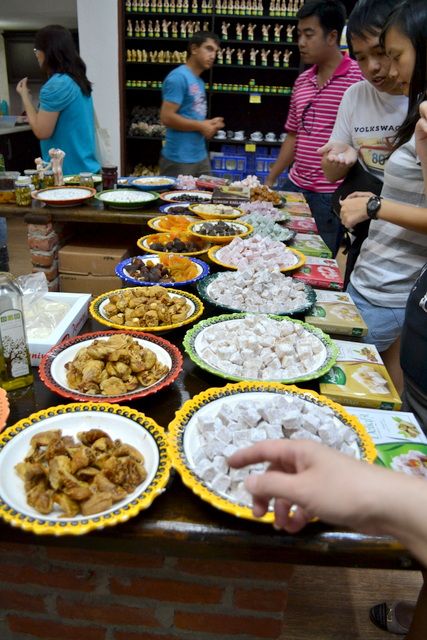 Turkish Delights in different flavors, turkish cotton candy, apple/pomegranate tea and many, many more.
Lunch before a approximately 3.5 hours drive to Pamukkale
This restaurant was filled with tourists and again, buffet style.
Trying out their common turkish drink known as Susurluk Ayran. It's yogurt mixed with cold water and salt.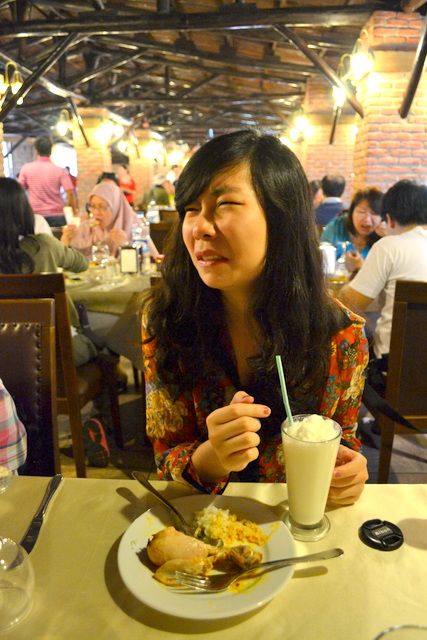 Judging from my expression, one word, H-o-r-r-i-b-l-e! Never ordered it again. However, nasty food has their own benefit! Benefit: Helps cleanse your large intestine.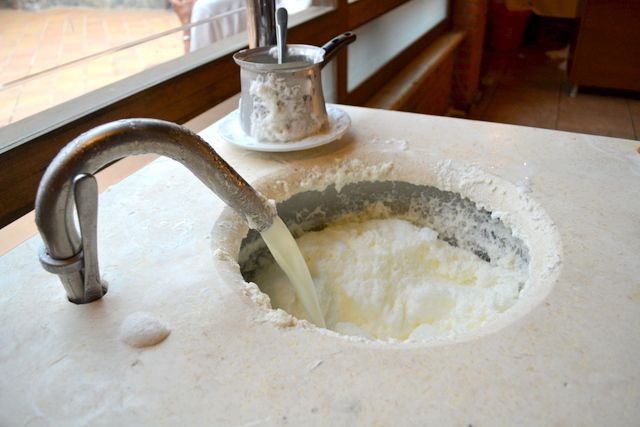 This is how they make Susurluk Ayran.
Scenery taken while we were traveling towards Pammukale.
Tenth Destination, Textile Centre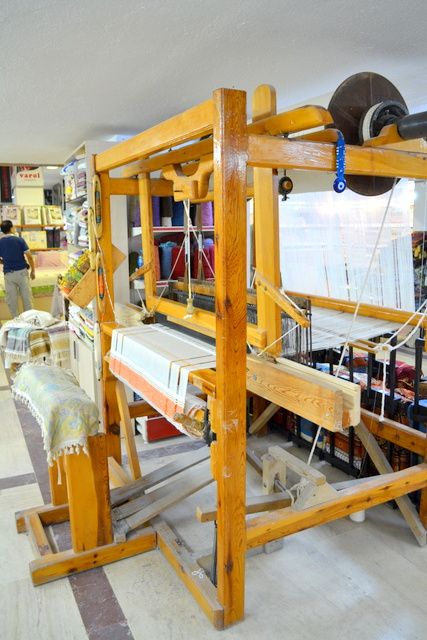 They sell rejected branded clothing.
Okay. They should just exclude this destination. Boring! The clothes they sell are like, the ones that we would want to throw. Okay. That's what my mum always says.
Was so bored that we went out and spotted this cutie dog~
Third Hotel Check-in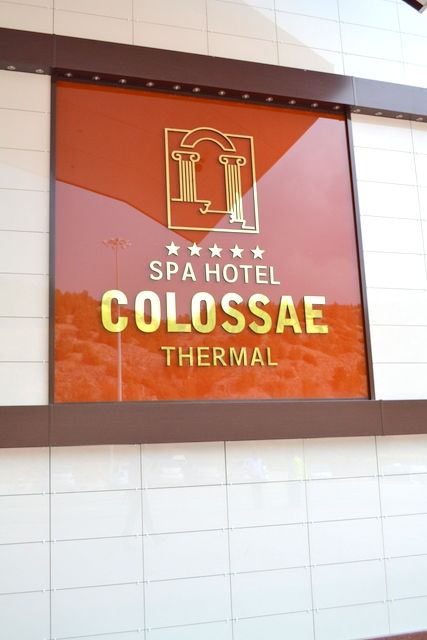 Name of this hotel, Spa Hotel Colossae Thermal.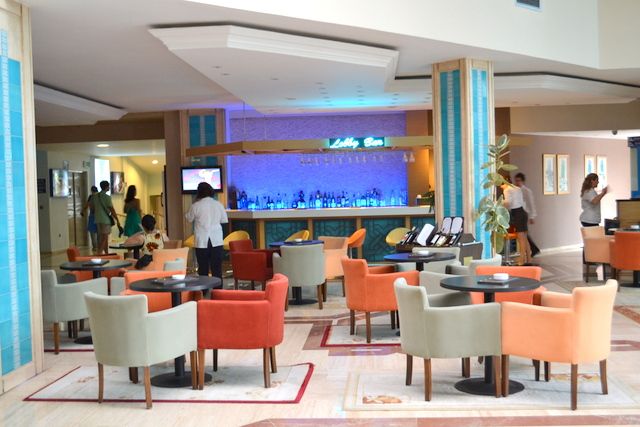 Reason for calling it Spa Hotel: There's Turkish Bath in this hotel. Those who don't wanna pay can just do the self-service kind of turkish bath. Those who wants to experience a real Turkish bath and are willing to pay, choose the traditional kind. An attendant will wash and massage for you for about 15 mins.
Buffet dinner in the hotel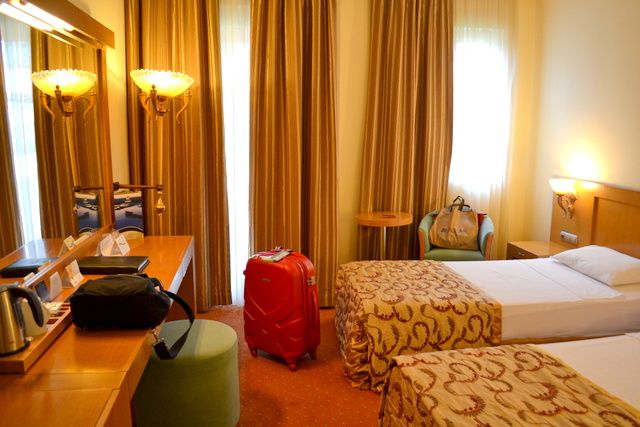 Room of the hotel.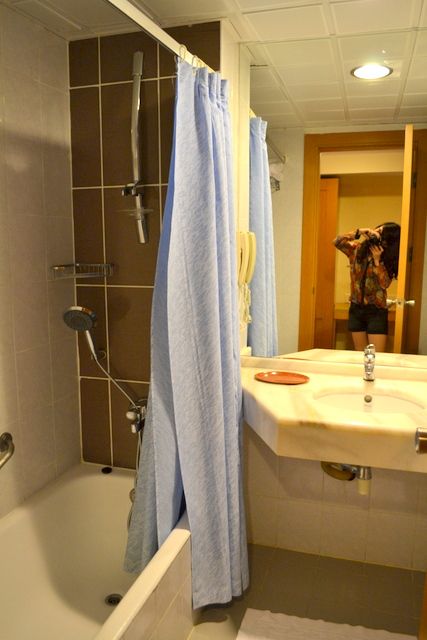 Day 4, Pamukkale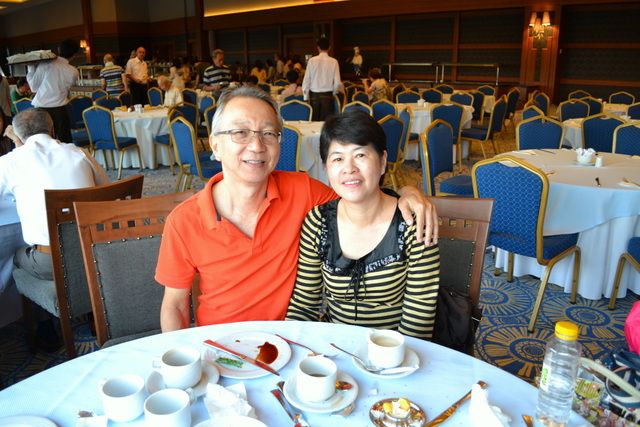 Breakfast in the hotel before we set off again!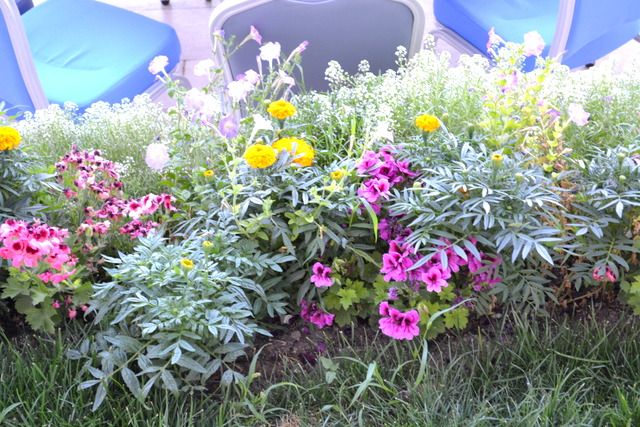 Just nice, we get to see an ongoing turkish wedding dinner on the day we checked in.
Eleventh Destination, a spot whereby we could take a good picture of Cotton Castle and feed the ducks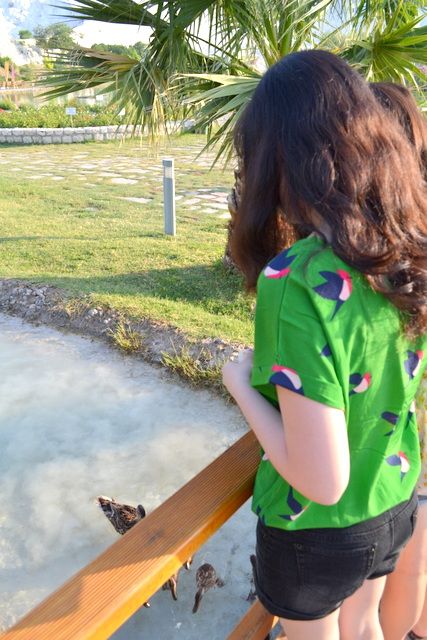 Busy throwing the breads that we took from the hotel... Heehee~
Hungry ducks crowding around...
View of Cotton Castle from below.
My Lovely parents~ <3
Twelve Destination, Ancient City Hierapolis
Entrance to Hierapolis. However, the main attraction was the Cotton Castle! Not Hierapolis...
Ta-dah! Top of Cotton Castle!!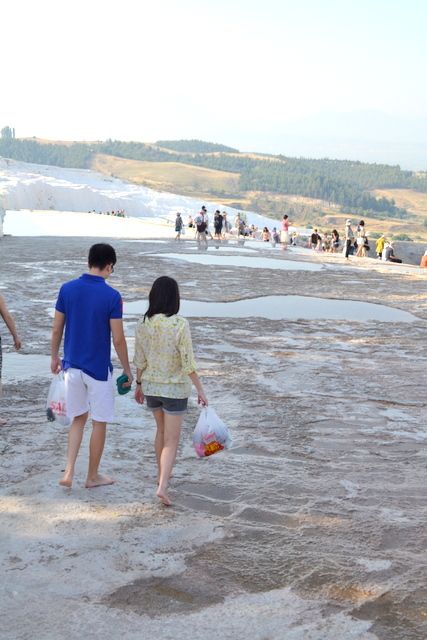 It is compulsory to take off your footwear before you walked onto cotton castle. Too white and precious to get dirtied by our footprints. Hence, it will be more convenient to wear slippers if you're visiting this attraction!
People sunbathing on Cotton Castle?
Careful. Kinda slippery in the water.
Continue walking downwards so that we could take better photos!
Terraces of carbonate minerals formed due to the flowing waters.
Feels like you were stepping on some soft gel.
Yeah~ Found a secluded area!
Temperature of the water here was warmer than the ones on Cotton Castle.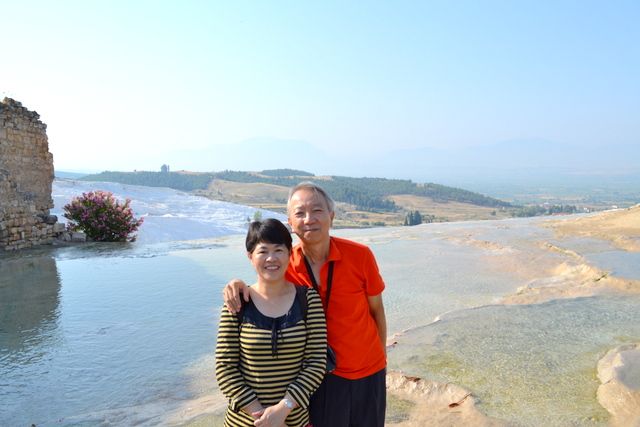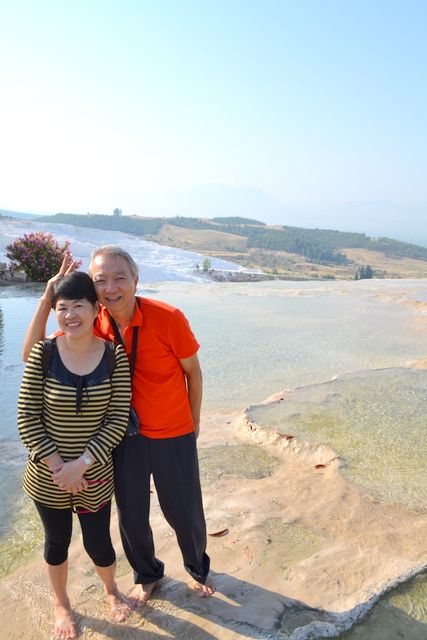 My mum's request was to take some photos of these bright colored flowers.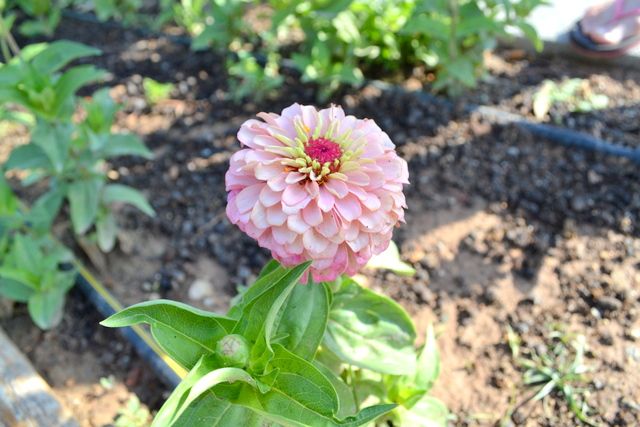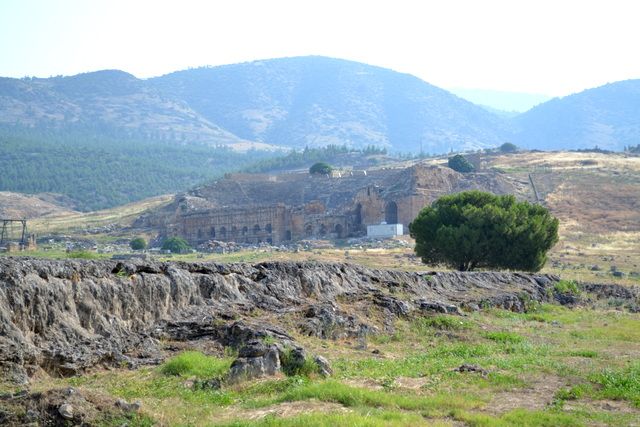 Some parts of Hierapolis...
But enough of ruins! Let's skip them~
4.5 hours drive to Antalya
Not sure why but this mountain and the green sea does make it look like I'm in China.
Lunch at Simsek
No more weird drinks from turkey! Just normal coke will do.
The sauce for this dish was kinda appetizing.
Pide/Pita bread. Taste? Plain like normal bread.
Thirteenth Destination, Kaleici old Town in Antalya
Temperature at Antalya, 43 degrees. Unbearable heat and it's damn humid!
Umbrellas out!
Bro can't even open his eyes~
Mini Pirate ship.
Unlike us, the locals love being under the sun.
Man selling Simit bread again.
Walking tour on a SUNNY day! How fun was that!
Narrow streets of Kaleici.
Hıdırlık Tower.
Fourth Hotel Check-in. IC Airport Hotel
So glad to be back at the air-conditioned hotel! Anyone wants to get their shoe/slippers polished?
Don't ask me why I looked like I'm in pain. Must be the sun. It drove me crazy~
Decided to combine Day three and four together because the activities on Day three was way too short and boring~ Agree? Anyway, next up, continue to explore Aspendos side of Antalya! Yes. Another humid day to deal with...
[[SIGNING OFF]]