YES man! I am currently 18 years old! :))) I can do lots of things now! (E.g Drive car) Well... I have lots of things to say for this post~ So... It's going to be a so-called "Words post". Forgive me if my english sucks and you don't understand what I'm saying!
Okay! Let's start! It's 10th January.! I had a really GREAT day yesterday. I will not be typing down all the names cause you guys are already in my heart!!! :P haha!
To my NYP Chinese Orchestra peeps: Thank you SO MUCH for surprising me with the birthday present and the birthday song! (Plucking Section) So thoughtful of you guys to surprise me even though you guys know me for like only 6 months or less?! :) I really appreciate it!
To my NYP Classmates: (Damien, Wei Rong and Zong Xiang) Thanks for the early present even though you guys didn't know what to buy for me! (Yuwon And Ade) Haven't receive you guys present YET but I know you guys prepared le lah! :P Haha! Thanks for being my best buddies in school and of course, at All Times!
To my Secondary School Friends: (Bethany, Doreen, Hwee Teng, Melody Chan, Wenlin) Thanks for the Lovely Smses, my best buddies!! I receieved it and I was like... "OUH... SO SWEET!" Can't wait to meet up with you guys cause I just can't forget the fun we had together in the past! Talking Crap and all!:)
(Bingyuan) Thanks for the "cock" Sms and remembering my birthday! :) HAHAHA! No sims for me? :P Joking joking! Anyway, I had all the expansion pack. We Shall meet up soon for movie again!
(Krystle) BITCH! I was so glad that you sms me cause it's like 12am and you sms still hasn't came in! Haha! Anyway, Thank you for the Sweet sms and for being my best friend in school, laughing at my jokes when they were all so lame! That's why we were like a "Couple" ever since cause you could understand my joke! :)
To Ruan Xian Peeps: Oh my god! I really had a freaking surprise! I seriously didn't know you guys would sing birthday song for me~ OUH~ So Gan Dong!!! Thanks for the birthday wishes guys!(And of course, Lao shi la~ :D) (Minhui, Jonathan & Zhong Xiao) Thanks for planning the lunch break surprise! Haha! Although I know Kuku and Jojo were broke! That's why Zhong xiao came to the rescue right! :P
To Shiang(WA~ Special girl!): Thank you for the pretty present (I really love it cause it's so chio!) and being with me for.. let's see... I also can't remember how many years! We are like 18 now! So fast right? Sigh! Miss all the fun we had together in your serangoon club and your house... Hope that we will meet more often instead of just Birthdays! Haha!
To My family: I LOVE ALL OF YOU! Thanks for loving me and caring for me~ I really love spending time with you guys cause I can have whatever I like! :X Oops! No lah! Of course not only that lah! The real reason is that I am always Happy when you guys are around. To my siblings: Both of you so 疼爱 me! All I have to do is say, "I WANT!" and both of you would "Okay lah! Buy for you..."! I don't know where to find such good siblings! Yep! So... I realise I am really fortunate to have you guys with me! (EVERY SECOND of my LIFE)
Last of all: Then to those who gave me birthday wishes either through sms, FB or verbally. I also wanna thank you guys too cause it really made me smile just by looking at the SMS and message or when you come towards me and say "Hey Keewei(Or whatever nicknames (E.G Kiwi, Kuku, Rabbit, Wabbit, Bitch) or even "Hello" without my name!) HAPPY BIRTHDAY!! It's already enough! But if there's something to remind me of you, it's of course, even better! :P WAHAHA!
Alright! I will stop "crapping" right now! I am really really touched and glad that I have the greatest people(YOU) around me~ Without all of you, life for me would be damn meaningless. You guys made my day! LOVE ALL OF YA! : ))
Some cutie pies even blog it! Haha!!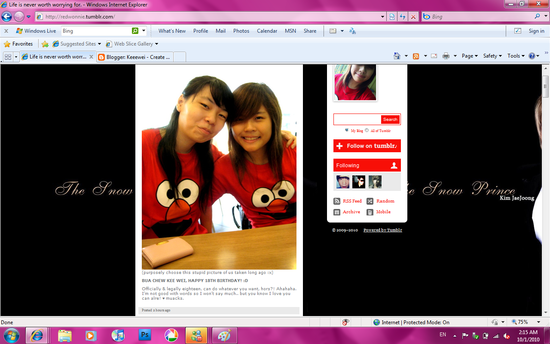 Wonnie's Blog. (One purposely put one super old photo of us)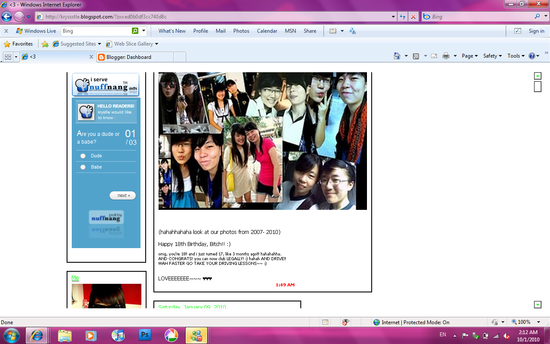 Krystle(Bitch) Blog. (And one collage some of the pretty moments we had)
Shall post my photos after my marketing exams and VB project... Sigh
[[END OF MESSAGE]]