21st Sept, Interlaken, Heading Towards Jungfrau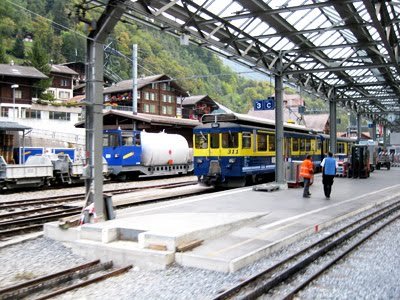 The Train Station.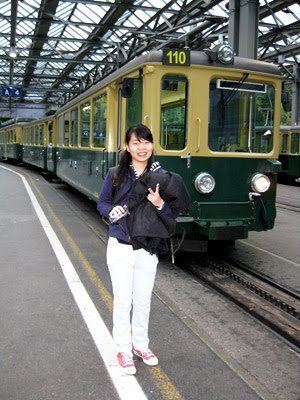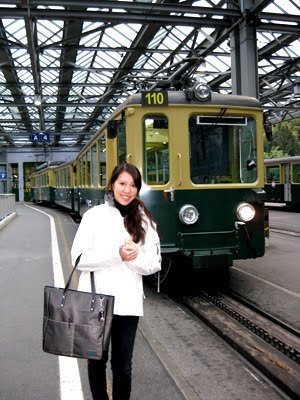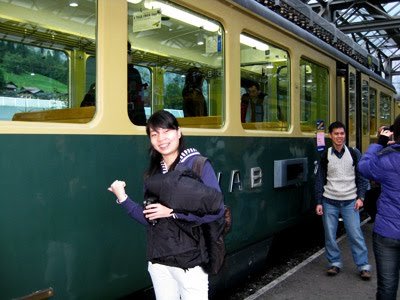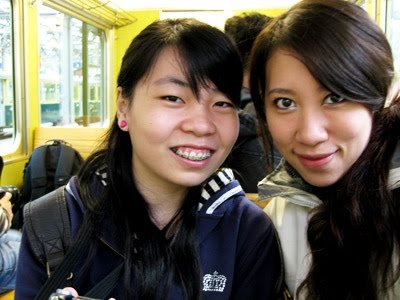 We Have to board this train to reach Jungfrau! Exciting! :D Oh ya. It's just me and my sis now cause my brother ain't feeling well so my parents stayed at interlaken to take care of him! :) So good right? Hee! Luckily, we will be staying in Interlaken for 2 nights! We had to take video and photo by ourselves! Busy~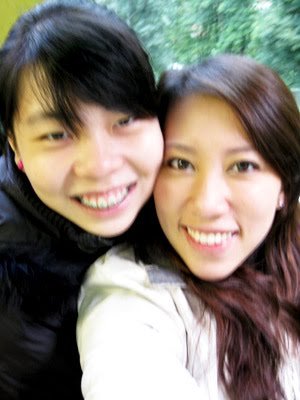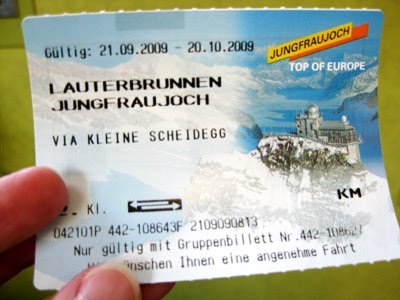 The VERY IMPORTANT Ticket!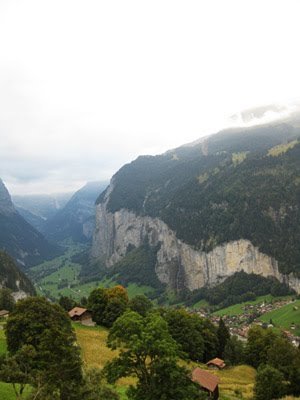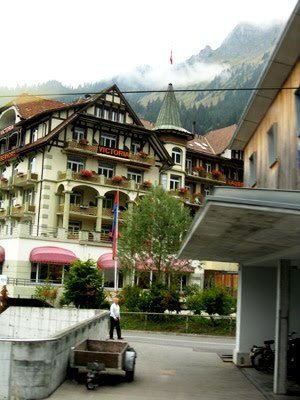 Second Station. Nope! Not going down yet~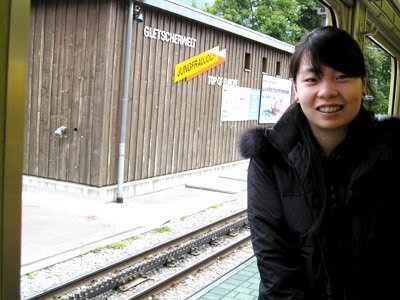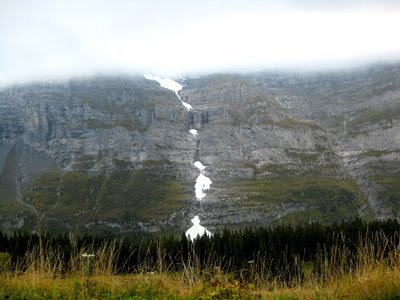 Look at the middle of the mountain! You can already see SOME SNOW.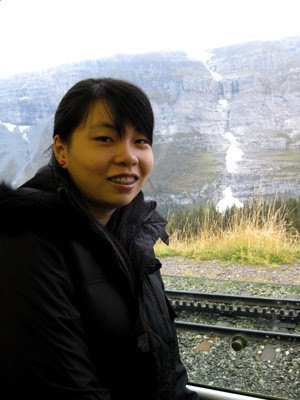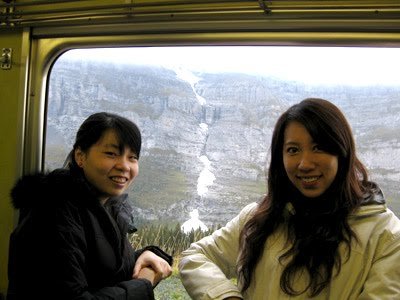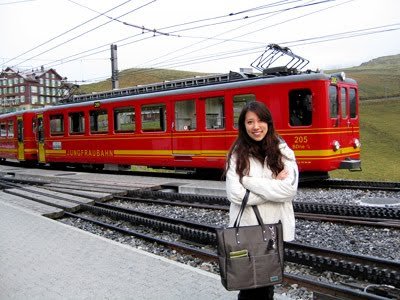 Change Train! To this red one~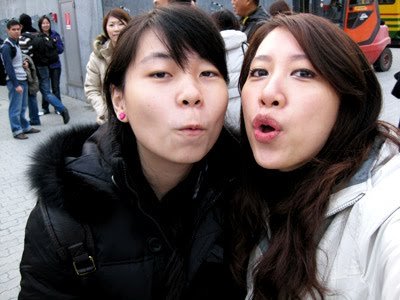 Haha! We were trying to capture the smoke when we blow. Oops! Nothing! HA!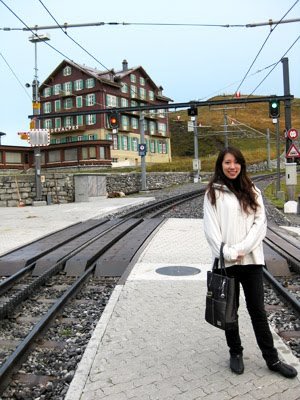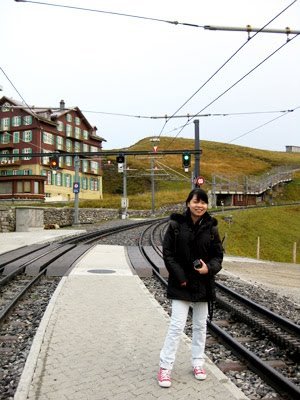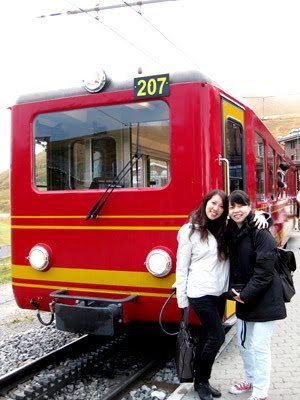 Up We Go Again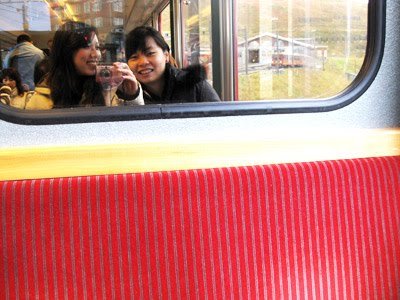 Just Nice! A mirror for us!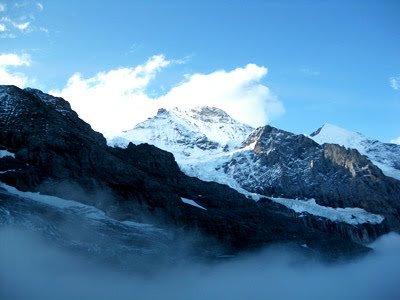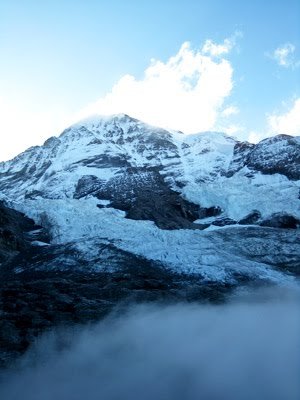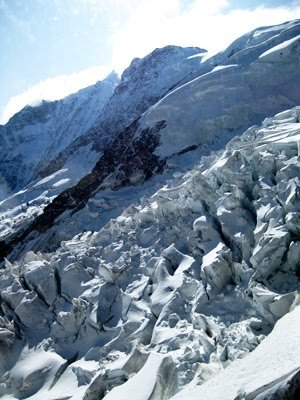 Whoo! Reaching really soon! Exciting right?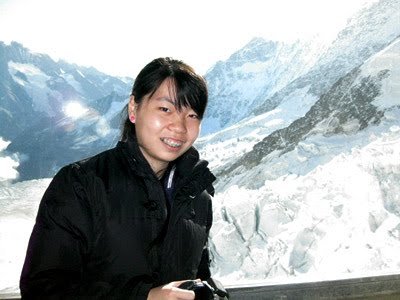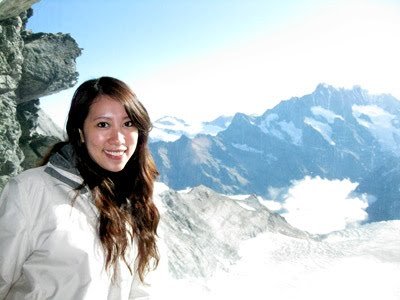 They let us alight here for photo-taking! (With the snow mountains...)
21st Sept, Jungfrau, Top!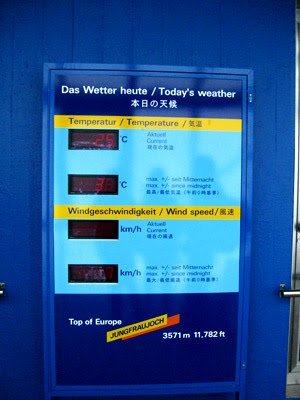 The temperature was actually -2.5 degrees! freaking COLD.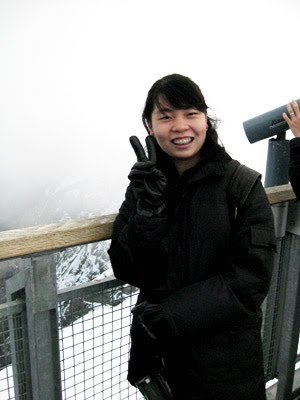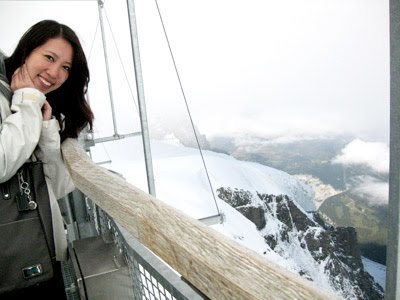 My sis very pow-der-ful. She no need to wear her freaking glove! -.-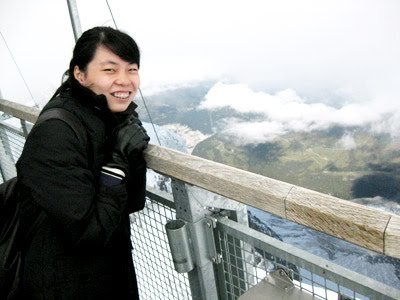 I can't pose properly cause it's so cold! Brghh.. And It's actually SNOWING!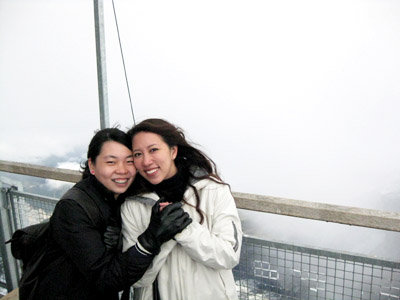 Can imagine how big was the wind la~ See my freaking idiotic messy hair and you will know!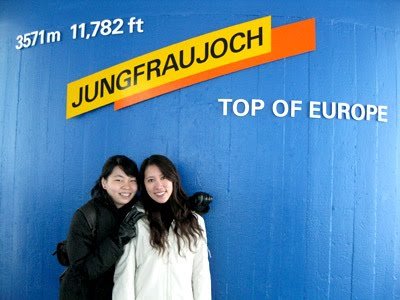 WHOO! YAY! We were at the TOP OF EUROPE.!
Heading To The Restaurant For Lunch.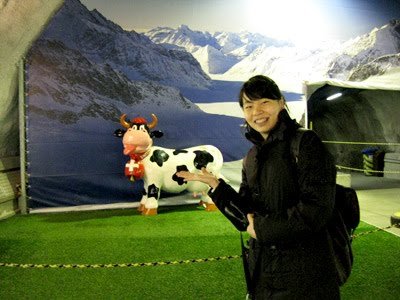 The Swiss Cow! Moo~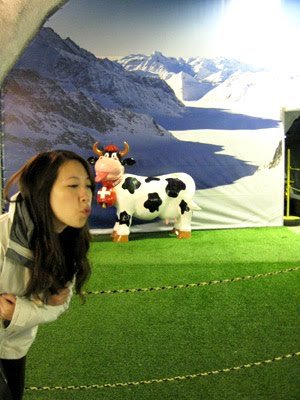 Haha!! Oops! My fault! My sis was suppose to be kissing the cow not the BELL. :P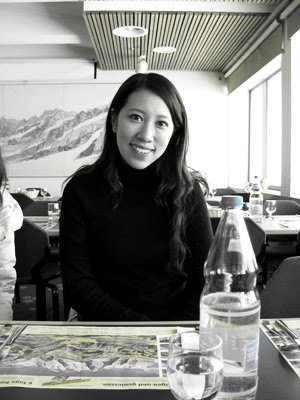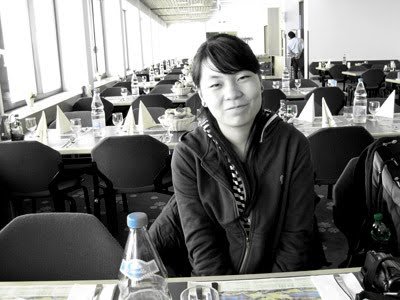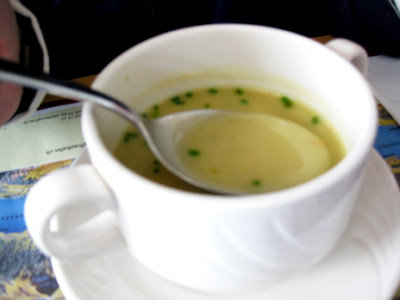 Soup! Chicken? should be. Forgot how it taste like.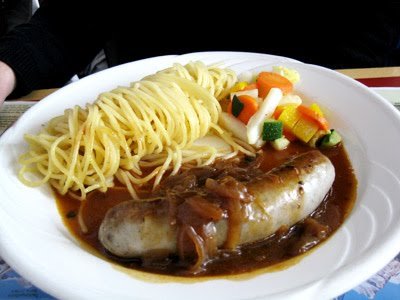 Main course. This was Alrighty for me... not my sis.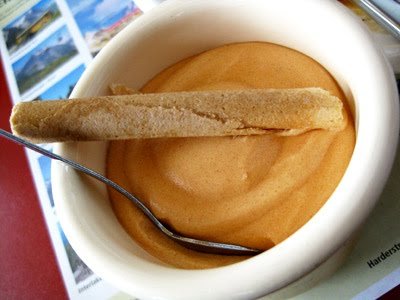 Dessert Last. It looks nice... but taste... HMM.
21st Sept, Jungfrau, Ice Palace.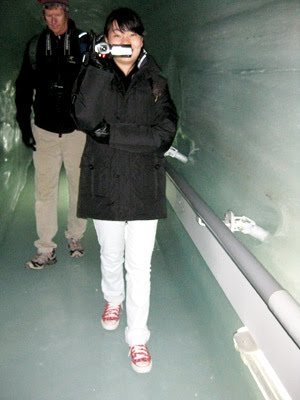 Video-ing the whole trip! My sis was the host for our video! :D Hee!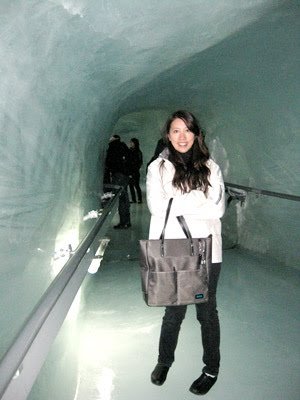 See the ICE FLOOR and WALL....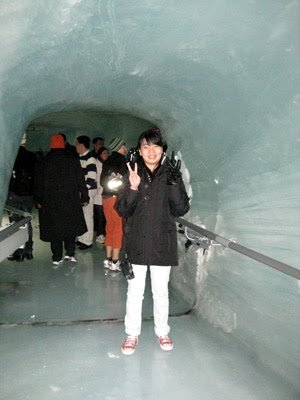 The tour guide, Tevin, actually asked us to skate. HA! Yep! It's that slippery!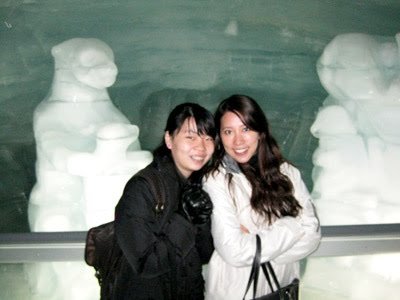 There were dfferent sculptures like this one is... hmm... bear?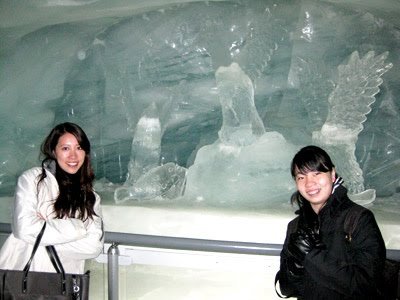 Those are eagles at the back~ ah ha...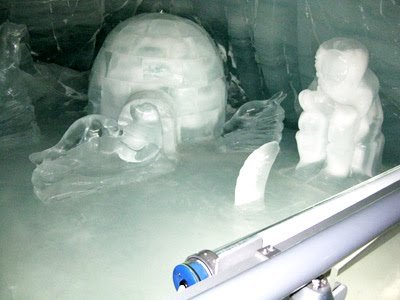 This are Eskimos and seals.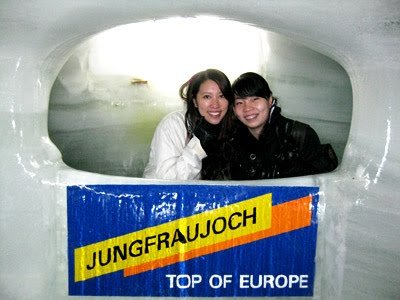 They had plenty of this sign to take photo with! -.-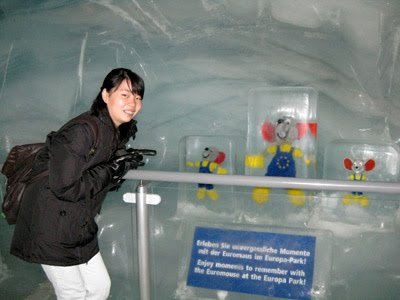 Mouse trapped in ice cubes are cute!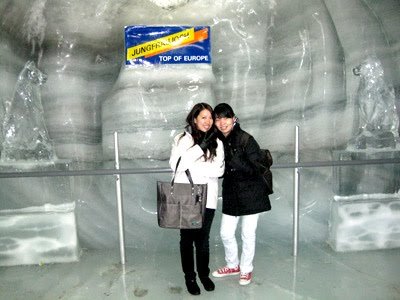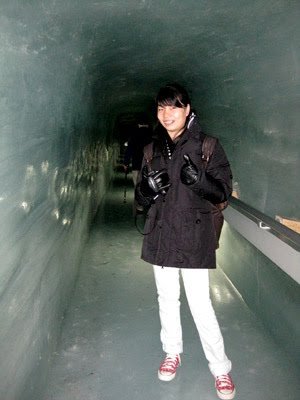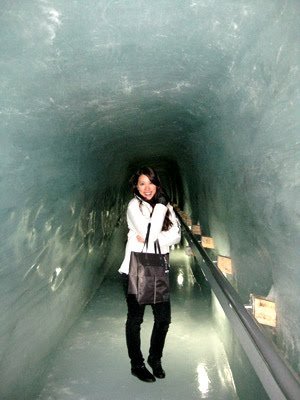 End of the Ice palace~ (More like cave ah)
The VERY TOP Of Jungfrau.!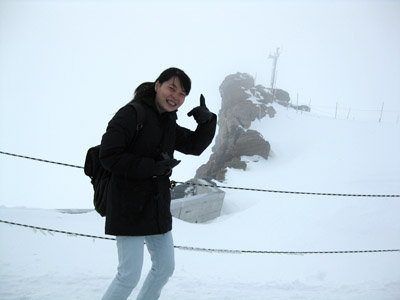 The wind was SUPER SUPER STRONG and COLD!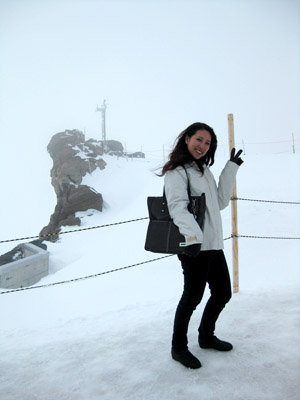 That we ran out, Took photos, and ran back into the buidling~ HEe! IT's freaking cold.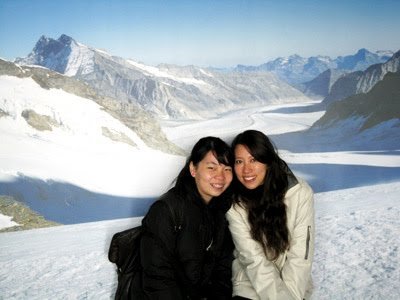 Looks real?! Na... It's just a background la! Hmm, actually, it's not that bad!
21st Sept, Jungfrau. Going Back To Interlaken.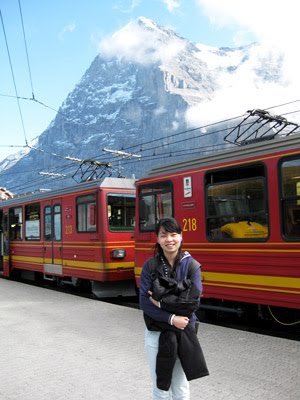 [One Of my favoite photo!]
I remembered we Sat the train and fell asleep.We were too tired to take anymore photos...And That's all for the trip to Jungfrau! Yay! I Will miss the Scenery there man... It's incredible~
[[END OF MESSAGE]]