Lesson was alright today but we got a freaking 4 hours break in between! Tutorial was cancelled so, yea... Head to Gloria Jeans (Adeline, Angelin, Yuwon and Zong Xiang) instead to discuss our 'A' project and then, came this damn 'high' guy(Daniel) who was very proud of his snow white and seven dwarfs role playing... He really was a chit-chatter..!
Right! I'm the most not so 'crazy' girl in my group so forgive me. :P Hee! But my three ulcers made me emo. They are super irritating! Arghh! Can't wait for them to Disappear! Damn! (Maybe I do really need some communication skills. LOL!)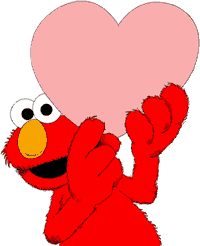 We will be buying a Tee with THIS RED COLOUR face one it soon~ Lala, Lala, Elmo's world.... Shit! They influence me to become 13 again!!
[[END OF MESSAGE]]