Arrival At Penang.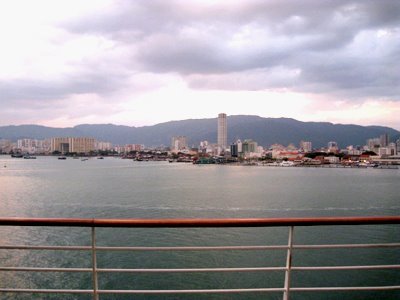 It's penang! Pretty artistic shot eh?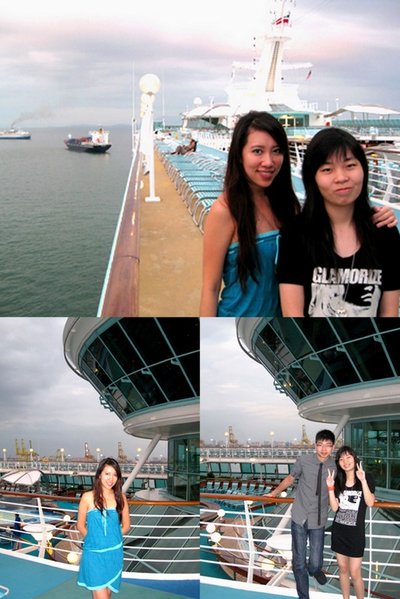 Halfway through our dinner, we ran up to deck 10 again, to take a picture of the city before the sun sets. That's why the view was so really pretty!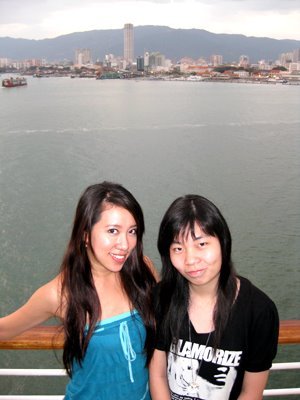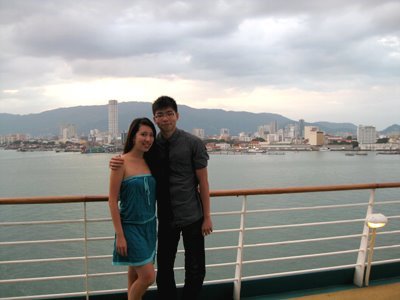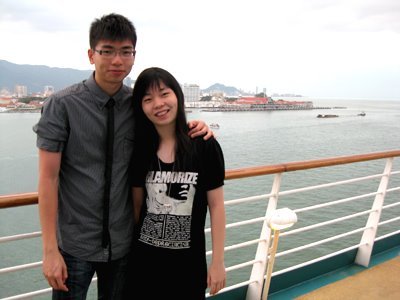 It's a pity if I make it as a collage! See the BEAUTIFUL city scenery! WOW!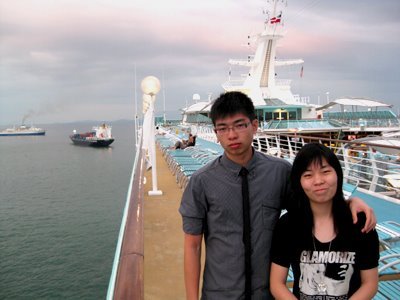 Despite my brother prompting of "Acting Cool", Ha! , I still SMILE! Irritating right? I also think so. :P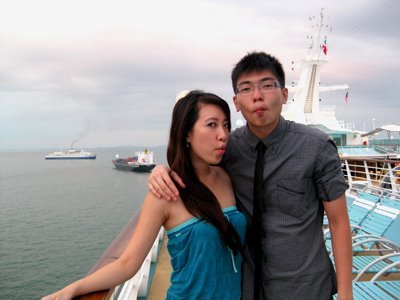 Rabbit Mouth is back!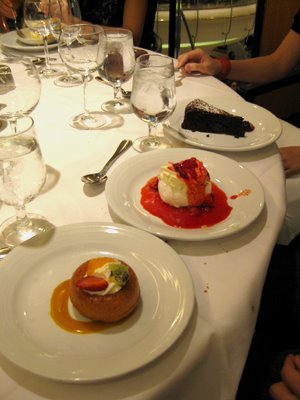 Went back to have our last course, Sweet Desserts!
Had A Peek At The Casino Royal!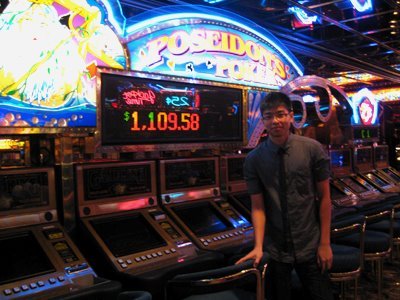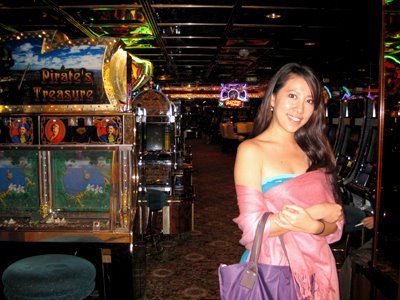 Don't worry! They just went into the casino to take a few pictures! (Although that's not allowed)
It's Back To Entertainment Night!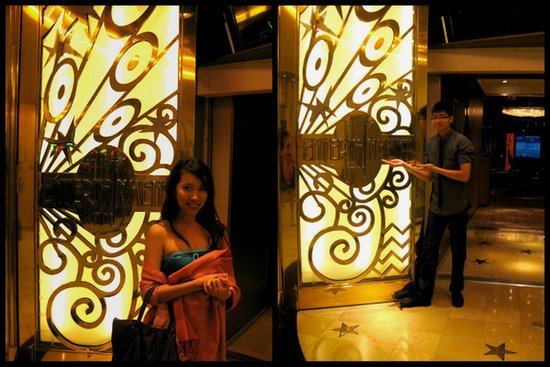 It's called, "Entertainment Theatre". Hmm... Not very creative....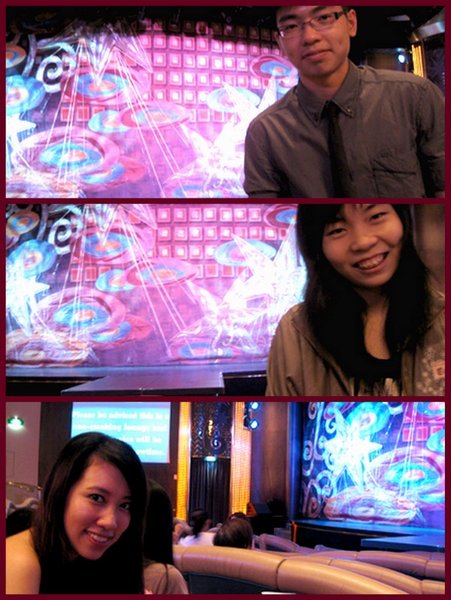 Realise they changed the stage curtains? It's different from the previous one because their performence would be Broadway singing and dancing!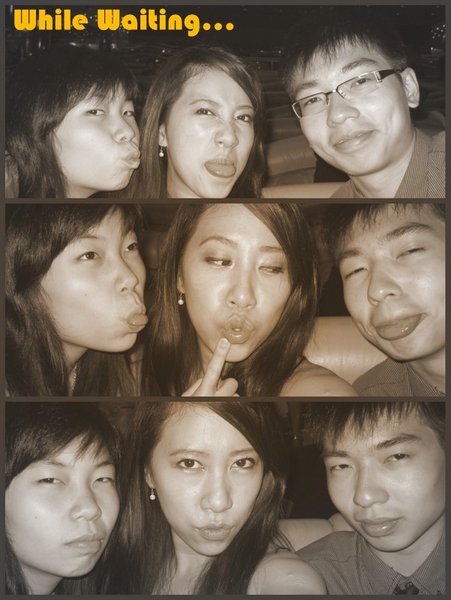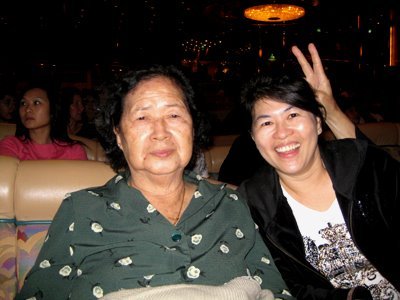 My grandma finally grin!!! Haha.! It's difficult to catch a photo of her smiling, you know. :)
Came Out Of Deck 4 After Performence And Ended Up At The Front Of The Cruise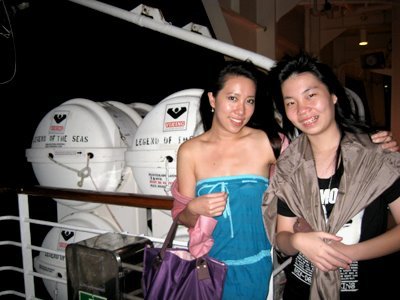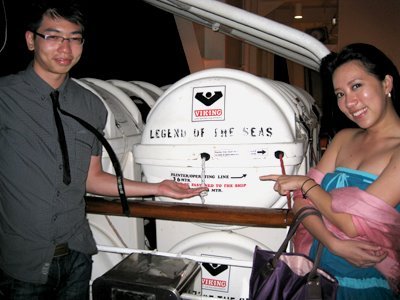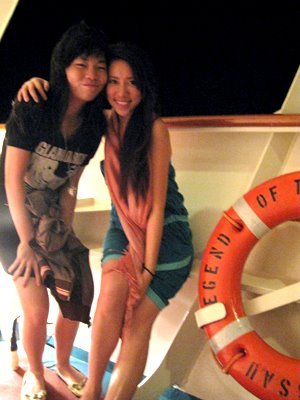 We were force to be unglam once AGAIN though the wind was not as strong as the one at Deck 10...
Before Going Crazy, Take A Look Around Other Places
!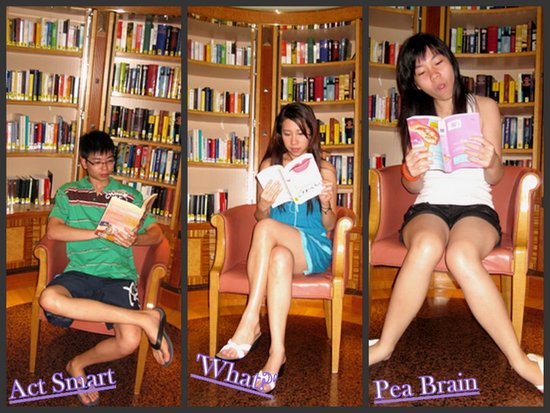 The cruise had a library?!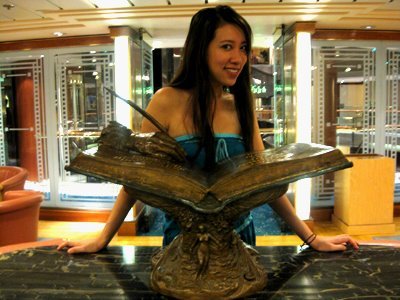 The big book being written by a guy without a body.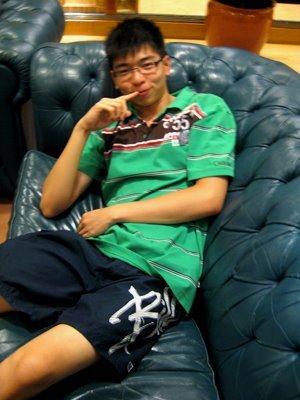 The Big Boss.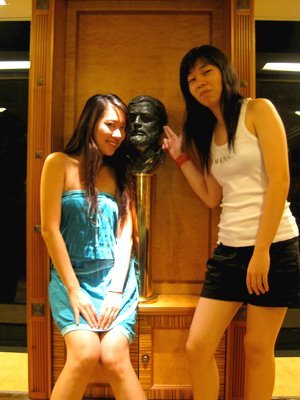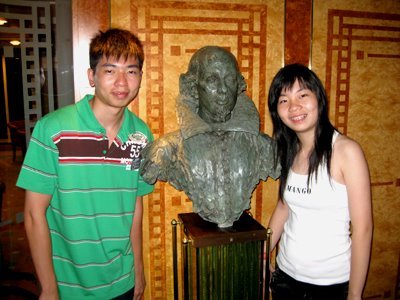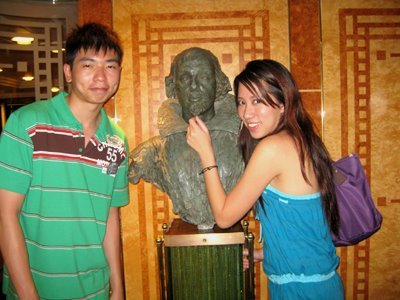 Lots of sculptures around the library, and one of them was William Shakesphere.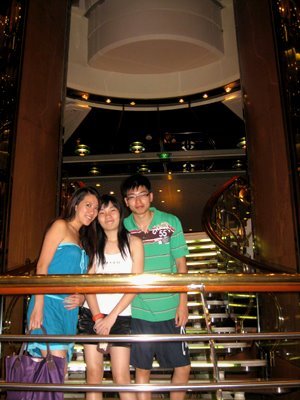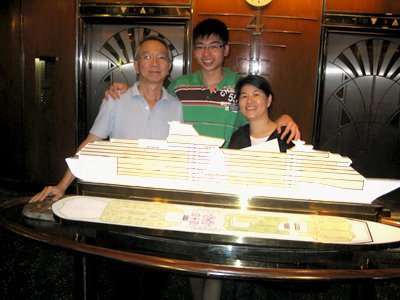 A Vertical Map of our cruise...
It's Pool Party Time!!!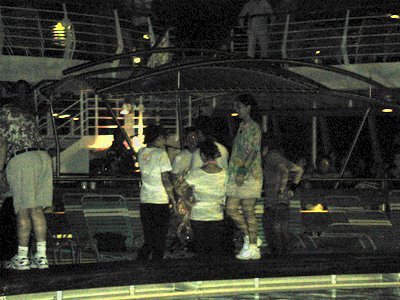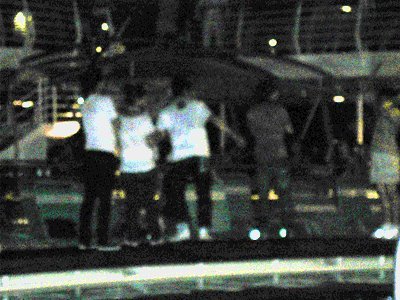 Sorry. These pictures weren't clear because it's really dark at the pool. Anyway, those people(Some are celebrity from mediacorp) standing on a higher ground were the ones teaching us how to dance.! It's like camp whereby you follow their steps. But it's way better there! :D There's a video but, OOPS, we can't show you! Too bad! OH YA! We did Limbo too! Whereby everyone formed one line and bend backwards under the bamboo or stick. COOL.!
Party Till Night, And Sleep Till Morning! The Very Last Day On Cruise! 3rd Day Wherrby We Reached KL!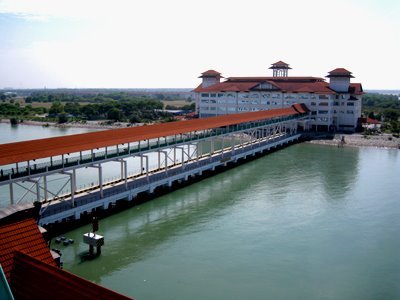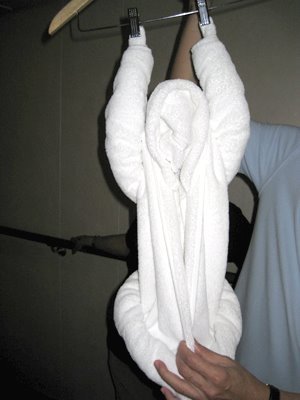 Another towel folding found in my parent's room! It's a monkey!! Adorable!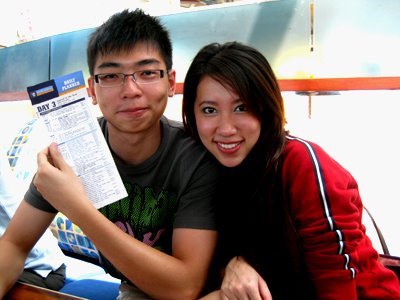 Morning breakfast + Lunch once again!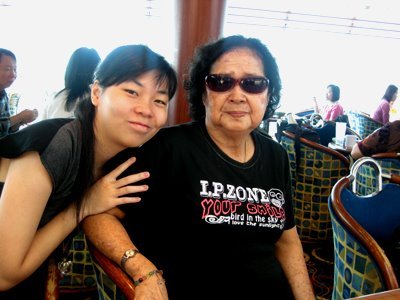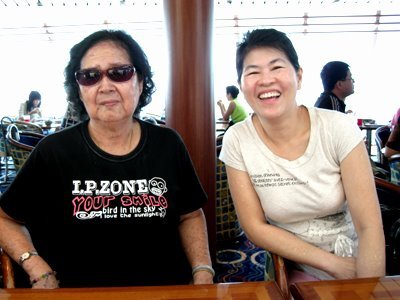 My Grandma smiled again! Look at the both happy faces! : ))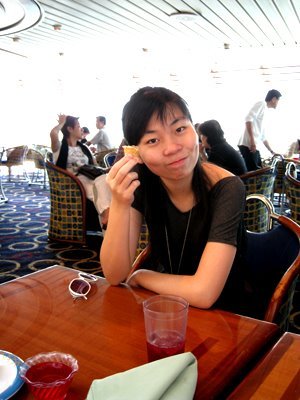 Their ice-cream was good.!
Once Again, We Went For A Dip, Accompanied By Sister And Mum.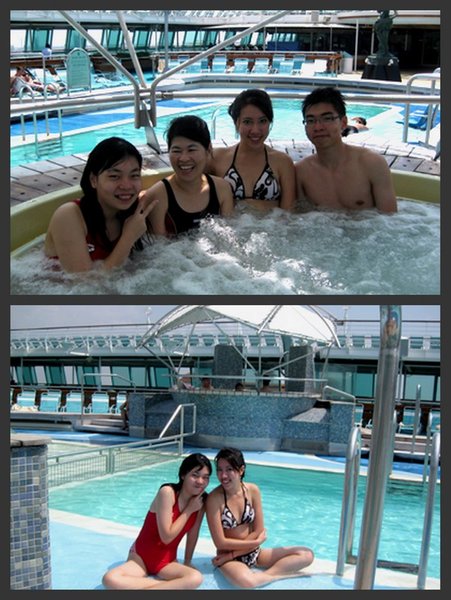 This time we went to the jaccuzi! Smart? :D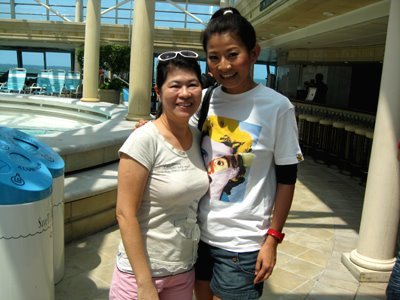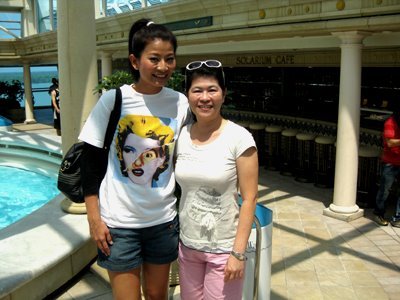 Guess what?! We were on the same boat as Mediacorp! ha! There's Vivian Lai too! :D Only mum was brave enough to take a picture with "Lin Chui Fang". Because both of them have the exact same name! Coincidence eh?
The (Formal) Night Dinner...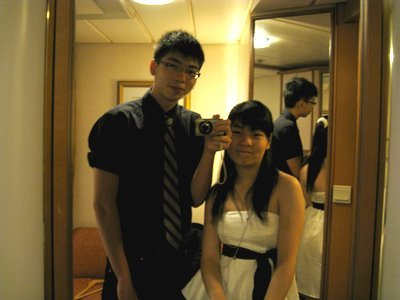 Rather formal ah? (Krystle, recognise the dress?:) )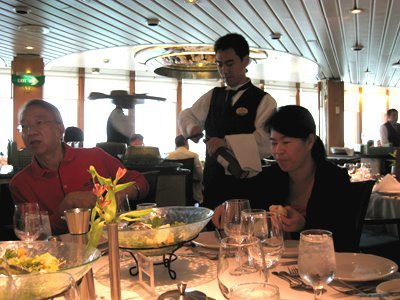 My parents were VERY 'On'! Why?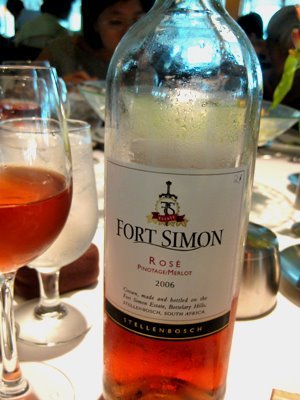 "Let's Try Some Wine!" And they bought it!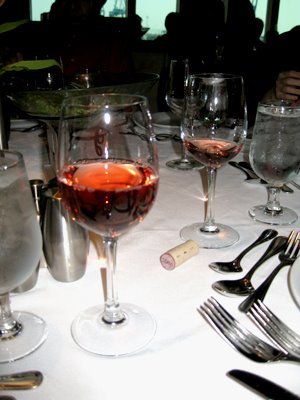 CHEERS!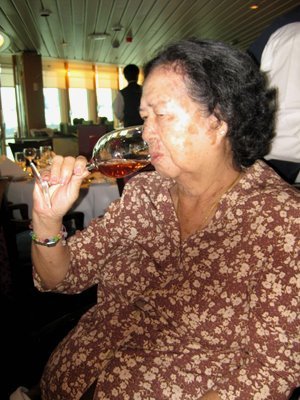 HA! Even my grandma knew how to enjoy life man!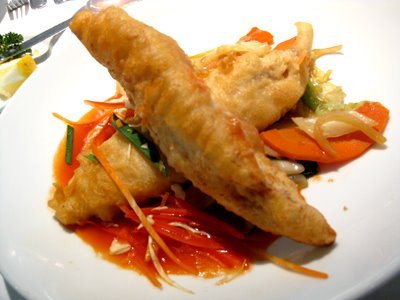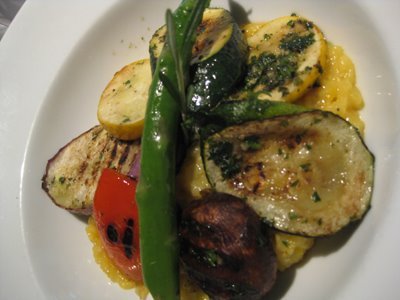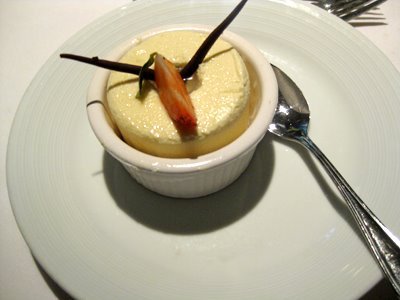 Of course, I didn't take pictures of all the dishes... Just looking at them makes me really hungry...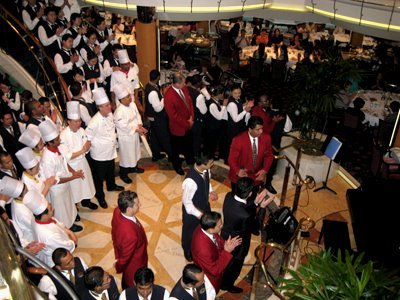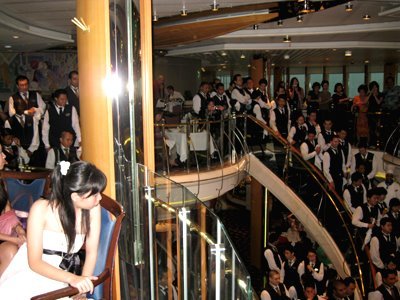 Wonder why all the waiter/waitress and chef were an orderly manner? They sang a song for us at the end of the dinner! Because it's the last night of the vacation~ I forgot the title of the song but it's really sweet!
After That 'Surprise' Singing, We Rushed To The Entertainment Theatre To Catch The 'LAST' Performence.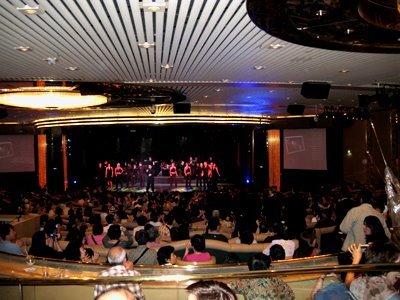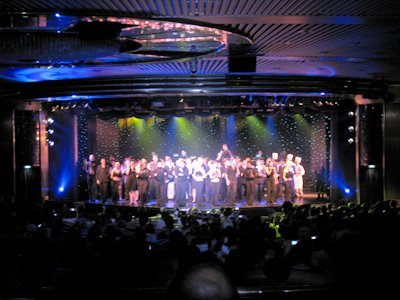 The performers were from 'Britain's Got Talent'!(Reality Show) They were called "The Crazy Horse". Anyway, at the end of the performence, this time, most of the staff members went on stage and joined in the fun! Cool right?
But Not Long After, High-ness Had Taken Over Us.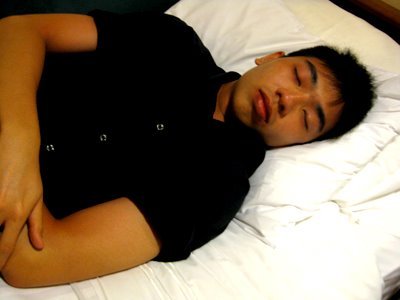 This guy left before the show ended and came back to room to rest...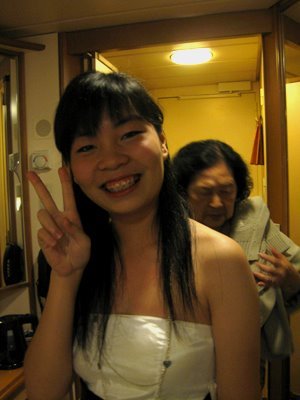 Me? Maybe just a little high? Not sure actually.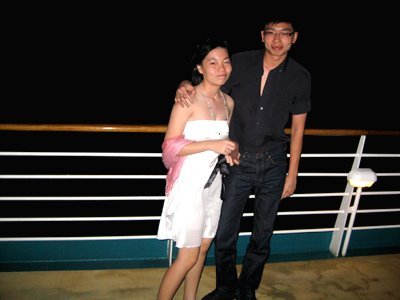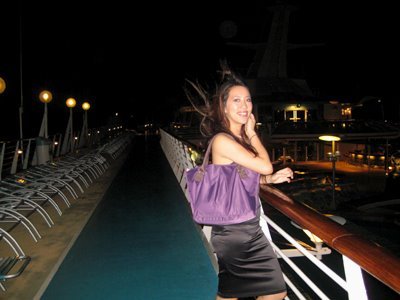 Then, Went to chill out at the top deck.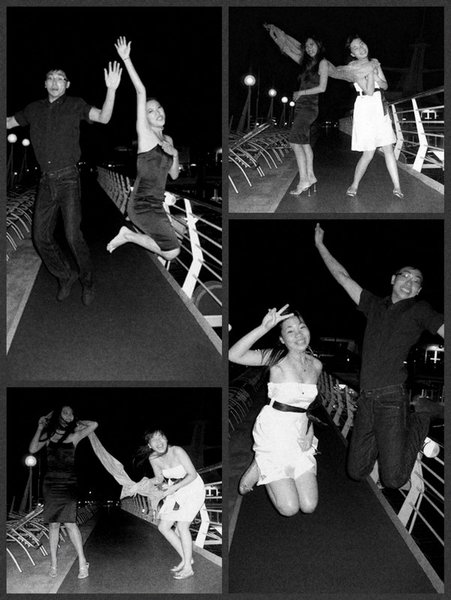 And YUP, It's MADNESS!!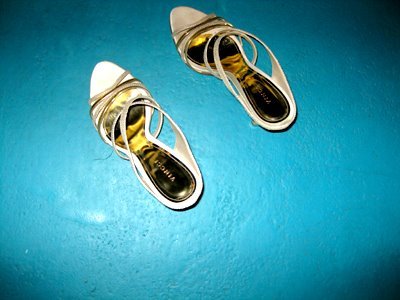 Anyone lost their high heels?!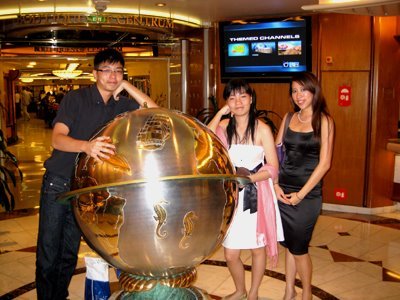 The last thing you should do on a cruise is... SHOP! It's SALES! : ))
Sadly, We Returned Singapore.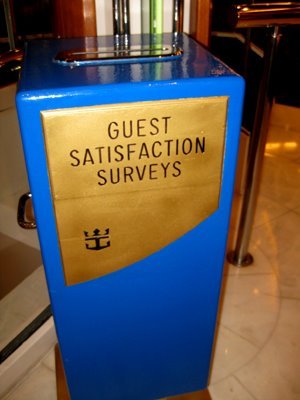 Ha! What should we comment?! It's Fantastic!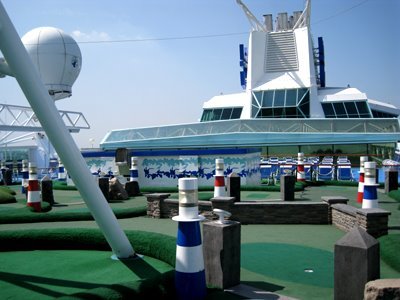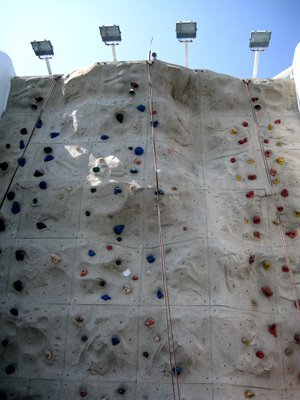 They even got Golf Courses And Rock Wall! So, What Do You Think of this cruise?
[[END OF MESSAGE]]