"Ring..." Wake Up Call From Mum And It's Time To Begin A New Adventure On Seas Again!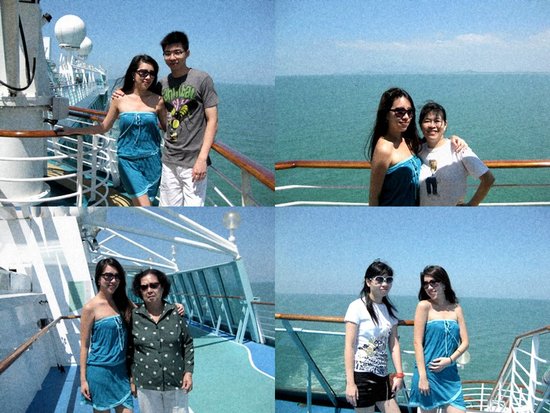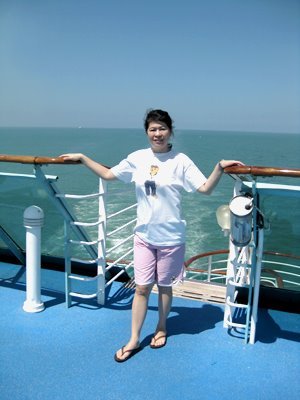 See the trace the cruise left behind on the sea? Yep! This was taken at the end of the cruise!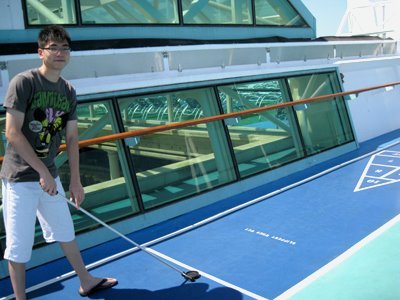 Do you know what's this sport/game is called? I have no idea! (My brother was just posing for the camera... HAHA.)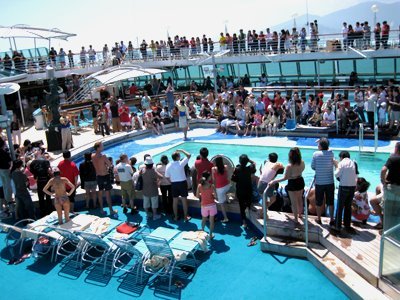 Wow! What a crowd right?! Guess what they were watching? ...... Alright, let me tell you. The magic man strikes again! He was performing an act whereby he would be chain with iron rod(S) and would have to untangle himself IN the swimming pool! (Without oxygen tank or whatsoever.) I can't even survive! He stop breathing for 2 minute plus!
Had Late Breakfast + Early Lunch. Why Not?! Their Bed Was So Comfortable!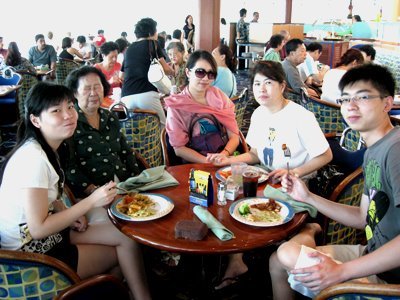 My dad took this picture when everybody got food still munching in their mouth, yawning and NOT SMILING!
Nothing To Do? Well... Find Something To Do!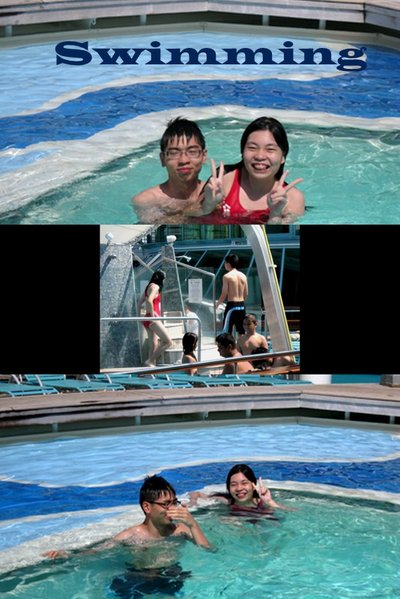 Actually, It's just splashing and dipping.... (P.S I look unglam. Hee~)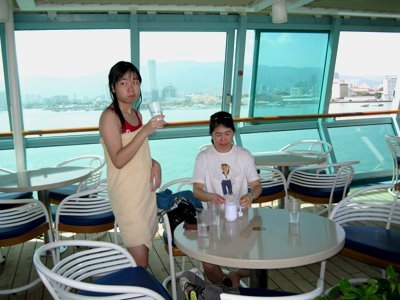 It's a MUST to drink water after swimming in this cruise... Why? Because, the swimming pool's water was absolutely SALTY!! (Think somebody dropped a whole jar of salt into the pool.) My god!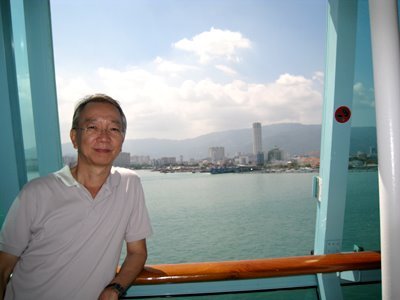 Tada! We reached penang when we were soaking in the salty pool! YAY!
But, Instead Of Heading Down To Tour Around In Penang, We Played Majiong. HAHA.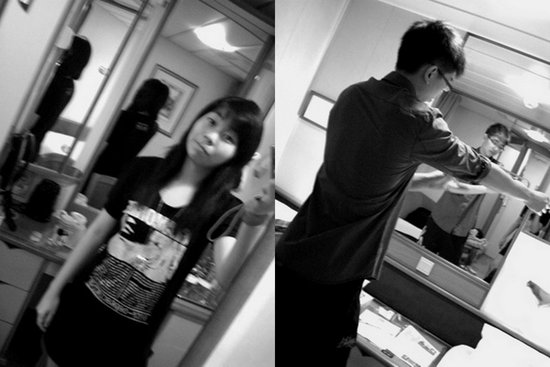 Rushing back to the room to take the majiong set and change BUT.....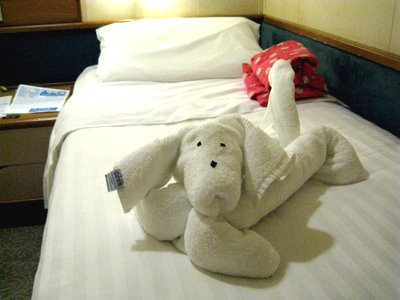 Something distracted us.... It's this DOG ON MY BED! It's made up of towels!! How creative and cute right?!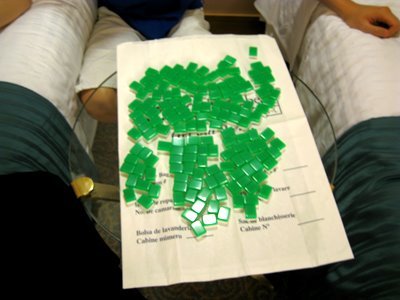 Presenting the mini size Majiong! Our table was the only one playing with this cute size majiong at the card room while the rest played the common ones. Hey! We were the smart ones, preferring to bring the lighter set.
Time Pass Really Quickly When One Is Busy... Time For Dinner Again!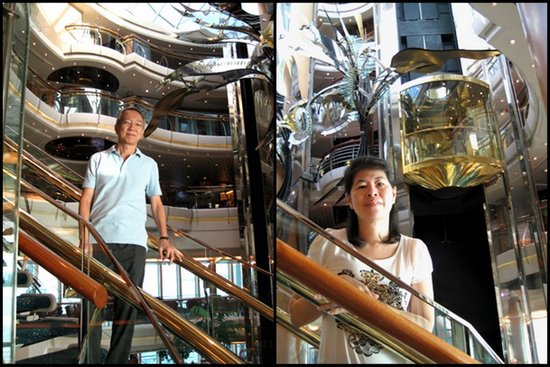 They took this when we weren't around!
Reached, Sit, Order And Here They Are!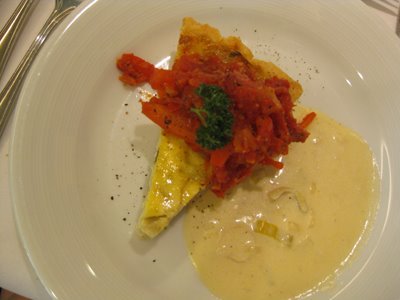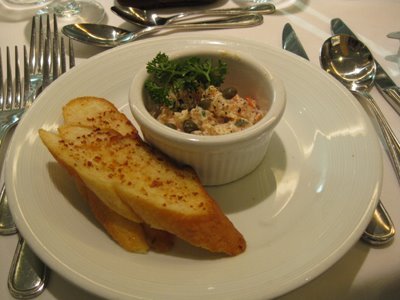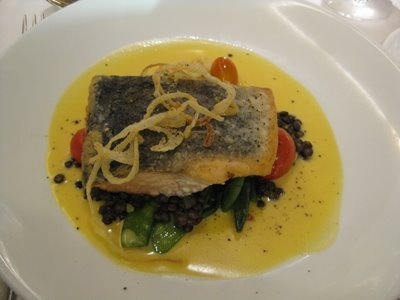 Salmon.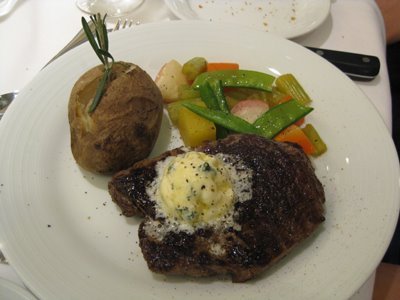 Steak.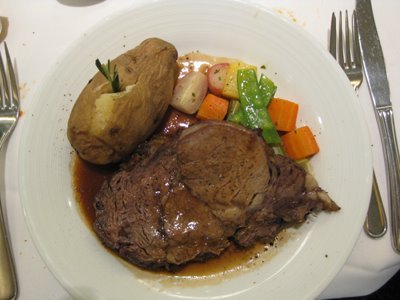 Ribs.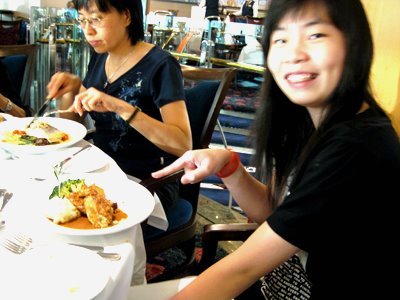 Chicken. I'm NOT! On the DISH. Anyway, I forgot what the dishes were called. Sigh... Too many food to remember.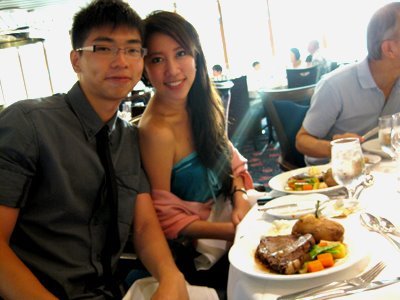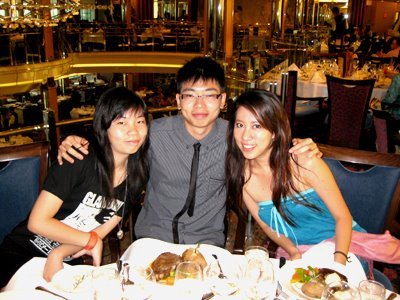 Only the three of us took a picture, the rest? Busy eating... Too DELICIOUS!
[[To Be Continued...]]