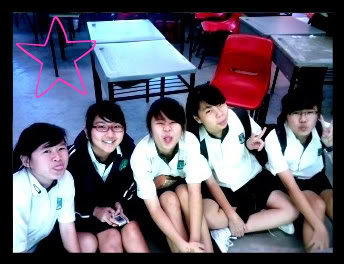 Sihui, Wan ling, Hui xuan, Me and Krystle! The bitches! :D
I will now control myself from touching the computer on weekdays cause I must be busy 'studying'!Must persevere! So Everybody, Kampateh! Jia you together alright? :D Don't play BANLUCK LE!
Anyway, I've been stoning in class.Reason: Can't talk very loudly and laughed about lame stuff with krystle aka bitch anymore.! We are currently stoning at the second row la.! Sad right? Either listening or sleeping. But.. It's for our own good la. Learn it from that krystle with auntie attitude! :P hee~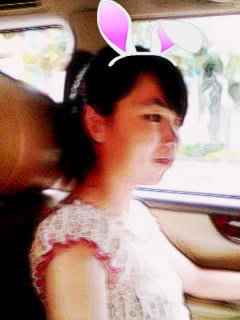 小白兔!(White rabbit)
That's what people call me in school. Is that a good or a bad name, I don't really know. And is it wrong to be white?! White girls are pretty!
[[END OF MESSAGE]]