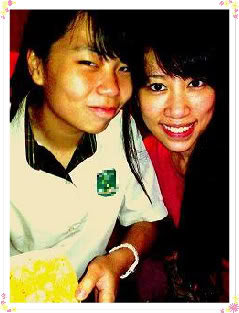 In cinema 1 at bishan...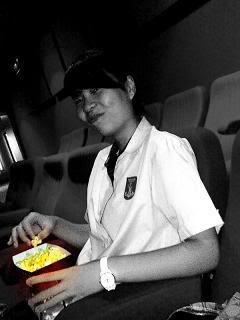 The whole cinema is mine!!! SEE HOW EMPTY IT IS! :D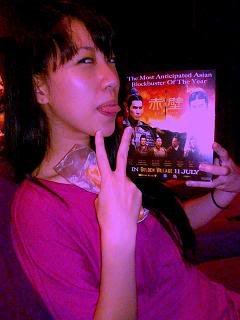 She likes the popcorn box because got Takeshi Kaneshiro..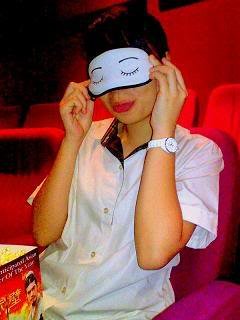 cute blindfold?! :D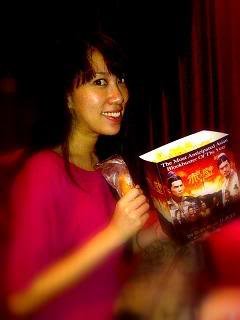 My sister! greedy right?! :P haha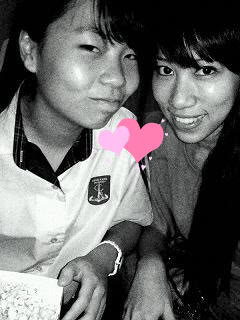 姐妹花!
MOVIE OF THE DAY!

This movie is damn draggy! Gosh...I was wondering why this movie is called the golden army. The movie reviewed the war between the good and the golden army only until the last 45 mins? (Estimated). The golden army was like, so easy to deafeat? Ya.. not exciting at all. Just kill the boss and then take the crown. After that, Of course, is to destroy the crown and you stop the golden army! Congrats! LOL. Anyway, if you don't mind risking your money then you would want to consider to go watch.:P Hmm.. people got different taste mah. Maybe, you will fall in love with the movie? :D Never knew. But I love to watch movies, so I dont think I did regret watching it yet...... Did I?
Went Bishan to watch this movie with sis straight after school cause today is NO SSP DAY! :) hee.... Bought this cute blindfold with sis and a very OUTSTANDING/LOUD pyjamas! Its super duper cute if you are daring enough to wear. haha!